There can't be too many tourist spots boasting a deep gorge, a punchbowl, three bridges stacked one above the other, and a narrow-gauge railway link from the nearest resort. But this is where Devil's Bridge in west Wales stands out. And, not to labour the point, but it's one heck of a view when you get there.
Tourists have flocked here for centuries, and it's not surprising. The bridges and falls beneath are spooky and spectacular at the same time. The first bridge dates from the 11th century – allegedly built by the Devil. The second from around 1753. The third, an iron bridge built in 1901, now carries the road across the deep chasm.
The three bridges span the river Mynach – a Rheidol tributary – which plummets 300 feet below in five stages. There are several excellent viewpoints along a steep circular path which descends via 100 steps known as Jacob's Ladder. Close by is Robbers Cave, a hideout for the Sons of Bartholomew, who a notorious pair who would prey on innocent passers-by.
Legend of Devil's Bridge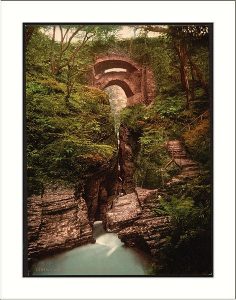 The legend of Devils Bridge is based on traditional 11th-century folklore. On visiting Wales for the first time, our horned beast came across Megan of Llandunach, an elderly damsel in distress. Her cow had somehow wandered across the chasm and was out of reach. The Devil offered to build a bridge for her to rescue the wandering bovine on one condition: he could claim the soul of the first living thing to cross it.
Next morning, and with the bridge complete, the older woman's dog ran across, chasing after a piece of bread she had thrown, thus calling the Devil's bluff. Whether you choose to believe the story or not, it adds a certain air of mystery to an already mysterious place.
Without defusing the legend too much, modern-day historians are more inclined to believe that the monks of Strata Florida abbey were responsible for the lower bridge construction. Either way, Devil's Bridge remains a fascinating architectural anomaly
Having visited the area several times while living in west Wales, my overall impression was always one of awe and just how powerful the forces of Mother nature are. The depth of the punchbowl is its testament to that. The weather could sometimes be mean and moody, but this only added even more mystery, and strangely, always seemed to enhance the visit.
In the Winter
Devil's Bridge has a maritime climate year-round, with several inches of rainfall in the wintertime. The view of the waterfalls after heavy rain, however, can be stunningly beautiful. As the temperatures drop, there can also be snow in the winter months. On average, it snows approximately ten days each winter with an average of 20 total cm (8 inches). Rarely will there will be enough snow for snowshoes. However, make sure to bring appropriate footwear since the pathways and steps to the bridge will become slippery when wet.
How To Get To Devil's Bridge
Devil's Bridge can be reached by train in the summer and fall, or by car throughout the year.
Get There By Train
For steam train enthusiasts, The Vale of Rheidol Railway is an ideal way to travel. Built initially to ship lead from the Rheidol Valley to Aberystwyth harbour, this narrow-gauge train departs twice daily between Easter and October, with more departures during the summer. The hour-long journey from Aberystwyth takes in some stunning scenery on the route and climbs nearly 200 meters in 11 miles.
Get There By Car
The road to Devils Bridge from Aberystwyth takes you through some of west Wales' stunning scenery. Aberystwyth is only around 12 miles away, so the journey time is quite short. Also, Wales is not short of its hills and greenery, so if you enjoy walking, hiking or rambling, this area is perfect.
Parking
Devils Bridge is open all year with free car parking. Light refreshments and a gift shop are available during peak season. Prices are quite low, and entry is by a turnstile. The turnstile is attended daily 9:45 am to 5.00 pm from Easter to the end of October, though these times may vary seasonally.
Additional Walks near Devil's Bridge
Near Devil's bridge, there are other options for hiking/walking, such as The Hafod Estate which is around 4 miles from Devils Bridge. The historic estate covers nearly 200 hectares of hills and preserved woodland and is well known for its circuit walks. There are some guided walks and some unaccompanied walks.
One of the more spectacular on the property is the Ystwyth Gorge Walk, which is an unaccompanied walk that covers a loop of around 1.5km. It offers some impressive views of the river's rocky gorge, and you can cross the river using a restored chain bridge. Be advised that although the gradients along the walk are relatively gentle, the circuit is not suitable for those who don't like sheer drops.
Read More:
Autumn and Winter Walks On the Coast and Hills Of West Wales
Winter Hikes In Snowdonia National Park
Accommodation Options
There are a variety of accommodation options in the area, including hotels, guest houses, B&Bs, and holiday homes.
Hotel Accommodation Options
For those keen to make a vacation out of their visit, accommodation is very welcoming with plenty of choices. The 3 Star Hafod Hotel has been under new ownership since 2016. Just a few hundred yards from the Vale of Rheidol Railway, the hotel overlooks the spectacular waterfalls. Its AA Rosette award restaurant serves traditional cuisine and serves local ales in the Three Bridges Bar. Wander through its gardens for some superb views of the hills and mountains. For full information, call 01970-890232.
A few miles away from the Hafod is the George Borrow Hotel. It dates from the 17th century, and its vantage point on the Rheidol gorge gives lovely views of the surrounding Cambrian mountains. Its en-suite rooms offer comfort and relaxation, and the area is ideal for fishing, walking, and pony trekking. For more detail, call 01970-890230.
Holiday Home Accommodation Options
Check out Dan Y Faen. This holiday home has been welcoming guests since 2014 and has a wide range of amenities. These include games room, fully fitted kitchen, and free parking facilities nearby. Its gardens offer spectacular views, and all public and private rooms are non-smoking.
For relaxation, views of the rolling hills, wood burner, sauna, and hot tub, try Ger Y Faen. Set in 40 acres of sprawling countryside, and surrounded by wildlife, this holiday cottage is just a mile or so from Devil's Bridge. It's an interesting mix of old and new with wooden beams and modern decor. Limited parking space is available, and all rooms are non-smoking.
The Glen has been an established holiday home since 2014. It has full amenities for families, low rates, and is pet-friendly, though extra charges may apply. Traditional furnishings, cozy atmosphere, and peaceful surroundings will ensure a relaxing stay. Parking (without reservation) is free and close to The Glen.
Go For A Visit!
For warm hospitality, spectacular scenery, a dip into ancient folklore, and an instant impression of how powerful the forces of nature can be (particularly the River Mynach), this historic and well-known tourist attraction ticks all the right boxes. For further details on Devils Bridge, call 01970-890233.