Colorado women attacked the hills of Cable Wisconsin's famed snow courses, discovering gold momentum as Brandy Erholtz (top photo), Evergreen (a Minnesota native), won her second senior women's national title, coupled with Samantha (Sam) Lewis, Boulder, nailing a consecutive junior girl's championship.
Saving the best for last, the USSSA schedule annually alternates the starts of senior men and the senior women classes, and this year it was the women's opportunity to be the highlighted last championship race of the day. Mark Elmore, USSSA Sports Director, called this group "one of the most competitive ever" as all five of the 2010 national team members were in Wisconsin to defend their title.
They took full advantage of that featured time with a backdrop of light snow continuing to fall, displaying some of the most exciting finishes in the eleven years of championship snowshoe racing.
Featuring a looping course of an outer six km distance and an inner four km ring, splits clicked as each passed the finish line twice providing the intensely interested crowd a mid-race report on leads and order. With Erholtz, it looked easier than it really was as she sped past the line on the first loop with a 56-second gap over 2010 champion Amber Ferreira (second photo), New Hampshire. Her winning margin extended to 72 seconds in the finishing section as she galloped to gold at the finish.
Ferreira got the jump on the start with Erholtz and eventual fourth place finisher, Cheryl Paulson, Colorado, challenging while side-by-side. Paulson closely challenged Ferreira's championship at the 2010 Syracuse Nationals but lost "at the hill" that emptied on their banner-line climb.
Neither of the Syracuse leaders could hang with the Erholtz motor as she roared to an overall 51:08 victory. However, there was movement aplenty in the leaders, shuffling as they fought to make the coveted USSSA National Team awarded to the top five finishers. No alternates, no second chances, the line is the line, and it is drawn tight.
For the spectators these battles mean excitement; for the snowshoers, there can be overwhelming joy or just plain agony such as when they battle for the fifth and last spot on the national team
As the group passed for the first timing, the top two order — Erholtz, and Ferreira — stayed static though there was new pressure coming from a the third slot occupant, Erin Ward, Minnesota, an experienced 2007 and 2010 member, as they approached the final clock.
Paulson led Ward by the first timer with a tight four seconds after which Ward sashayed by on that hilly loop and extended her finishing margin to 81 seconds at the bell — and there where plenty of cowbells to be rung in this state of butter and cheese. Her third place equaled her Syracuse finish, too. Paulson kept her fourth place though her last loop was slower than any of the top six; she spent just part of her time-bank for a 64-second margin of comfort.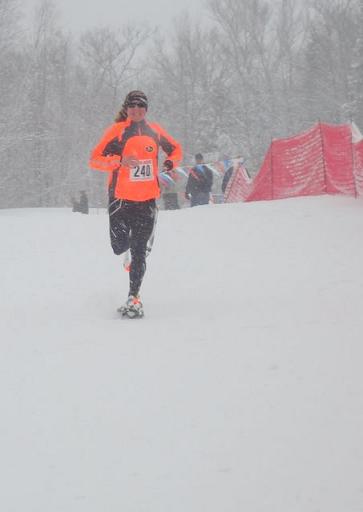 It was the fight for fifth (photo, four waiting for number five) creating tension at the finish; the last spot — avoiding sickening sixth, meaning you came ever so close to joining the elite, the USSSA Senior Women's National Team but actually earned the first place not making the team. New York's Michelle Weiler held the tenuous fifth position as the field raced by, a 34-second gap over sixth, Laurie Lambert, Texas.
However, in snowshoe racing, things can change as they did here when Lambert quickened her pace to that of the top of the field group, catching Weiler on that exasperatingly long, quad-screaming climb leading to the zippy downhill gallop to the finish. Lambert's 55:14, a 20-second finish margin, reflected the deflation that had to overwhelm Weiler's thinking. Lambert (see photo with Paulson) told me, "Cheryl gave me an inspirational message I kept repeating to myself."
At the Syracuse event, sugar snow and the signature "big climb" to the finish banner, Weiler finished just behind Ward, indicating a fourth might be in the Cable cards just by looking at the results. This course, though, was much different from the New York layout. New snow overnight, lightly groomed, packed down as the junior and senior men's groups stomped along. Additionally, the snow was of a larger water content aiding a more solid surface. Lastly, the Wisconsin moraine hills were constant climbs, never ending, and even with the fast runs on the down, the slopes could inhale one's legs.
Laurie Lambert was ecstatic on earning a membership in the elite group. Now a three time veteran (2005, 2007), she was no stranger to just finishing out of the money with two years — 2008 and 2009 — in seventh place, which is about as bad as sixth. In the song "Stormy Monday," the lyrics opine, "They call it stormy Monday, but Tuesday's just as bad." Maybe stormy sixth has nothing over just-as-bad seventh in the scheme of making the national team. The song goes on, though, to say, "Saturday is my day to go out and play," and that's exactly what happened with this country's top women snowshoe athletes: They raced their lungs out in their Saturday competitive play, producing one of the all-time top championship races.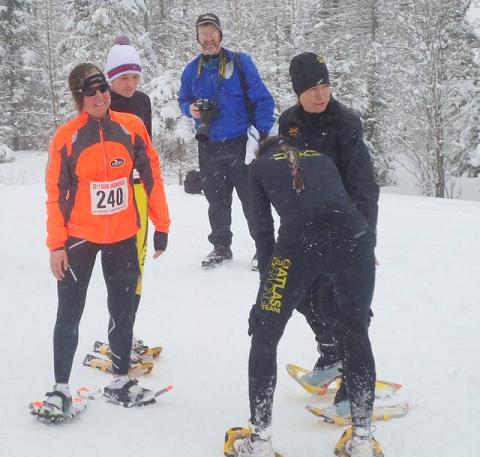 That seventh position was owned today by Edgar's Andrea Mueller who was faster than Paulson's fourth in the final short loop, but her first six km time left too much of a gap to close though she claimed a 56 minutes finish. Meg Rubesch, Minnesota, maintained her ten-second gap over Kristen Ryan, New York, throughout the race. Then, two more Kristins, Miller of Minnesota and Speer of Phillips, finished with 58-minute clocks though Miller extended her margin at the end. Rebecca Sauber, Minnesota, was the last woman to beat the one-hour clock, with 56 seconds to spare.
There were plenty of medal races and races for pride in the field such as Ross-Mortenson, Minnesota, leading Iowa's Carla Stoner by a sweet sixteen seconds at the first timer, but Stoner had closed within seven ticks before she ran out of snow kilometers.
The race for 17th was a timing phenomenon as the first six km had Marcy Schwam, Massachusetts, over Nicole Finstad, Birchwood, by 32 seconds. But that last loop, shorter but containing a hill that one could only traverse by climbing on all fours plus with some nasty other climbs, played to Finstad's strength. She closed and closed and kept racing until they crossed at exactly 1:03:54 with a 4 (1:03:54:04) to put it in drag racing parlance, which it must have looked like as they zoomed on the stretch to the line.
Cathy Pedtke, New York, closed strongly and moved up a position to 22nd, as Cheryl Moore, Idaho did the same to get a 23rd placement. Kelly Wonder, holding on to 21st at the six km clock, faltered in the last section and slipped to 23rd. Bonnie Bowles, New Mexico, loved the hills like at her qualifying race, the Low 02 Snowshoe Challenge, and gained three positions to 24th.
There were some large changes such as Kodie Tanner, New York, picked up three places in the last segment while Lisa Beck slipped from 24th to 27th.
Popular Wisconsin athlete, Roddie Larsen, won the most senior finish of the day and a rousing, standing ovation during the awards presentation.
The most disappointing position of the day? Women's winner at the new Illinois qualifier — I voted "best name," Blossom Marimpietri — was unable to start her entry.
Junior Girls
Boulder's Sam Lewis continued her championship ways by leading the entire way for a 29:08 finish the five km distance for this class. Carolyn Stocker, enjoying her last year in this class, was only 29 seconds behind the altitude-trained Lewis. International competitor, Michayla Heil of nearby Medford secured the last team spot with room to spare over Courtney Tedeschi of New York. Phillips' Melissa Tekippe fought Rachael Jones for the overall fifth, but was about a minute back at the finish. Leah Kovitch, New Hampshire, completed a 40:28 day while younger sister, Lynn, nailed a 45:40 in the "B" class. The Heil sisters, Sarah and Abigail, rounded out the finishes with three of the eight in the "A" Juniors belonging to that Medford family.
Kids Kilo
Signe Buerger, Ironwood, Michigan, finished first at 2:48 while Maria Schaenfuss, Stratford, Wisconsin, took second with a time of 3:56, both with entertaining races.
Results: http://www.snowshoeracing.com/
Top Photo: Credit to Kelly Randolph  USSSA Photographer for Cable Nationals: Contact for individual images randolph@cheqnet.net
Enjoy a free online email subscription to Snowshoe Magazine: https://www.snowshoemag.com/subscribe.cfm.
Write: phillipgary@snowshoemag.com
Or, read his new book: HARMONIZING: Keys to Living in the Song of Life www.iHarmonizing.com or at Amazon: http://amzn.to/dIdqQw