As I chanted in my head "I think I can, I think I can, I think I can", I stared up at the seemingly never-ending mountain and seriously doubted that I could indeed make it to the top. Perhaps that was due to the fact that Central Oregon has over 30 microbreweries to discover and I had visited just a few of them the previous night. Perhaps it was because due to the lack of snow I hadn't been out on my snowshoes as much as I wanted to and I was more out of shape than I thought. Or perhaps (and this was my saving grace) this mountain was a lot bigger than I originally thought. Fast forward an hour later and I am atop Tumalo Mountain staring out onto one of the best views I have ever seen in my life. The towering snow-capped peaks of the Three Sisters, the rolling green hills of Central Oregon's watershed, the crystal clear lakes, and the striking Mount Bachelor all greeted me as I stood at the top and caught my breath. The climb was 3.6 miles round trip gaining about 1,200 feet in elevation and ending up at 7,779 feet at the summit.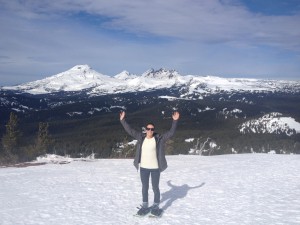 The snowshoe down this mountain was a whole lot quicker than the way up and trekking in t-shirts meant by the time I came to the bottom I was ready for another visit to one of the infamous craft breweries that Central Oregon is so famous for. Central Oregon boasts more breweries per capita than anywhere in the country and spends the most amount of money investing in craft beer. Thus equaling an unmatched craft brewery scene that begs any visitor to explore.
I had to head to Deschutes Brew Pub in Bend, Oregon as my first stop as this very place is Bend's original brew pub established in 1988. Deschutes is now a well-known craft brewery and this brew pub housed the brewing process where the very first beers were produced. As I entered into the charming downtown location I couldn't help but feel welcomed as the pub was full of locals, visitors, families and friends. An electric mix of people filled the rooms and a total of 19 taps waited; begging to be tried.  With some help from the local bartender I managed to try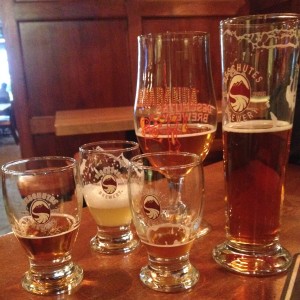 some of the established favorites such as the Red Chair, Mirror Pond Pale Ale and Black Butte Porter. Only available on tap, the Zarabanda was an absolute delight to taste. A farmhouse style saison with notes of lemon, lime and pepper showing through this full-bodied hazy gold pour enticed my senses and had me wanting more. The complexity of flavors including grapefruit, cloves, grassy hops, and Belgian wheat left a balanced and smooth finish in my mouth. Truly not disappointed with a single pour on tap it was a hard choice to decide what to take with me. Fortunately this brew pub offers a variety of amazing growlers and I headed out with one full growler of the Chainbreaker White IPA; a feisty white IPA that blends hops with spice leading to an invigorating and refreshing IPA.
To conclude this epic adventure of a day I headed to a fairly new brew pub that has come into the Central Oregon craft brew scene; Crux Fermentation Project. This brewery is located in an old warehouse that blends new with old and creates an industrial yet welcoming atmosphere.
The tasting room is designed to bring people together, with its farmhouse like long tables that encourage sharing and conversation. The absence of TVs is hardly noticeable as you are too busy staring at the copper kettles, the brewmasters hard at work and the never-ending beer list. Everyone is welcome here including kids, families, friends and even those four-legged friends (when it is nice enough outside). Seating is inside and out; with a covered patio area that seems to be popular all year round as the outdoor space was bustling in mid-February when I visited. The location is amazing in itself; located where North, South, East and West converge with a stunning view of the cascades from anywhere inside or out. The beer; well I could go on for days about the endless choices, the knowledgeable staff and the incredible brewmakers that work around the clock to produce some of the most amazing beer I have ever had. From the Nitro Stout to the Snow Cave Winter Ale to the Flanders Red to the Lemondrop IPA; all of these beers were beautifully thought out in terms of flavours, hops, colour and smell. The winner of all the beers and thus my growler was filled with was the Bert Scotch
Ale; a malty full-bodied ale with a high hop bitterness. The slight caramel flavour that can be smelt and tasted played perfectly with the fruity esters. Come for the sunset as it sinks slowly behind the Cascade Mountains and sip on one of many incredible beers; on tap or in bottle and enjoy this outstanding brewery that was built by the community for the community. Trust me; you won't regret it.
A snowshoe trek led by a US Forest Ranger up a mountain that offered unparalleled views of mountains, valleys and lakes followed by an outing to some of Central Oregon's famous microbreweries; this day may never be topped in terms of greatness. Central Oregon certainly made good on its promise to wow and amaze me and any adventurer and craft beer lover will certainly find what they are looking for here.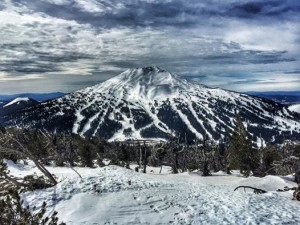 For more information on Central Oregon's craft brewery scene visit http://visitcentraloregon.com/dining/central-oregon-breweries/
For more information on Deschutes Brewery visit http://www.deschutesbrewery.com/
For more information on Crux Fermentation Project visit http://www.cruxfermentation.com/