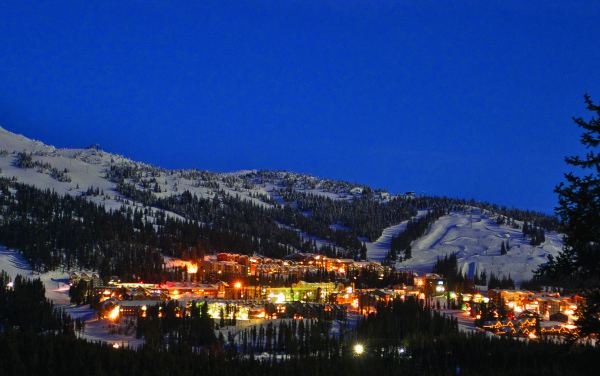 Large and in charge! That pretty much sums up Big White Ski Resort. They don't call this resort BIG for nothing. A big mountain complete with big snow banks, big runs, big white outs, big parties and of course big amounts of champagne powder. Prepare to leave with some pretty big memories too.  This ski resort offers monster big family fun for all generations. When you get to Big White, it's reminiscent of what it might feel like to land on another planet made entirely of snow and ice. Overall, this resort has other worldly qualities much like a space-snow-jam.
They don't offer rocket ships as a mode of transportation but do offer the convenience of taxi's, shuttles and car rentals from nearby Kelowna airport. If you are driving, new this year is a million dollar road upgrade which makes driving to Snowmaggedon that much safer.
Big White is famous for its snow ghosts, so much so that there is a chairlift named the 'Snow Ghost Express'.  What is a snow ghost you ask? According to the Urban Dictionary: A tree that has so much snow on it that you can't see any part of the tree, often wind-blown which gives them an odd shape.  Aside from epic, out of this world snowscapes, Big White offers the ultimate terrain options for everyone in your party. With 16 lifts, 118 alpine trails and a summit that sits at 2319m
(7606ft) downhill skiers and riders can rip a multitude of runs. If you like big bowls, Big White has a few to fit your fancy. For those who like them long the Around The World run is 7.2kms (4.5 miles) and goes from the top of the T-bar to Gem Lake. Here's the key to skiing Big White. Chances are you will experience at least one big white-out during your stay as it is something the resort is known for. So tag along with a complimentary Snow Host at least on day one of their stay. (10:30am daily departures from Guest Services).
Many of the Nordic trails and extracurricular mountain activiti
es happen in the lower level area. In order to access this play area surrounding Happy Valley Lodge, take Lara's Gondola, the lower village commuter gondola to get from the Village Centre to Happy Valley Adventure Park.  A buffer of Nordic and snowshoe trails, a beginner learning area, skating rink, Mini Ski Doo track, sleigh rides, ice skating, tubing and a larger than life 60 foot ice climbing tower. There's plenty of fun to be had. Big White's official snowshoe trails veer off the Nordic area into the wilderness and provide plenty of acreage to explore. Snowshoe guides are available for hire if you prefer to follow a leader.  Depending on how fit and adventurous you're feeling, there are plenty of big snowshoe adventures along the narrow and open trails.
For the ultra fit wanting intense cardio and vertical ascent while soaking in sunset views, sign up for the Sunset Fitness Snowshoe Tour.  Your body will thank you for the one hour uphill grind when you're hammering down après nachos and craft beer. The tour leaves
just before night skiing begins and covers green/blue/black alpine runs for a full workout at sundown. The two hour nature lover's Interpretive Tour is ideal for out of town guests. Sign up for this one and you'll take home key BC backcountry information to share long after your vacation. Soak up some interesting facts about the local forests and ecosystem, even though on big snow days it's hard to believe there really is any is greenery under all that snow. If you happen to be visiting Big White during a full moon, this tour is a no-brainer. You'll coast the trails by headlamp and moonlight. On a clear night expect to be mesmerized by the power of the stars and the constellations. Families with small children of all ages can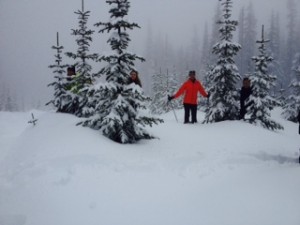 embark on the Family Adventure Tour. If your little one tires out, the guides know all the short cuts back to the village. Speaking from experience, Mom and Baby Snowshoe Tours are the perfect way to get in shape and reclaim your body while exploring the outdoors with your new bundle of joy. Big White is already leading the baby bandwagon with this trend and it's only going to get bigger and better. Don't forget your baby carrier! Atlas snowshoes are available for rent on the mountain.
For multiple or modern family snow safaris, do go big when it comes to choosing your ski-in ski-out accommodations.  Big White's claim to accommodation fame is their plentitude of large vacation homes. From modern to Canadian style log-homes, there is something on the mountain to suit your family's needs and taste. If private rentals are not your preference, choose from 3 onsite hotels, 25 condos and even a youth hostel. The White Crystal Inn offers the best in village convenience. A hop skip and a jump from the Gondola and Bullet Express,  restaurants and retail shops as well as offering amenities like free wireless, hot tub, in-room mini kitchenettes and Eggs Benny at the Sante Grill are all right there. Big White Ski Resort attracts the young and hip. Whether these kids are living off the Bank of Mom and Dad or simply enjoying a carefree ski bum lifestyle, expect to meet a slew of young skiers and riders who commute to and from Kelowna by bus, because it's easy, affordable and the après scene is smokin' hot.
Apres isn't après at Big White until you've experienced a Gunbarrel Coffee at the Gunbarrel Grill. The presentation of flaming barrels really does blow a Monte Crisco right off the mountain. Go big or go home! You'll find happy people boasting goggle tans and snow glows at the Moose Lounge in the Happy Valley Lodge. If you're into spicy, their house Ceasar has a Thai flare that includes a good dose of Wasabi to boot. Expect a few burnt nose hairs before you're ready to blaze back into the fresh air and champagne powder.  Foodies flock to hotspots like the Globe Café and Tapas Bas for midday or après culinary sensations. Sharing stories and tapas with snow buddies is a great way to dine on the mountain. The Kettle Valley Steakhouse goes above and beyond the call of slopeside culinary duty. Hungry mountain men, better save their appetites for their 45oz Tomahawk steak. Now that's BIG! Farm to Table ingredients, Okanagan wine pairings and dining around a 100 year old reclaimed Harvest Table that seats up to 22 clan members is memorable. Be sure to plan at least one meal at The Woods which is like dining inside a giant size ski chalet complete with old school wall paper and crown mouldings. Officially dubbed the only ski-thru breakfast joint on the mountain, The Woods patio is open for grab-and-go breakfasts so diehards don't have to waste valuable powder time.
Whatever generation you hail from… X, Y or Z prepare for an explosive landing when your rocket lands at Big White Ski Resort. After take-off you won't know what hit you. Get lost in the cosmic snow fun and let the adventures unfold.  Welcome to BC's very own snow globe, Big White.  It may seem still and calm from outside the bubble, but when you shake it up – it's a phat and fun ride. Welcome to the planetof powder dreams. Up, up and away.
 For a full list of BC Playcations visit www.hellobc.com.
Super sized for your tasting pleasure, Big White offers everyone a sample of other worldly snow fun. Prepare to be blasted away by the big memories you'll take home. 
Gear Pairing: Mountain Hardware Barnsie Jacket and Returnia Insulated Pants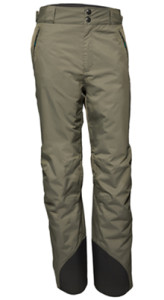 An astronaut on a mission to Mars would never leave home without the proper gear, and nor should you! When heading to a destination like Big White I suggest the Mountain Hardware Barnsie Jacket and Returnia pants – your lifeline to extended fun in the snow. Not only does the Barnsie Jacket stand out in a big white-out, it has fashion appeal and works beautifully for après. You only need one jacket on a snowcation and this is the one. Cool looking but also technical, the Thermal Q insulation wrapped in a Dry Q Core waterproof shell does the trick. Whether you're facing wet, dry or champagne snow conditions – this jacket and pant pairing will keep you armed and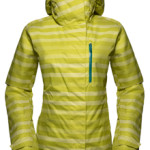 ready for everything just like a snow warrior. Be prepared for a multitude of compliments as this jacket is an eye catcher on and off the mountain. The only note to riders and skiers is this: when you wear the hood over a helmet, there is a blind spot in your peripheral vision. Take caution, as visibility with the hood up and over a helmet while riding is not 100%. For snowshoeing and other action snow sports, it's not much of a bother but for alpine enthusiasts this is something to note. Comfortable, fit and warm, together they make the perfect combo for big time outdoor play.