The world of packaged snacks is littered with everything from chewy morsels to blocks that have the consistency of chalk.  Protein bars promise to fill up adventure seekers for hours and often times leave you wishing for another, more filling snack.  Nutrition is easy to overlook when grabbing something on the go and many times what looks like a nourishing mid-day energy boost leaves you hanging.
Enter, Kate's Real Food.  Kate's snack bars are not only delicious, but they keep you going without weighing you down.  The organic and all natural bars have rich textures and a flavor mix that comes straight from real ingredients.The first bar in the ever-expanding product line, the Tram Bar, was made specifically by Kate herself in an effort to sustain her during her long days playing in the mountains of Jackson Hole.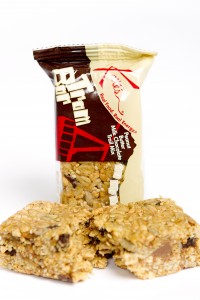 Knowing they were made for mountain lovers by a mountain lover, I had to taste them.  I tested my first Kate's bar on a trip up to the Rocky Mountains, and although the snow in CO is scarce, the snacks were plentiful and sustained me for the afternoon.  One of the best things about the bars?  The taste.  I find that so many bars meant for adventurers lack taste and freshness and I often feel as if I ate rocks instead of a snack.  Not with Kate's.  The organic, natural ingredients don't weigh you down and the bars actually taste like what the package says it will!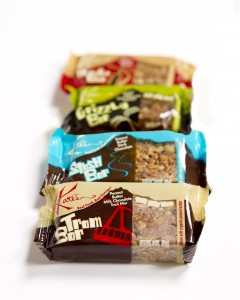 Another thing that makes me a fan of these bars?  Kate's exists to "provide people with delicious, real food products; grow, promote and support outdoor play; and support sustainable organic farming practices."  All that in one little bar that tastes great and kept me fueled so I could continue to play in the mountains?  I'm a fan!
Currently, there are five types of bars: Kate's Grizzly Bar, Handle Bar, Stash Bar, Tiki Bar, and Tram Bar.
To learn more about Kate's Real Food click here.
To find a retailer near you that carries these heavenly snacks, click here.