We were waiting for our bags to be off-loaded at Kittilä Airport in the north of Finland. On one wall of the arrival lounge I was intrigued by a large poster of the aurora borealis or 'northern lights' with the welcoming words:
The North is Near
Let there be winter, let there be ice,
deep powder snow
and the Northern Lights
365 seasons of vibrance and magic
Exciting images!
Photo credit: Pertti Turunen
However, our destination was still around three hours away to the north. Sitting upon a coach in the dark of the night, we followed an almost straight snow-clad road through a continual forest of trees all draped in snow. Eventually, we arrived at Saariselkä, our journey's end, some 250 kilometres inside the Arctic Circle!
Saariselkä is a small settlement set in a valley surrounded by hills or 'fells' as they are known. The village has one fuel station, a supermarket and an array of places for visitors to stay. During its many months of snow Saariselkä becomes a hub of action for cross-country skiing, skidooing, sledding by husky and sometimes by reindeer and, of course, snowshoeing! A small downhill ski system is also situated in the village. Of course, there is also the pleasure of viewing those northern lights. The region is famed for having a high probability of witnessing this most iconic of arctic sky phenomena! Indeed, it is claimed the aurora borealis can be viewed from Saariselkä up to 200 days each year! This entire area of forest and fells has been carefully organised for winter activities with a host of centres around the village able to facilitate such adventures.
The whole region is a breathtaking arctic wonderland for all those who delight in deep winter. Snow sculptured trees in forests set against treeless fell tops with endless arctic views fill the landscape. Whatever the activity a person chooses, he or she is forced to stop every once and a while just to drink-in the intoxicating atmosphere! Much of the area includes the Urho Kekkonen National Park which spreads south and east to the nearby Russian border. Within the national park live reindeer, bears, wolverines, wolves, arctic foxes and lynx. However, during our visit at the beginning of March, the only evidence of such creatures were large footprints and small spherical droppings left behind by reindeer deep in the forest.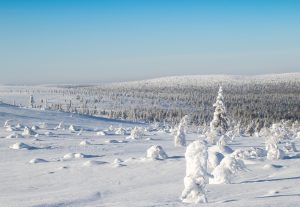 Photo credit: Inari-Saariselkä Tourism
This part of Finland along with the north of Norway, Sweden and the Kola Peninsula in Russia is the traditional homeland of the Sámi people. Their ancestral land often referred to as 'Lapland', the Sámi now prefer to call 'Sápmi'. Over time their traditional activities of hunting, fishing and herding reindeer have become adapted to modern times with skidoos and gadgetry helping them live in such a demanding and challenging environment. The Sámi now have a certain amount of autonomy within the national boundaries they live. For visitors to this area of Finland, a trip to a Sámi settlement is well worth a visit. During one afternoon my wife, Jackie, and I went along to a Sámi village which involved trying out the local skill of reindeer lassoing! We weren't trusted with live creatures but simply attempted making contact with old antlers placed on top of the snow! This should have been easy but even with stationary targets, it was embarrassing how many times we failed to wrap rope around horn! During the same visit reindeer pulled us around a frozen lake as we sat in a sled. After which, we enjoyed a hot drink with our Sámi hosts who chatted, telling us about their traditional life of old and how their lives had been transformed during more recent times. One of the most intriguing aspects of the afternoon was appreciating the Sámi relationship and affinity with their reindeer, the creatures which have historically been central to their existence.
Activities in Saariselka
In having but a handful of days to sample the arctic pleasures on offer in the Saariselkä area, it was a problem to know what to do first! Having brought along cross-country skis, there was some urgency in wanting to use the ski trails. We had heard such good reports! There are some 200 kilometres of cross-country ski trails in the region, 34 of which are lit during dark. After purchasing a trail map, it was time to get going. In the most sublime of powder snow it was a matter of skiing up and down undulations through the forest, on a superbly prepared 'classic' cross-country track alongside another used for skating. Every junction had clear directional signs and an easy to read map, making any navigation straightforward. The journey was a complete joy, gliding past trees dressed in thick cloaks of massed snow. It didn't take long in such perfect snow conditions and stunning terrain to ski many kilometres. Later that day, a different direction was taken which led to the top of the treeless fell of Kaunspää. It was also the top of Saariselkä's small downhill run, the most northerly facility of its kind in the European Union! From the top of the fell and being above the trees, there were plentiful views across to other distance hills and forests. Black marker sticks led the way across the top of the fell and down the other side. It was then a lovely long downhill, back into trees and return to the village along a valley.
 Photo credit: Inari-Saariselkä Tourism
That night we both wandered along the entire length of the main street of snow-filled Saariselkä. At the far end of the village, a few winter-wheeled vehicles and many skidoos were parked on the forecourt of a petrol station. The latter transportation is a major method of getting around the area for locals as well as being another way for visitors to enjoy some arctic sight-seeing! We visited the only general store for the region. A resident of the village had told us it was a place where all essential items could be purchased, from ski waxes to tree axes! After that we walked passed a few buildings which, during the daytime, would be open to help organize a list of arctic adventures for visitors. We completed our village tour by passing a couple of hotels. As we made our way back to our own place of rest, Jackie pointed to a green tinge developing in the sky above us! It was a subtle green wavy light spreading like a steadily, ever changing curtain across the sky! For a full twenty minutes we were in awe of the famed aurora borealis!
Over the following days a few more ski trails were enjoyed, most of which were inside the Urho Kekkonen National Park, one of Finland's largest protected areas. Apart from a national park sign there didn't appear to be any difference in terrain. It was a case of yet more journeying through incredible undulating arctic scenery. Feeling the cold, a break was taken in one of the many track-side huts suitably positioned throughout the forest. These superbly constructed wooden unmanned huts are for visitors to take shelter in, to rest, to gain some warmth next to a wood-burning stove and maybe cook some food. The main rules are that a visitor respects the facility, removes any refuse and takes care when using the stove. On another occasion, a stop was made outside a different hut after noticing large birds flying close by. They were Siberian jays who had learnt the art of befriending humans way out in the remote forest. By hanging around huts, they would often be provided with bits of food which would supplement their meagre diet during the depths of their arctic winter! What cleverly adapted birds!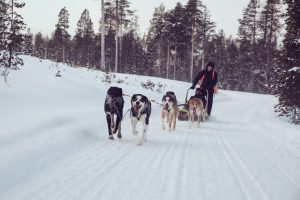 Photo credit: Marjaana Lähteenmäki
Time for some huskying! After a half hour journey on a minibus we arrived at a place in the forest where large numbers of husky dogs were waiting. They stood yelping with excitement in anticipation of some exercise. Our only experience of dog sledding thus far had been in the north of Norway during a fierce wind with a mixture of billowing snow and piercing pellets of icy rain! Today we were beneath an arctic calm of blue skies, very cold temperatures and not even a breeze. A dog-knowledgable Finnish man was there to greet a dozen of us. It took him some twenty minutes to explain the basic requirements for driving a team of five. 'Remember: keep the line tight, help the team on uphill sections by scooting, brake coming downhill, lean into corners and watch ahead at all time. Go and enjoy yourselves!' he said when summing-up. The brake was released and the barking dogs jolted us into motion. The sled glided along with the occasional creak as its runners turned a corner or met inconsistencies along the trail. The brake was applied during downhills, there was scooting up inclines, corners were leant into and the husky line was kept taut. We smoothly slid along in the snow. As the dogs worked away it became clear all five of our huskies were so different, their physical appearance, their gait and the amount and type of noise they made! Most obvious of all was the inexperienced youngster running on its own in the middle of the line, learning how to pull a sled from its elders! It was great fun. A person could easily get into this!

Photo credit: Inari-Saariselkä Tourism
That evening in a clear starlit sky. We walked away from the village and into the forest. We headed to a purpose built balcony and hut for northern light gazing. If any magnetic light display was going to take place then it would be an ideal spot to stand. We stood in wonder looking at a mass of distinct stars upon a jet black backdrop. The Great Bear was there and an obvious halo around the moon. But no aurora borealis! As the saying goes: 'You can lead an arctic wanderer into the forest, but if the magnetic magic just isn't up there, it's tough!' As we headed back into the village we could see and hear a 'northern lights' snowshoe safari having a trek through the forest. This was a regular outing for visitors to go out and look for the northern lights. But with snowshoes upon their feet! A long line of bobbing head-torch lights was curving its way around the trees.
Somehow we had reached the end of our stay and had not yet been out on snowshoes! How could that be? Such is the absorption of arctic activities in Saariselkä! We had quite literally run out of time! Could this be our excuse for having to return to the area in order to sample all of Saariselkä's arctic activities? Now, there's a thought!
To experience your own arctic fun with snowshoes, huskies and the Aurora Borealis, book a flight to Finland!
Snowshoeing Details For Saariselkä:
The scope for snowshoeing in the region is huge. As a couple of local snowshoeing brochures pointed out: hiking in snowshoes is possible anywhere around Saariselkä. For both those new to the activity or for those with experience, there are a number of well marked trails in the region. In Saariselkä there are 3 km and 7 km snowshoe trails and nearby Kiilopää there are trails measuring 1 km and 6.5 km. The local Saareselkä Nordic Ski Map has them marked-on for both locations. There are a number of local companies which will be able to arrange trips for those wishing to snowshoe in the region. Also, there are many places in the area which will hire-out snowshoes. The snowshoeing season begins at the end of November but is at its best later on when the snow has had chance to accumulate.
For More Information Go To:
Saariselkä Booking
For general information regarding visiting the area.
Husky & Co 
Organising arctic trips and equipment hire,
Top Safaris 
Organising trips and equipment hire.
Luonto Lomat Pro-Safaris 
For snowshoe trips and hire.