Your tiny friend in the dark, this new addition from 4Sevens Lights continues their tradition of creative engineering — at the speed of light, it seems — pushing ingenious thought to the limit. See, they have this attachment they call the Quark Prism Kit, which is the most curious of new accessories for their AA Quark, a flashlight that is redefining the class.
What it does is — get this, Sir Isaac Newton — bend light. Here's how: first the light goes this way, and you slide on the aerospace quality attachment to the light's bezel, and then light goes 90 degrees that way. It's magic in the palm of your hand, all done with mirrors and no smoke. It's what an adult Harry Potter needs for Christmas.
I spend a lot a lot of time on the trails at night so I am serious about my bulbs though the light is constructed with LEDs. Additionally, I like play things — don't we all? — for grown-up toys. There are many ways to configure this light so you can personalize it until you want to change your personality, and then you change it again. For example, a handy clip is attached to the bezel body. You want to aim the light in a different direction, you need to attach it in a different way, then simply unscrew the central piece, turn it around, and presto, you've done it.
You don't want a clip? There is a substitute body for your playing pleasure that you simply swap out. The clip also can be removed from the AA body by unscrewing the ring, too, if you don't care to swap bodies. If only life had this many options . . . .The real sorcerer's magic lies in the Prism kits. By turning the light to a new angle, one can clip the light from any of those pockets, tabs, straps, vest, zippers or any other hangers-on that snowshoers and trail runners are so well known.
Additionally, 4Sevens includes a head strap you can wear with the light, too.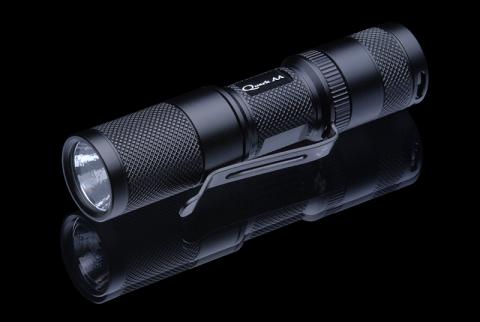 Another attachment is the diffuser filter that changes the bright beam to a softer, bright spread. About the size of a dime, it snaps right in the lens.
The edition I tested uses a single Double AA battery. I used the Advanced Lithium Energizer, and had plenty of bright time with its usable life. There are new flashlight versions due out — check www.4sevens.com — with even more twists and turns, like two battery styles, tactical editions allowing you to program your chosen top two outputs, and on the 'moonlight' setting it will run for a month and a half, just about enough time for me to finish the Masanutten 500 mile trail endurance race.
As much fun as I had with the light, it is important that I point out it is built to handle abuse over time — this is a professional light that will amaze friends and startle enemies. The body is knurled, coming in very handy with cold or wet hands, waterproofed, and for tripping over rock, roots, or ruts, it is made with impact resistant glass designed for maximum efficiency and durability.
The body is aircraft-grade aluminum, giving you a great deal of confidence in this instrument. When you are in the deep woods, and there is no moonlight or fresh snow to lighten the way, Clip a couple on and get out for a night of snowshoeing and trail running. In the deepest of woods, in the blackest of nights, you can't be worrying about your lighting tools not working.
This device is designed by a creative group who lives lights. It won't let its owner down. With the Quark AA, slice through the dark like a shark swims water . . . quickly, very quickly.
write phillipgary@snowshoemag.com
To subscribe to free Snowshoe Magazine + Trails, go:
http://www.snowshoemagazine.com/subscribe.cfm