Over ten years ago, I joined the President's Challenge. At the time, the President's Challenge was a free fitness and physical activity site administered by the President's Council on Fitness, Sports, and Nutrition. The program allowed you to receive credit for 121 forms of physical activity and track your daily progress. Luckily, a few months before the program was discontinued and transitioned to other programs, I happened to notice that my physical activity tallied over 10,000 hours, roughly ten years after joining the program.
Spent in a myriad assortment of physical participation, do my 10,000 hours qualify me as an expert? Maybe I should ask Malcolm Gladwell's book Outliers?  The feeling of knowledge about physical activity to me still seems more like wandering the first floor of a four-floor FAO Schwartz Toy Store like that in Chicago.  Of course, one can't do that any longer because somewhere in my 10,000 hours, the brand closed its last outlet. But that's the idea: stay focused on physical activity. Daily.
My expertise appears under-nourished when making a finish line. However, hanging around physically active experts on trails or other events, while participating in them myself, teaches many lessons. As a result, I have learned much that I blend into my interests.
So, for all of those who wish to board the fitness train, or are already on it, here are ten key experiences learned from those 10,000 hours of physical exertion.
1. The Importance Of Accountability
The President's Challenge launched me on the straight and narrow road leading to 10,000 hours of physical exertion. Similarly, many athletes keep a journal or use different venues for their daily exercise. Either way, the trick of daily accountability pays dividends. Use whatever system works for you. If you don't have a system, then adopt one, maybe through a fitness program.
Even though the President's Challenge fitness program discontinued in August 2016, there are other options for accountability. The Presidential Active Lifestyle Award (PALA+) is an 8-week program to help you manage and reach your physical activity and nutrition health goals. With some guidance from the program, you tailor your goals. Then, you'll track your progress for the duration of the program. You can use the nutrition paper log and track your activity through Move Your Way. Once you complete the program, you can even print your certificate to mark the achievement.
Whether you're accountable to friends, family, or through an app or program, it keeps you on track. You may also find inspiration for different foods or activities to meet your quota. Remember that activity comes in all forms: whitewater rafting, gardening, walking, running, billiards, to wallyball (no, not played in the Walley World theme park).  My three major favorite categories of activity range from running, snowshoeing to lifting/hauling. Others, in my favorite group, include walking and weight lifting. You will surely find activities for your favorites, too!
Read More: Snowshoe To Fitness Through The Presidential Active Lifestyle Award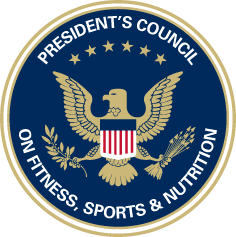 2. You May Not Always Feel Up To It
Some days you may just not be feeling it, but that's okay. When starting your fitness challenge, plan on NOT enjoying your physical activity every time you hit the trail, go for a walk, dance, lift, or complete home repairs. But even if your day starts in a discouraging way (staying up too late, sweltering health and humidity on the trails, work emergencies, or any myriad of things occurring in daily life), exercise anyway!
Over an extended period, these discouraging days fade. Get back on track after a good night's sleep. Continue being active by tossing a Frisbee, launching your hang glider, or perhaps finding friends for a game of killer croquet.
Read More: Snowshoeing Saved My Life
3. You'll Meet New Friends
At the beginning of my sojourn, it never occurred to me that I would meet, just by participating in sporting events, some of the most amazing people on the globe.
Here's one example: The United States Snowshoe Association (USSSA) held its 2006 national championship in Bolton Valley Resort in Vermont. I earned the right to take part in the championship races by completing one of the local qualifying races to earn fitness points towards the President's Challenge. As a bonus, I also tallied points towards for snowshoeing practice on Minnesota mountains, and for additional training to get me prepared for the qualifying races.
Anyway, as I had an early dinner the night before the championship race, a friendly guy comes by while I'm contemplating the menu; he's obviously racing. We talk, he joins me, we have a great time. I meet a new friend and am floored with his achievements once I get him to share them. The modest teacher [now retired] yet world competitor, Brent Weigner, came from Wyoming to race the championships. By that time, he had already raced snowshoes in the bitter arctic cold along with many other super-human feats, though his modesty belied his ability and drive. in fact, in February 2017, Weigner received an award based on his completion of a marathon in 100 countries!
The moral of the story is, if you take part in activities, involve yourself in the happenings surrounding that interest. The people you meet may astound you. Those encounters occur because you made an effort, a key tenet of success.
Read More:
Take Your Friends Snowshoeing (Really, They'll Love It)
Snowshoeing Is A Community Affair
4. Unexpected Opportunities May Come
Sometimes opportunities come with getting involved in your favorite pursuits. As I became more involved in snowshoeing, one of the fitness activities for the President's Challenge, I also began writing about it.
Over ten years ago, I decided to send one of my first articles related to snowshoeing to Ryan Alford, the founder and former owner of Snowshoe Magazine. He accepted it, and in doing so, suggested I should submit more. Now I am a prolific provider of content in the sport. My curiosity uncovers many aspects of snowshoeing that seem intriguing, at least to me. Thanks for Alford, and now Paul Wowk, the current owner of the publication, for that opportunity.
So, each activity you choose for your physical exertion will offer prospects, probably many, that you may choose to pursue.
5. Volunteering Comes Easily With Physical Activity
Community involvement through volunteering can come easily. All one needs to do is offer. Any sport with a competition or a good cause requires volunteers to handle some part of that activity. For example, volunteers are helping at an aid station in a run, flagging the route, or just filling a slot at the registration desk. Or, the activity's social media may need help; perhaps that will work for you.
As one example in my own life, while on the trails (and earning fitness points for the President's Challenge), I noticed the beautiful monarch butterfly and have come to enjoy spotting them. Now, I volunteer to help the Save Our Monarchs Foundation and create articles on the population plight of them.
6. Physical Activity Can Lead To More Knowledge
The physical activities you choose naturally lead to better health, but also more knowledge. Reading, whether publications or books about your sports, even snowshoeing, naturally happens. The library or internet becomes a wonderful source of materials one can use to improve our activities, how we approach them or as we're writing our own books. New sports, methods, tools, and particularly clothing have changed in the last ten years, so it's important we stay up to date.
Many needs that I discovered while on the trail, I found solutions for while reading. Either save the article digitally, copy a page from a physical book, or for magazines, subscribe. After I receive my magazine in the mail, I can always just rip out an important page, which becomes a great reminder to check something out. Not every time, but often I find something that can help me.
Use the library's resources, too. I'm fortunate to have the marvelous Hennepin County Library [HCL covers the Minneapolis metro] as close as my computer. If I find a book I want to reference or explore, I usually find a copy through HCL delivered directly to my local library for ease of pick-up.
7. You May Get To See New Places
On a look back at these 10,000 hours that I completed as part of the President's Challenge, an unintended highlight of increasing fitness became the travel associated with getting to a race or meeting regarding my favored athletics. For example, a memorable road trip is one that athlete and USSSA medalist Kris Borchardt of Wisconsin, and I made to Syracuse, New York, for the 2010 USSSA National Championships. We had met earlier in the season at the Perkinstown, WI, snowshoe qualifier. From that day evolved this trip.
Since I live west of Borchardt by a few hours, we met at a large but very nice truck stop on I-94 on an early afternoon Thursday in February. Driving all night, we arrived at Skyline Lodge, Highland County Park, site of the races mid-morning Friday with plenty of time for a course preview and practice. The championship races Saturday revealed a tough course with a killer of a climb to make the finish line. After the race, we hit the road back before daylight Sunday for a full day's drive. Many wonderful memories linger from that trip.
8. Increased Physical Activity Can Lead To Other Healthier Habits
One of many benefits of physical activity–improved health–may not be the reason you step on the court at a tennis match, tack to the start of a sailing regatta, or raise a stone in a Curling Bonspiel. But, staying healthy comes by exercising that body of yours.
The Mayo Clinic lists seven benefits of regular physical activity:  weight control, disease prevention, mood improvement, energy boost, sleep promotion, love-life, and fun happens. Although there are few guarantees in life, physical activity improves odds of a happy and long-span along with the ability to handle those nasty and often unfortunate challenges that just seem to pop-up.
Additionally, you will naturally gravitate toward healthier eating. I incorporated a modified vegan diet, which indicated a dramatic shift for a lifelong meat-eater. Now, a mostly permanent lower body weight accompanies me as I climb those dastardly hills and mountains, making up most ultra trail races.
Read More:
Nutrition For Winter Activities: A Beginner's Guide
Book Review: The Vegiterranean Diet
9. Schedule Out Any Big Goals Or Competitions
One key to staying active what with all those tasks that need completing in the office, plant, or business: schedule yourself to take part in competitions. My experience reveals if I have a specific competition on the calendar, getting up and at 'em becomes infinitely easier.
Once I decide to race an event, the first step remains to enter it as soon as possible. I often send my registration on the first day it opens. Then I'm fully committed. My computer reminds me daily of events I have coming up months later. It seems as if those bells and whistles coming at me from the computer, counting down the days to the start, serve as a boost to ensure my fitness training (and count hours towards the President's Challenge).
10. Activity In One Area Leads To Another
Physical activity in one area over time naturally helps one discover new sports in whole new arenas. One example, most snowshoers start from a history of running.
Or, a rowing machine may lead to climbing in a racing shell with a coxswain shouting commands as your team makes way down a river. Bicycling on roads could stir interest in fat tire bikes where you cover dirt and snow-bound trails. The possible combos extend well beyond these, so use your imagination. Be open to new ideas.
Explore new things. Wander through an REI location, Gander Mountain, Bass Pro Shops, Walmart, Dick's Sporting Goods, Champs Sports, Target, Kohl's, Cabela's, or a local sports store. Strolls through the aisles any time you're in such stores lead to possible new ideas for activities or enhancements in the areas you get physical exertion.
Read More: Run, Rabbit, Run: Transition From Running To Snowshoe Racing
Get Started On Your Fitness Challenge & Earn 10,000 Hours
So, start your own fitness challenge today, whether in a structured program or goals of your own volition
Then watch as these ten observations positively impact your life on the way to your own 10,000 hours or more. Only time will tell.
What are your favorite physical activities? Have you competed in the President's Challenge or another fitness challenge? What lessons have you learned along the way? Share with us in the comments below.
Write: Phillip@Ultrasuperior.com: 300-Mile Man