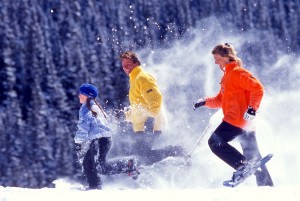 The President's Council on Fitness, Sports, and Nutrition encourages regular activity among children and adults with its premier program called the Presidential Active Lifestyle Award (PALA), whereby individuals keep track of their progress via the honor system and accumulate points to qualify for an award.
This PALA challenge incorporates First Lady Michelle Obama's "Let's Move" initiative, which encourages at least 60 minutes of activity per day for youths and 30 minutes per day for adults as a way to maintain a healthy lifestyle. Commitment to meeting this daily exercise goal for six weeks is the most significant key to fitness.
The details are for kids under age 18 to commit to daily activity for at least 5 days a week for six out of eight weeks. The parameters of the recommended activity in terms of snowshoeing are about 5.5 kilometers (3.5 miles) of snowshoeing per day for girls and 6.5 kilometers (4 miles) for boys. Individuals above 17 years old are encouraged to commit to 30 minutes of daily activity translated to about 3-4 kilometers (2-2.5 miles) of snowshoeing per day.
As you might expect there is a PALA Web site where an individual can log in and keep track of his or her progress. Go to www.fitness.gov or directly to www.presidentschallenge.org and upon registering and submitting evidence (a completed form) that you've met the challenge you can win rewards such as a certificate, emblem, and a t-shirt. There are group awards, too. There are currently more than 1.7 million participants using the PALA program but if you're not a joiner and have some self-determination, you can do it for yourself and not use the program.
To meet the challenge yourself create a simple form to daily log visits and kilometers or miles that you've snowshoed. When you've fulfilled your goal (30 outings within the 6-8 week period), then give yourself an award that you established at the outset of your challenge. If you'd prefer to use the PALA Awards (with the presidential seal) in your program, you can purchase them via the PALA Web site.
This PALA concept is a personal challenge to get fit and if you snowshoe to meet the challenge, you get the bonus of outdoor recreation and other benefits for your health like lowering stress, losing weight, and personal time devoted to yourself. It sounds like winner – and as American as apple pie.