Yeti Snowshoe events are usually set in winter, cold and white with breath visible as snowshoers prepare for 5 or 10k events. Mount Washington 2009 would be very different with temperatures toping out at 15 degrees near the 11:00am race start time. The layers always come off just before race start but nothing quite like this. One competitor completed the 10k without his shirt on.
I have said it before and I will say it again Mount Washington provides a canvas like no other. The race route is an artistic line with colorful flags showing the way. We are always excited about going to Mount Washington because they usually have one of the biggest snow packs in the Province. Not so much for 2009, most of those storms that hit during December swung South so we were working with a limited base. It was decided that the best way to create a safe 5k loop was to reverse the direction from previous years. This worked out great so much so that many regulars preferred this new direction and it just might be on offer in the future.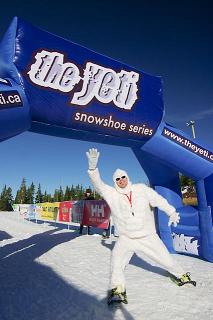 It was definitely a proffered direction for Jason Terauchi-Loutitt and Neil Holm taking snowshoe racing to the next level. These two lit up the track clocking in what could be a record fast time for a 10k on snow. Both were fighting for the line but Neil's snowshoe became loose on the final lap giving the current Canadian National Champ the space he needed to put the hammer down and hang on for a ripper fast time of 42:54.
Neil was close behind with a time of 43:04 and rounding out the top three was Jeff Reimer coming in at 47:31. In the ladies category a new face appeared on the line. Syl Corbett from Colorado made her first appearance at a Yeti and she did not go unnoticed. Syl has raced for Team Atlas USA and it showed with an impressive time of 48:27 which was good enough for a 1st place finish in the women's field and 6th place overall. Another new comer to snowshoe racing is Tamsin Anstey racing this year for Team Yeti. Tamsin had a great first showing coming in 2nd place with a time of 53:21. Local Island favorite Carey Sather rounded out the top three with a time of 56:25.
The real story of the day was the 5k Power Hike category. So many people came out to enjoy the walk, hike or run for fun category , the 5k loop was completed by more than half the participants. Special mention must go out to the Snow Queens, there on hill cheers for all the competitors did not go un noticed, hang onto those beads.
Thank you to everyone for coming out and participating in or volunteering for the season opener. A special thanks goes out to all the great staff at Mount Washington, everyone always makes us so welcome and from all The Yeti staff thank you.
As mentioned Mount Washington is only the season opener, the local North Shore Mountains are still on the calendar and we hope to see you on the line.
Photos courtesy of John Crosby.
(Back to www.snowshoemag.com)