Regular readers of Snowshoe Magazine will have seen my pictures from around the Swiss Alps before but may not have realised that, in winter at least, snowshoeing is my work. I'm an International Mountain Leader (IML) and I lead groups on snowshoes in the winter months.
We're lucky enough to have some great terrain and snow here in the Swiss Alps. But, with a season lasting from at December to May, I see a lot of different weather… quite often on the same day. It's not a surprise I'm often asked about the gear I use and I'd like to share some of that with readers of Snowshoe Magazine.
Business Casual: Dress Codes When You're Working on Snowshoes
The location for this article is the glacier above Les Diablerets in the Alpes Vaudoise of Switzerland. We're up at just below 3000m (9,842 feet) and it's a fine alpine day, somewhere below freezing but sunny with a minimal wind. Don't be fooled though, a change here can be brutal, winds in excess of 130km/h are common with temperatures dropping to -25°C (-13°F) or below. But, today it's nicer up here than the valley, there's a temperature inversion and we're high above the clouds.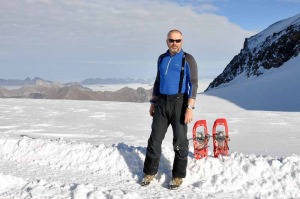 Dressing well here depends on layers and starts next to the skin; I'm wearing a Rab Aeon Plus Zip Tee. It's a synthetic base layer designed for activity in cold weather. In spring I might end up wearing it as my only layer if we're climbing a hill so it's useful that it's made from a fabric that also gives sun protection rated at 30+UPF, which should block between 96. percent and 97.4 percent of UV radiation. I like this style of base layer as the high neck keeps some heat in and offers my neck some protection from the sun in the spring.
Around my wrist is a Buff, these are pretty common nowadays and it's worth having at least one with you. You can wear them around the neck to keep warm or as a head covering. The manufacturer claim there's 13 ways to wear them. They're also great for improvised first aid, you can keep a dressing in place using a Buff for example.
OK, so I'm British, I say trousers not pants! My trousers are from the French manufacturer Millet, they're called "Aiguilles" and I'm not sure they produce them anymore. I like them so much that I've two pairs, these are actually my old ones and are patched which you can't see in the picture. They're made from GORE-TEX Performance Shell with some panels of GORE-TEX Pro Shell in the hard-wearing areas. The one feature I really insist on is an internal gaiter which stops snow going up the leg and then melting down into my boots. They're fairly warm trousers but I wear a base layer underneath.
Why do I wear GORE-TEX shell trousers? There's no single big reason. I happened to have them anyway, started using them and found them perfect for working. Another option is something like soft-shell trousers which might be warmer on their own, but I spend a lot of time sitting, lying or kneeling in snow and I find the a shell keeps me dry. I pretty much always wear a base layer underneath, in spring it wicks away sweat and in colder months keeps me a little warmer. For the purposes of these photos, and in the interest of good taste, I kept my trousers on, but I have some Decathlon/Quechua synthetic base layer on (which work perfectly).
On my feet I'm wearing La Sportiva Nepal Trek GTX boots, at least I think that's what they're called, they change the model names and I can't keep up. The highest praise I can give these is that I've had them for four years, work in them daily and just can't find anything that works better. I find they're very warm which is important as I'm stood in snow all day. They're quite rigid and robust which is useful at times if I need to kick steps in hard snow. I'm actually trying out some Millet Heaven Peak GORE-TEX right now as well as a lighter alternative for some days, I'll report back on those if they work out.
My biggest tip with boots is to keep applying a waterproof spray to them. I actually use something like Nikwax Fabric & Leather Proof pretty much from the first day I get new boots. This is just vital for snowshoeing; if you don't regularly proof boots then even small amounts of snow can stick on the outside, melt and soak into your boot. The boots need to be more waterproof than you'd need for normal summer hiking. This treatment goes onto a clean, dry boot and needs doing around every seven to 10 days of use. I find the snowshoe straps can rub around a bit and I think that impacts the proofing.
Next up is my normal mid layer, which is a Salewa Indra Durastretch jacket. I use this summer and winter, in fact all year around. It's incredibly light, stretchy, windproof and resistant to the odd rain or snow shower. Mine is actually a special edition made for the Swiss Alpine Club to celebrate their 150th anniversary last year, but they're available retail with a choice of colours. I seem to keep getting a lot of black clothes, it did bug me for a while but I'm resigned to it now… actually, I'm a big Johnny Cash fan so I'll keep walking that line.
Many days this jacket, with the base layer, is enough to keep me warm when I'm climbing. Because it's a mid-layer and I'm going to be putting a shell layer on I've put my avalanche transceiver on as it needs to go under the outer layer. This is to help prevent it being ripped off if we're unlucky enough to be caught in an avalanche.
Some days I need an even warmer base layer, so I put on my Rab Microlight down jacket. As the name implies, this is a very light jacket,  around 428g (15oz.). This has 750 fill power Hydrophobic European goose down providing instant heat wrapped in a microlight fabric keeping the wind at bay. It packs down really small so it's not taking much room in my sack and it's there if it gets cold or to keep me warm if I want to stop for a break.
And, of course, I'm wearing, inevitably, a baseball cap. I realised a while back that about half my Facebook friends, also working in the mountains, were all appearing in their profile photos with baseball caps and wraparound dark glasses. I guess it's a style (or lack of) thing. On a colder day I'll wear something to keep my ears warm and on a warmer day something lighter to keep the sun off my face and head.
Discarding the down layer, as it's just not that cold, I put on a shell layer. I'm something of a GORE-TEX agnostic personally, I think in recent years it works just fine but not so many years ago some of the claims were possibly overstated. This is a Rab Latok… made from the eVent fabric, which Rab uses a lot.
eVent offers all the features you'd expect: it's breathable and waterproof. It's actually slightly more breathable than GORE-TEX due to the way it's constructed, but it can require a little more care and washing to maintain the performance. In real life, there's not a lot of difference at this time.
All I can say is it's without drama, it's kept the weather out on some wild days high up in the Alps. The pockets and vents are all in the right place and the right size, no drama.
It's a technical jacket, that means all sorts of things in the hands of some marketing teams, but Rab plays this straight. Here it means durable, performance with features like high pockets out of the way of rucksack belts or climbing harnesses. The hood is helmet compatible and it's adjustable enough to protect your face without blocking vision.
Also made from eVent are my Rab Guide gloves. Rab have been making this glove for some years without huge changes, they just work so well. It's the Guide model, but it's available retail for anyone that needs a hard wearing glove to use in cold weather. My last Rab gloves lasted three full winter seasons, which is a testament to their rugged nature. In fact, I'm still using them for skiing. They're lined with Primaloft which, like down, is another insulating material. Primaloft is artificial and it's big advantage over down is that it still works when it's wet which makes it ideal for gloves. It's also quick drying and pretty cheap. It's not all win-win, down is way more breathable and lighter but these aren't major advantages for a glove.
Sometimes, even my Guide gloves aren't enough. Or, more likely I've been in snow all day and dropped them in a snowdrift several times, so I have a pair of eVent mittens, which are filled with Primaloft insulation and come with their own inner glove. In all honesty, I don't use these much, but I do need a standby. Because it's a system with inner glove and outer mitten, I can use one or other as I prefer. The mittens are useful sometimes to stick on clients cold hands to quickly warm them up so I strongly recommend having a spare pair of mittens. I've a second pair of GORE-TEX mittens in my rucksack for exactly that use.
So, what's the summary?
I'm pretty much using standard ski touring and mountaineering gear; it's widely available, high-performance and lightweight… even if it's not the cheapest gear around. That's not surprising, really; we're in the same environment and we're doing similar work… ascending and descending hills. Alpine skiers are spending time sitting on ski lifts and then coming fast down slopes, for them lined clothes work pretty well. You can use alpine ski clothing for snowshoeing, especially if it's cold; but, if you're heading into the backcountry you'll find layered, breathable clothing works better and you'll want to be ready when that bluebird day turns wild.