Far from the jam-packed streets and unceasing lights of Tokyo lies a region one could easily mistake for rural Alaska or Montana in winter. High mountain peaks stand over barely populated towns, ski resorts, small farms, valleys, lakes, rivers, and waterfalls—This is Aomori Prefecture. To learn more about Aomori's vast stretches of excellent terrain for winter nature sports, I explored Aomori by train, van, gondola, snowshoe, and canoe.
Day 1: Guided Backcountry Snowshoe Tour on Mt. Iwaki
First, I zipped from Tokyo Station to Aomori at speeds up to 320 kilometers per hour (199 miles per hour) on the Hayabusa Shinkansen (E5), or bullet train. Three and a half hours later, my friend and I arrived at Shin-Aomori, a train station near the northernmost tip of Japan's main island. Our Aomori expert hustled us into a waiting van.
Our goal was the Aomori Spring Ski Resort on Mt. Iwaki. We headed to the gondola (elevation: 518 meters/1,699 feet). Affable guide and owner of BBB Aomori Tour, Kazuo Hanada was waiting for us with snowshoes, poles, and a wide grin.
Riding the Gondola To The Top
Hanada updated us on the weather conditions. Despite strong wind and heavy snowfall, the gondola was, luckily, still running. A bean-like four-seat gondola car carried us 2,967 meters (1.8 miles). We got off at an elevation of 921 meters (3,021 feet). The air temperature was -9° Celsius (15.8° Fahrenheit). Snow depth was just over 1.5 meters (about five feet). On clear days, views from the mountain heights stretch into the Sea of Japan. But that day, limiting visibility, winds from Siberia were blowing icy powder over our faces.
Fortunately, Hanada's knowledge of snow conditions and mountain plants is encyclopedic. Pointing to dangerous slopes, he explained why they might be susceptible to sliding. Then he led us safely uphill. In knee-deep powder, we weaved through a beech forest. Trees splotched with multi-hued lichen looked like they were wearing military camouflage. Rime ice on the tips of branches grew in the shapes of shrimp tails.
Learning About Nature On Our Tour
Our guide showed us pairs of thriving trees and pairs of trees in which one was sick or dead. He taught us that two small trees coexist if both sprouted from the seeds originating from the same tree. However, trees growing from the seeds of different trees extrude poison through roots to kill the others when they are very close.
I desired to learn more nature lore from our guide, but we had to get back on the gondola to arrive at our accommodation in time for dinner. While watching skiers slide under us, Hanada explained details of some of his tours.
Other Winter Tours
Since he is not a fluent English speaker, he relies on body language and simple English to communicate with foreign guests. One of his most popular winter tours is riding fat tire mountain bikes over snow and ice to visit shrines and even a castle. Another fun-sounding trip is a combination of bicycling and snowshoe trekking and eating lunch in the snow. He arranges a variety of customized tours for each season.
Day 1: Relaxing and Disconnecting at the Aoni Inn
If only I had more time to enjoy his tours, but we needed to hurry to reach a secluded location. We covered 60 kilometers (33 miles) on mountainous public roads to an inn with baths that hot spring fanatics rave about. We turned up the Aoni Inn's narrow private lane. It snaked up ridges and down ravines for six kilometers (3.9 miles). We had entered the Aoni Inn's hidden realm, where phones lose connection with the "world."
Recharging phones is impossible. Rooms do not have electrical outlets. Guests gave a nickname for this hot spring hotel whose interior is illuminated only by kerosene lamps: Lamp Inn. Stars and moonlight illuminate the exterior. The old-growth forest surrounding the inn provides a natural environment for outdoor walks and reflection.
One repeat guest from Tokyo explained that after her first one-night stay, she decided to visit every year for at least one weekend. She reads by the river, soaks in hot springs, and relishes dishes prepared with mountain fish, duck, vegetables, herbs, and other local foods. Staying there, she says, is like returning to a time when people were less automatic, more humane.
I understood. Without my distracting phone and computer, I engaged in long, meaningful face-to-face conversations. Discussions deepened during slow meals in our private dining room or while healing our bodies and minds in natural thermal springs. I remembered when I was not tethered to the Internet, and my life was slower.
Soak In Rejuvenating Bathing Areas
The Aoni Inn's four bathing areas encourage relaxation. There is a mixed-gender bath that all guests can enter. The stone-rimmed bath has views of snow and forest. An indoor single-sex steamy wooden bathroom smells like herbs. Another indoor bathing area is within a jump's length of a river. My favorite spot had both an interior wooden bath with large windows and an exterior rock bath that faced a 30-meter-high (98.5 feet) waterfall.
The next morning after a reinvigorating hot bath and a hearty breakfast in a room with a snowy-river view we departed; although, I wished to stay longer.
Day 2: Winter Canoeing at Lake Towada
But the itinerary promised an exciting activity—winter canoeing—in Towada-Hachimantai National Park's Lake Towada. It's a caldera lake at an elevation of 400 meters (1,312 feet). Despite its enormous size, 61.1 square kilometers (24 square miles), and cobalt blue water, it's almost deserted in winter.
The route we took to Lake Towada crisscrossed the awe-inspiring Oirase River over small bridges. Many in Aomori boast that the Oirase is Japan's most beautiful. We discovered frozen waterfalls and running waterfalls, sunlight filtering through frosted branches, and sparkling water bounding over mossy rocks.
Meeting Our Guides From Towada Guidehouse Kai
After many stops for photographs, our van arrived at the parking of the small building that Towada Guidehouse Kai shares with a coffee shop. A short walk away, choppy waves rolled across the surface of Lake Towada. Waterfowl scattered here and there, then occasionally turned over and plunged into the depths of the great blue body of water. Three-storied excursion boats docked on a beach waited for warmer water and more visitors. Neither vehicles nor people moved on the white shore and the shimmering lake that steep mountains surrounded.
Partners and tour guides Shuhe Murakami and Yasuhiro Ota invited us into their shop. They speak basic English, but their other partner Hiroshi Koda, who assists when English-speaking foreigners join tours, communicates well.
Towada Guidehouse Kai offers "nature rambling," snowshoe, and canoe tours through Oirase Gorge and around Lake Towada. Nature rambling is moving at a leisurely pace and studying the environs while wearing hiking boots, snowshoes, or short Bluemoris Snow Rambler skis. Triangular ridges protrude from the bottoms of these Aomori-manufactured skis that allow downhill skiing, but prevent slippage when walking uphill.
Embarking On Our Canoe Tour
Our plan was first winter canoeing and then snowshoeing. Strong winds and high-rolling waves almost canceled our trip, but our guides brought us around the lake to Utarube Beach, where the lake surface, sheltered from the wind, was as clear and smooth as water in a glass.
Before departing, our guides professionally inspected the fastening of our life jackets, taught us paddling techniques, and made us practice until they were satisfied. From the snow-covered lakeshore, we stepped into two Canadian-made Old Town canoes. We paddled.
Beautiful Views and Wildlife On Our Canoe Trip
Waves splashing through winter onto fallen trees, and the exposed roots of living trees on the shoreline, had created sparkling rows of icicles. Above and around us birds screeched, chirped, honked, flew, or dove. By sight or sound, the guides identified and taught us about the habits of the following birds: black kite, tits, mandarin duck, grebe, and cormorant.
Our canoes sliced through the slushy icy skin of the shallow inlet named Kojima Ga Ura. It is at the base of the Ogura Peninsula. This cove is the most heavily protected section of the national park. The only access is by canoe. Mesmerized, we stopped paddling and speaking to absorb the scenery.
Everywhere I pointed my camera, the views of land and lake were like advertisements for winter nature tourism. Sharp rocky cliffs plunged into the lake. Rocks in mid-cove held pillows of snow.
Passing the Utarube Campsite
Gusts of wind and drizzles crept over the peninsula, so we paddled back. We passed the vacant Utarube Campsite, which has tent sites and small lodges all within a minute's stroll to the lakeshore.
In seasons other than winter, the campsite is very popular. Many visitors staying there choose to enjoy barbecues and sunrise canoe trips that our guides arrange. I hope to return to Lake Towada in spring, summer, and fall when winter's leafless trees wear light green, dark green, and fiery colors.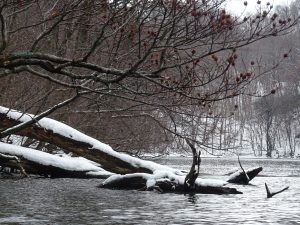 Day 2: Exploring the Oirase Stream Museum
Just after we returned to shore, the drizzle turned to a downpour, so we went to a coffee shop owned by the mother of one of the guides. She served us curry rice and tasty hot udon, Japanese flour noodles with mountain vegetables. While watching the storm churn Lake Towada, we realized that nature had canceled our afternoon snowshoe trek.
Instead, we dropped into the Oirase Stream Museum, which has nature exhibits and provides lessons in the crafts of creating lamps from dried gourds and making moss balls.
To see one of the most dazzling videos of snowshoeing ever made, click on the link to a website produced by the Oirase Field Museum and scroll down to "Winter in Oirase."
Day 2: Staying at the Sukayu Hotel
Our hotel that night was the renowned Sukayu. This hotel satisfies the accommodation needs of hardcore powder hounds.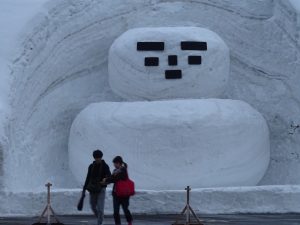 Sukayu sits in the Hakkoda mountain range, a realm of active volcanoes that have grown to high elevations. The Hakkoda Ski Area is acclaimed for off-piste and backcountry skiing and snowshoe trekking. Many intrepid skiers and snowshoers ride the Hakkoda ropeway gondola to Mt. Tamoyachidake (elevation: 1324 meters or 4347 feet) and conclude the day by descending the backside of the mountain through the woods to Sukayu.
Sukayu was built in a very magical mountain range. It is a place where fire and snow meet, where snow monsters are born and melt, and where walkers can explore nature all year round if they take the proper precautions. Snow monsters are trees so encrusted with so much frost, ice, and snow that they resemble Godzilla, aliens, and other monsters. January and February are the best months to photograph these beasts near the top of the Hakkoda Ski Area.
A sense of wonderment filled me during my stay at Sukayu. I felt it first when we drove by a 5.6-meter-tall (about 18 feet) snowman in the parking lot. It stayed with me when bathing in one of Japan's largest and most traditional mixed-gender hot springs.
Day 3: Guided Snow Hike of Volcanic Hot Springs
And the next morning, awe and amazement were my traveling partners. Powerful winds closed the ropeway that day, so our guide brought us around the swamps and hot springs in the woods near our hotel. The hotel rents gear, and it arranges backcountry ski, snowboard, and snowshoe tours. Guides are necessary. Getting lost or injured by accident from breathing poisonous gases are remote possibilities that you should not ignore. Our knowledgeable guide was Yoshitaka Hirai.
Hirai explained that in certain volcanic regions gases rise with hot thermal water out of the soil. The concentrations of these gases are usually too low to be a threat, but going too close to their sources or breathing too much when the earth emits large amounts are dangerous. A child died a few years ago in that area while searching for mountain vegetables.
Shrine and Wildlife Sights Along The Way
Starting just behind Sukayu, we passed ancient Yakushi Shrine, which was buried by snow with just the tip sticking out. We continued trekking. We smelled sulfur and saw yellow caked sulfur around hot springs melting snow. Steam floated upward.
White mountains rolled into the distance. Holes in trees indicated active woodpeckers. We walked over and around swamps that in spring would burst with colorful flowers. The snow was soft and fresh.
We walked to the edge of snow cliffs above a road that the government closes every winter. From a height of nine meters (about thirty feet), we looked down. By coincidence, a snowplow was trimming the edges of what would become the snow corridor linking Sukayu Hot Spring with Yachi Onsen (hot spring) at the end of March. Snowplows cannot keep up with all the extraordinary snowfall until spring.
Soon afterward, two powder hounds hiking up the mountain with skis and snowboards on their backs and smiles on their faces crossed our path. They were the only people we met.
Our snow hike ended at a lovely swamp called Jigoku Numa (Hell Swamp). The Japanese often use "hell" to name locations with bubbling thermal waters, bubbling mud and drifting smelly gases. When steam floats above the contours of snowy landscapes, they impart an otherworldliness.
During my three-day trip, I found vast stretches of exceptional winter lands in Aomori, and I barely scratched the surface of the prefecture. Aomori has hooked me. Maybe I will see you there.
Trip Summary
To Get There: Hayabusa Shinkansen (E5) bullet train from Tokyo to Aomori
Day 1
Tour: Snowshoe Tour By BBB Aomori Tour on Mt. Iwaki
Accommodation: Aoni Inn
Day 2
Tour: Winter Canoeing By Towada Guidehouse Kai
Sights: Oirase Stream Museum
Accommodation: Sukayu in Hakkoda Ski Area
Day 3
Tour: Guided Volcanic Hot Springs Snow Hike By Yoshitaka Hirai
Accommodation: Sukayu in Hakkoda Ski Area