As a big fan of Canada's National Park system, I'm pretty pumped about knocking another one off my bucket list. My husband Jack and I have spent time in Alberta's more well-known mountain parks, Banff and Jasper, and have even enjoyed the more subtle beauty of Elk Island National Park near Edmonton. This, however, is our first time at Waterton Lakes National Park which is located in the southwest corner of Alberta. Bonus points for going in the winter and taking our snowshoes!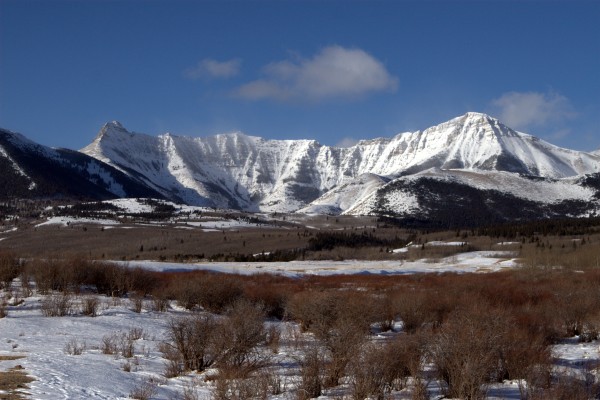 After arriving at Calgary International Airport, we quickly leave the city behind as we drive south on Highway 2 through flat ranch land and small towns. Nanton's colourful grain elevators exude prairie character, while views to the west reveal the distant ramparts of Canada's Rocky Mountains.
We parallel the mountains for a couple of hours before detouring to one of Canada's most fascinating and flamboyantly-named historic sites, Head-Smashed-In Buffalo Jump, which is also a UNESCO World Heritage Site. We can't resist stopping to explore further. The interpretive centre is artfully built into the side of the escarpment that was used as the buffalo kill site.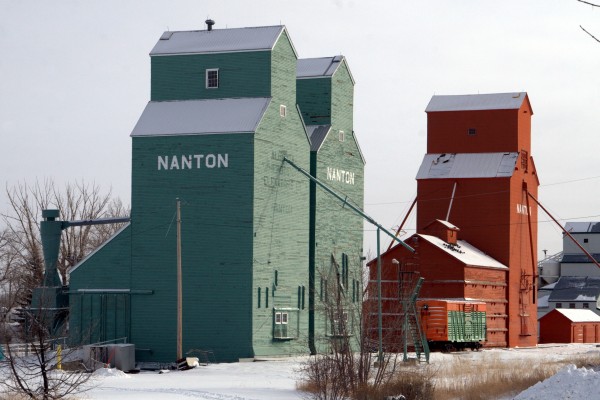 The basic premise of Head-Smashed-In Buffalo Jump is that, using a communal hunting technique that was practiced here for almost 6,000 years, the local First Nations people drove buffalo over the escarpment to kill them. They used all parts of the buffalo to survive … the meat for food, the hide for shelter, and the bones for tools. We watch an excellent film explaining the tradition. It is astounding to think that they had no guns or horses.
The weapons used in these buffalo hunts were knowledge and courage. A hunter known as a buffalo runner would wear the fur of a buffalo calf to draw the herd towards the cliff, while other hunters would wear wolf skins to make the animals nervous from behind. We consider how dangerous it must have been to incite a herd of these giant animals to stampede.
We have the wonderful opportunity to tour the site with a Blackfoot guide, Edwin Small Legs. Edwin is proud of his First Nations heritage, a compelling storyteller, and generous with his time. From the top of the chilling kill site we can see how the escarpment appears to invisibly melt into the surrounding landscape. The buffalo would run over the cliff almost before realizing there was a dropoff. Although the hunt usually happened in fall, signage in the interpretive center indicates that hunters used snowshoes to navigate deep snow when conditions warranted it.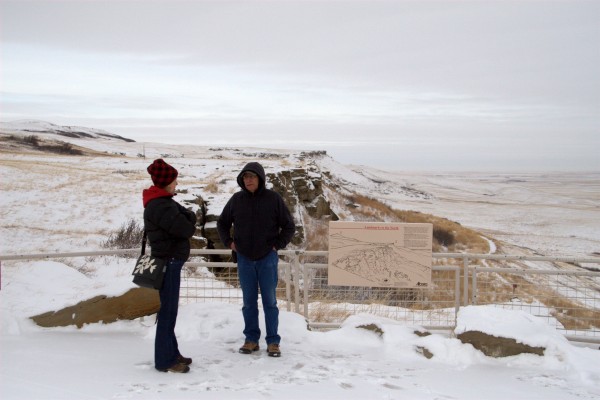 Speaking of snowshoes, we finally tear ourselves away from Head-Smashed-In Buffalo Jump and point the car south towards Waterton Lakes National Park, where we plan to spend the next two days on snowshoes ourselves. As dusk falls, we see numerous deer on the prairie before stopping in the town of Pincher Creek for gas and groceries. We enter the Park in darkness and later discover what we have missed, a landscape dramatically morphing from prairie to mountain.
Waterton Lakes National Park has a long lineup of significant designations. Like Head-Smashed-In Buffalo Jump, it is a UNESCO World Heritage Site. In addition, partnered with Glacier National Park in Montana, in 1932 it was named the world's first International Peace Park commemorating the close friendship between Canada and the U.S. And finally, Waterton Lakes National Park is part of a Biosphere Reserve, which is an area of study and information highlighting the relationship between humans and the environment.
All of these designations spark our interest but when we open our curtains the next morning, it is the majestic vistas of mountains, frozen lakes, and snow-covered trees that really captivate us. We quickly have breakfast in our room at the Crandell Mountain Lodge. Our full kitchen will definitely come in handy, and the country-casual décor of our room is a warm and inviting retreat after a day of snowshoeing.
Eager to hit the snowshoe trails, we start with two of the Park's most popular higher-elevation trails. The Akamina Parkway ascends through a stunning mountain landscape with views of snowy peaks, deep valleys, sparkling streams, and frozen waterfalls. At the Little Prairie Picnic Area, we strap on our snowshoes and start the easy three kilometre hike to Cameron Lake. Fresh snow from the past week sits lightly on the trees, falling onto our heads at the slightest breeze. The forest hike is punctuated by more big views, especially from the lake where the wind picks up and sends us hurrying back to the shelter of the trees.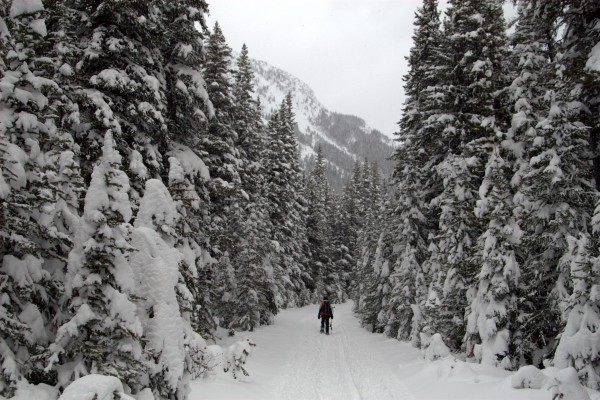 Back at the Little Prairie Picnic Area by mid-day, we enjoy snacks and a fire in the woodstove of the warming hut, while we plot our afternoon snowshoe adventure. The Crandell Lake Trail is also along the Akamina Parkway so seems a logical choice for the afternoon. As we strap on our snowshoes and head out, I can't imagine a better choice. The trail starts with a winding ascent through the forest, and soon big snow-covered mountains rise up on our right and straight ahead. We descend slightly to tranquil Crandell Lake with its dark tree-lined shores and stunning mountain backdrop.
Finally we must turn back and retrace our steps to the car. Before returning to our hotel, we venture to the "prairie" of Waterton Lakes National Park. After all, the Park's tagline is "Where the Mountains Meet the Prairie". Who knows … maybe we'll see some wildlife. Sure enough, near the Park entrance station a flock of Canada geese on an icy pond capture the attention of Jack and his camera. We continue on and find some larger subjects, a herd of elk. We are thrilled … there must be over 100! Several white-tailed deer round out our Wild Kingdom experience.
Feeling hungry and tired after our snowshoeing and wildlife viewing, we return to Crandell Mountain Lodge to get ready for dinner. The Lodge is located in Waterton Village which is, particularly in winter, refreshingly quiet and uncommercial. The village sits on the picturesque shores of Upper Waterton Lake, and is nicely walkable.
We make a beeline for Vimy's Lounge and Grill, one of the only restaurants open during the winter and ohhh, those big comfortable chairs are just perfect for lounging with a drink and watching a hockey game. We have the good fortune of hitting Vimy's for the Battle of Alberta, the Edmonton Oilers vs. Calgary Flames. Not a hockey fan? There's also opportunity for quieter dining in an upstairs room. Aside from the friendly vibe, Vimy's offers an inspired and eclectic menu. I have no problem finding vegetarian options, and Jack goes straight for the Alberta beef. Back in our room, the fresh air, exercise, good food, and quiet surroundings catch up with us and we settle easily into a deep sleep.
We wake up the next morning eager for further exploration on our snowshoes. Yesterday's cold temperatures have given way to one of Southern Alberta's famous chinooks, and as a result the trees are dripping with melting snow and the warm wind feels wonderful on our faces. We grab our snowshoes, step outside the door of our lodge, and head for the Bertha Lake trailhead which is right on the edge of town. No driving necessary. En route to the trailhead we pass Cameron Falls, an incredible jumble of frozen waterfall, rock, and the occasional patch of open water. We soon heat up and start shedding clothes as the trail climbs quickly out of town. Ever-expanding views of Upper Waterton Lake and the surrounding mountains help keep us going. Swirling patterns on the icy lake far below look like they have been created by an artist's brush.
Eventually we turn our snowshoes around and reluctantly head back towards town, our time in Waterton Lakes soon coming to a close. Shelly Mercer, the kind Parks Canada employee who pointed us in the right direction the day before, had also suggested that in order to fully appreciate the Park, we might like to snowshoe the Wishbone Trail, a flat and easy trail on the prairie side of Waterton Lakes National Park.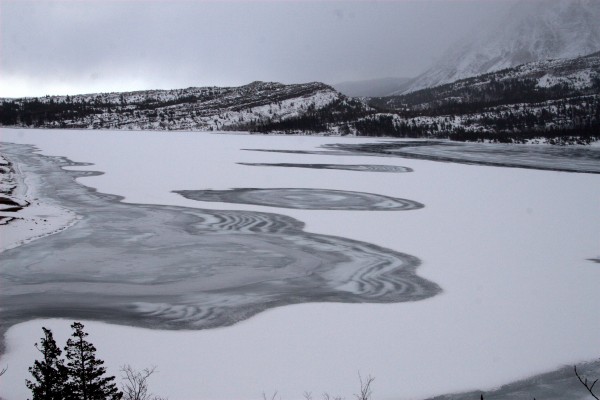 Dusk approaches as we snowshoe amongst the dark silhouettes of aspen trees. The wind picks up, causing snow clouds to swirl and change shape against the mountains to the west. There are animal tracks everywhere. Elk, deer, moose, wolf. We turn a corner and come upon a small herd of elk bedded down in a sheltered spot. A few minutes later, we glimpse three flashes of white tail as a trio of deer disappear into the forest. I find myself glancing behind me as I feel the presence of unseen animals at every turn of the trail. This is quite possibly the most atmospheric spot I have ever had the pleasure of snowshoeing.
We find the subtle beauty of the Wishbone Trail to be a wonderful finale to our Waterton Lakes National Park snowshoe adventure. Once again I am so grateful for Canada's commitment to its National Parks. They are an invaluable legacy that we must continue to support and cherish. We vow to return soon to once again enjoy Southern Alberta's mountains, prairie, wildlife, history, and hospitality.
Practical Information:
We flew to Calgary, Alberta and rented a car at the airport. Heading south on Highway 2, it's approximately 165 km to Head-Smashed-In Buffalo Jump. Check out the Special Events tab of their website for upcoming family events in February. Special thanks to Edwin Small Legs for his interesting and insightful tour of Head-Smashed-In Buffalo Jump.
Waterton Lakes National Park is 271 km south of Calgary. We returned to Calgary via Highway 22, a remote and incredibly scenic drive through expansive ranch land close to the eastern edge of the Rocky Mountains.
In addition to checking their informative website, on the way into Waterton Village, stop at the Parks Canada offices for advice on Waterton Lakes National Park, especially pertaining to avalanche information. Avalanche bulletins are issued regularly by this office. We are very grateful to Shelly Mercer, Parks Canada Promotion & Non-personal Media Officer, for providing excellent information on the Park and accompanying us on our first day of snowshoeing. Other winter activities available in the Park include cross-country skiing, geocaching, ice climbing, and tobogganing.
Crandell Mountain Lodge is cozy and comfortable with friendly, helpful staff. We enjoyed a suite with full kitchen facilities. There is no grocery store in Waterton Village in winter, so stop in Pincher Creek for supplies on your way to the Park.
Waterton Lakes Lodge is another accommodation option, and also the location of Vimy's Restaurant. Snowshoes can be rented from Waterton Lakes Lodge.
All photography by Jack McKeown.