I've been snowshoeing on North Vancouver's Mount Seymour often enough over the past few years to consider myself a regular. So, when the opportunity arose to write about snowshoeing on Mt. Seymour for Snowshoe Magazine, I jumped at the chance.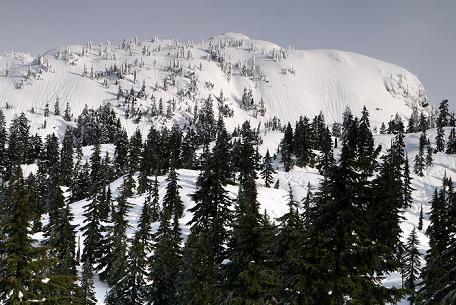 The kind people who live and work on Mount Seymour agreed to spend a little time with me to round out my knowledge of the wide range of opportunities available for snowshoers.  Now I'm more excited than ever about this wonderful destination. Without further delay, here are my seven great reasons to go snowshoeing on Mount Seymour.
Read More: No 1 Snowshoe Friendly Ski Resort: Mt Seymour, British Columbia
1. Great Neighbourhood
Vancouver receives endless accolades for its livability, natural beauty, cultural attractions, diverse dining experiences … and the list goes on. In just over 30 minutes you can be out of the city and strapping on your snowshoes for a Seymour snowshoe adventure.
Drive up the mountain on well-maintained roads or take the shuttle bus from Parkgate Community Centre or Rupert Skytrain Station in Vancouver. At the end of the day, you can head back to Vancouver to eat at that interesting Thai restaurant and maybe take in a live theatre performance on Granville Island.
2. Snowshoe the Discovery Trails At Mt. Seymour
The Discovery Trails at Mt. Seymour are comprised of 11 different snowshoe trails. These peaceful and scenic snowshoe trails sit in a safe, protected basin. They are also well-marked, regularly maintained and offer loops for various levels of snowshoers. The trails meander through old-growth forest and pass two frozen lakes, Goldie and Flower.
After a fresh snowfall, the trees look like what you would find on an old-fashioned Christmas card. One staff member likes to go to Goldie Lake when no-one is around to "listen to the silence." The core trails are easy and family-friendly, with more challenging options available. Best of all, they are solely for snowshoers: You don't have to share with skiers or anyone else.
3. By Family for Families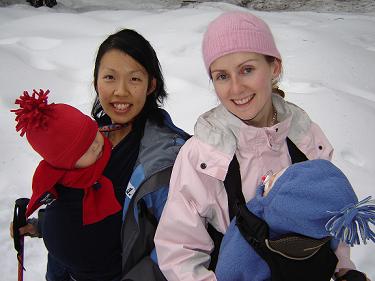 A family-run business manages facilities that support snowshoeing, skiing and other winter activities. The staff is friendly, helpful, customer service oriented, and many have worked on the mountain for years.
Snowshoeing has been offered on Mt. Seymour since 1974.  These guides know how to get you set up for a great day on the snow, even first-time snowshoers. You can take your own lunch or purchase something at one of the cafés on the mountain. Either way, there are plenty of warm areas to sit inside and take a break. Try the Enquist Lodge for its extensive mountain views.
4. No Snowshoe Gear? Mt Seymour Has Your Covered
The Snowshoe Centre offers a broad selection of rental snowshoes including toddler and children snowshoe models. If you're contemplating a snowshoe purchase, you can test-drive a few models to find out what suits you. They'll even rent you warm coats and pants – a nice option for travelers to Vancouver with limited luggage space.
5. Fondue Anyone?
I'll be honest, until recently, I didn't know that Mt. Seymour even had an Outdoor Education Manager. But, now I'm excited about all the fun and educational opportunities for snowshoers on Seymour. The Outdoor Education Manager's job is to work with a team of guides and interpreters to develop and deliver snowshoe programs and tours for a variety of ages and abilities.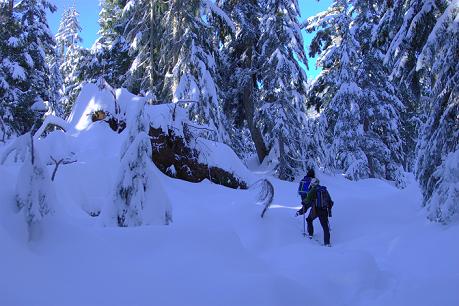 Introduce the whole family to snowshoeing and learn about the wintery landscape on an Intro To Snowshoeing Tour. Or, take the Twilight Tour; you may glimpse an owl or a snowshoe hare. The Baby & Me Snowshoe Tour is a popular drop-in program that includes snacks and a hot drink served indoors afterward. Personally, I'm most interested in the Valentine's Day Chocolate Fondue Snowshoe Tour – served by candlelight in a hand-carved snow lounge.
6. Cabin Fever
In the early twentieth century, there were more than 300 cabins on Mt. Seymour, mainly used by weekend skiers. A few metres off-trail we discovered Trapper John's log cabin nestled amongst the trees with an impossible amount of snow piled on the roof. It's thrilling to think there are many more like it, some well-known by locals and others silently crumbling into the forest.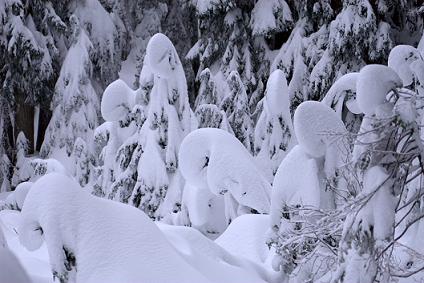 Alex Douglas, a long-time Mt. Seymour employee, is passionate about the human history of the area. He lives in one of these cabins, beautifully restored and often used for films, commercials, and television. The fireplace is constructed of stones from a nearby creek. Displayed on the mantle is a pair of early rental snowshoes, the traditional beavertail snowshoe.
7. Saturday in Mount Seymour Provincial Park
British Columbia has an excellent provincial park system including Mount Seymour Provincial Park, which covers much of the land on Mt. Seymour. In fact, the Park provides additional trails for experienced snowshoers. These trails are more rugged and challenging than the Discovery Trails and draw larger crowds as there is no associated trail fee. Intermediate snowshoers will enjoy the rolling trail to First Lake and the birds-eye views from Dog Mountain. If snowshoeing in the backcountry of Mount Seymour Provincial Park, make sure to have the proper avalanche safety equipment and training.
Have you snowshoed in Mt. Seymour? What's your favorite trail? We'd love to hear about it!