Getting back to nature and away from it all is pure bliss and the reason many people turn to snowshoeing as a winter activity. There is a certain elegance in the simplicity of the equipment, the effort required, and the quiet. In today's hustle and bustle world it is a way to balance and refocus. For a getaway that is equally elegant in its simplicity and purity, there is Nature's Harmony.
Overlooking the Laurentian Mountains, this ecolodge is set on 485 acres and surrounded by nothing but nature, wildlife and peace.
Your Hosts
Jen and Tzach Elnekave are world travelers who developed a distinct appreciation for slowing down and finding beauty in the simpler things in life. In 2004 they came up with an idea – live green and be close to nature; create and share the simple environment they had enjoyed while traveling; meet people and share this experience with others. In 2006 came the opportunity to create Nature's Harmony.
The Elnekaves have built Nature's Harmony to combine the very best of a natural setting and accommodating service.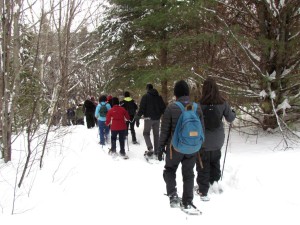 Winter Activities
Miles of pristine snow and 20 km of designated trails provide opportunities for novice and advanced snowshoers. Trail maps and clear signage allow people to enjoy time on their own. Guided trail and off-trail experiences are also available.
An extensive groomed trail system for cross-country skiing and the opportunity to try kicksledding (a traditional Scandinavian sport much like a winter scooter) are also available. The property's tube toboggan run has also become quite a popular attraction for adults and children alike.
Snowshoes, skis and kicksleds are all available to rent so you can pack light and take advantage of whatever the mood brings.
Day passes are also available.
Green
Nature's Harmony uses many initiatives to ensure a sustainable environment for guests and living green and off the grid is part of the experience.
Power for the couple's home is achieved through a combination of wind and solar. Laundry is done using a natural and organic alternative to detergent and then everything is hung to dry. Minimal linen services are available for guests. Intending to be rustic and unplugged, one cabin is run with solar power and the rest are electricity free.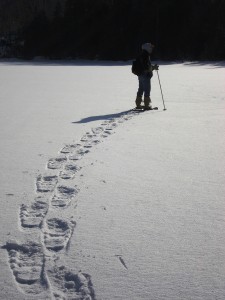 The property also has three outdoor composting toilets and three outdoor eco-showers which use rainwater heated through passive solar or fire. Potable water comes from both a spring-fed well and a natural spring and is carried to the cabins.
Other natural elements planned for future development include a natural swimming pond, herbs and vegetables grown on site, a cob oven (made from clay, sand, straw and water), a solar oven and the construction of new cabins using a variety of earth building techniques.
The entire property is totally off the grid with connections to the outside world available only through satellite internet and phone services through Voice Over Internet Protocol (VOIP) through the satellite internet.
Accommodations
Nature's Harmony offers a variety of accommodation options to suit guests, all in keeping with a simple lifestyle.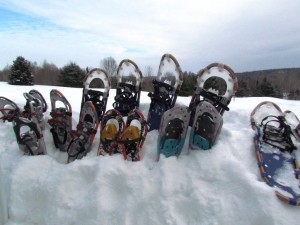 The secluded Ma'ayan chalet features a fireplace, fully equipped kitchen, indoor composting toilet and water carried in from the main lodge. The chalet's open concept loft allows for groups ranging from two to 14.
The Shamayim log cabin sleep up to seven people and features an open concept living area, indoor compost toilet, a fireplace and basic cooking essentials. Water is carried in from the main lodge.
A Mongolian Yurt is available for those wishing an even more rustic setting and comes equipped with a woodstove used for both heating and cooking and a private outdoor compost toilet. Water and wood are supplied.
Amenities
The main lodge is open to all guests as a place to come and enj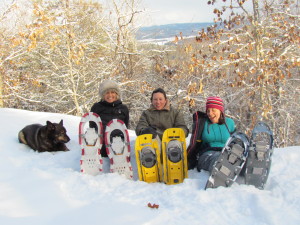 oy a hot shower, a warm sauna or a hot cup of hot chocolate by the fire.
Though all of the units are set up for guests to cook independently, arrangements can also be made for assistance with food preparation.
For a getaway that is totally unplugged and totally unique, check out naturesharmony.ca.