What do miles of groomed trails for snowshoeing, fresh fine dining, luxury accommodations, and majestic views have in common? The answer is our top 10 snowshoe adventures for couples. From the world-famous ICEHOTEL to a luxury resort and spa in the heart of the mountains, these destinations have set the mood for romance, sport, and relaxation.
Below you will discover that not only do these destinations offer exceptional snowshoe trails and ease of access but these resorts offer the full vacation experience for couples. World-class dining options, extensive wine lists, outdoor hot tubs, spas, and magnificent views are just a fraction of what is offered. Sit back, relax, and read on to discover where your next adventure will be.
10. Johnson Mill B&B, Utah, USA
Rated one of the four most romantic inns in the country, Johnson Mill Bed & Breakfast combines superior accommodations with its excellent proximity to major Nordic Centers. Johnson Mill maintains two feet of snow around the property: perfect for any couple ready to strap on their snowshoes.
From suites offering Jacuzzi tubs and fireplaces to premium and deluxe rooms that offer tranquility and spectacular views of the pond–along with an in-room couples massage–it's hard to imagine staying anywhere but here. Complimentary breakfast is included in each stay and there is no shortage of restaurants in the immediate area.
With 14 acres of property to explore on snowshoes, keep your eyes peeled for wildlife that includes moose, elk, deer, and foxes. Avid snowshoers will want to explore Soldier Hollow, an Olympic Nordic Center that offers exclusive terrain for snowshoeing. Heading into the mountains is easy; head over to Wasatch Golf Course, which offers specific snowshoe trails with unparalleled views.
The owners of Johnson Mill have a motto: "Come and listen to the quiet." So, if romance, tranquility, and high-quality snowshoeing are what you are looking for, this is the place to be.
Click here to visit their website.
9. The Rusty Parrot Lodge, Wyoming, USA
If you are looking for a romantic snowshoe getaway in Jackson Hole, Wyoming, there is no better place to stay than The Rusty Parrot Lodge. One of the top small upscale hotels in the world, this 30-room family-run inn is full of surprises.
World-class dining with organic and local ingredients, rooms furnished with fireplaces and Jacuzzi tubs, and a thirty-page wine list makes for the most enjoyable stay. There is plenty of opportunities for couples to venture out on their own, snowshoes strapped on–with miles of trails in the area.
The Rusty Parrot offers a unique guided option to the Winter Teepee camp, which can't be missed (for the night owls, try the moonlight option). The winding trail will take you on the banks of the Snake River and to amazing views of the Teton Mountain Range, where Bald Eagles and Golden Eagles often reside.
If you're lucky, you may spot the Trumpeter Swan: a winter resident of the river bottom. The trail ends at a traditional style teepee where hot chocolate, coffee, and a hot lunch or dinner completes your day. After an invigorating day of snowshoeing, be sure to visit the spa or soak in one of two outdoor hot tubs.
For more info on The Rusty Parrot visit their website.
8. Sun Mountain Lodge, Washington State, USA
Nestled in the foothills of the North Cascade Mountain Range in Washington State, Sun Mountain Lodge offers exceptional dining, accommodations, and snowshoeing opportunities. With 4 room choices to choose from–including personal cabins–couples can decide whether they want a private patio, whirlpool tub, gas fireplace, or all of the above.
Carefully decorated with Northwest-inspired artwork, handmade furniture, and luxurious sheets, you may never want to leave your room. If you do choose to leave your room (and we highly suggest you do), there is no shortage of snowshoeing opportunities. Boasting more than 25km of marked trails in the immediate area as well as three other trails systems close by, whether you are a beginner or expert, there is a trail to suit your needs.
After a refreshing day trekking through the snow head back to the lodge where there is an array of farm-fresh dining options that will tantalize your taste buds. Decide whether to dine in the elegant dining room or the upscale bar and grill that features 180-degree views of the Methow Valley.
For the wine enthusiast, we suggest the five-course dining option in the wine cellar with the winemakers. With more than 3,000 bottles and 600 labels–including 420 labels from Washington State–this is truly a wine lover's paradise.
Click here to visit their website.
7. Rabbit Hill Inn, Vermont, USA
Known as one of the best adult romantic getaways in Vermont, Rabbit Hill Inn offers an unparalleled experience in terms of accommodations and snowshoeing opportunities. Room amenities range from fireplaces to two-person whirlpools to covered porches to sundecks–and all include elegant furnishings and luxury linens.
Your stay includes a candlelit breakfast, afternoon tea, and a casual fine-dining dinner package that can be added if you choose. The property itself is 15 acres and offers 8km's of trails for snowshoeing. Exploring the surrounding area is easy with more than 75,000 acres of public and forest parkland, all available from the front door of the Inn.
Measuring the snowfall in feet rather than inches, Vermont is the perfect winter sports enthusiast destination. Rabbit Hill Inn offers couples the perfect snowshoe experience while surrounded by the beauty of the Northern Vermont Mountains.
Visit their website to learn more.
6. Whiteface Lodge, New York, USA
Tucked into the woodlands above Lake Placid, Whiteface Lodge is built for romance, with in-suite cast-iron fireplaces creating a cozy retreat from the great outdoors. The AAA Four Diamond-rated property features a resort spa experience, with 8,000-square-feet of treatment rooms, salon services, a comprehensive fitness center, indoor/outdoor pools, saunas, and steam rooms.
With more than 2,000 miles of walkable terrain, the Adirondack trail system will allow you to take in the fresh air and beautiful scenery of the great outdoors. Avid snowshoers can conquer one of the Adirondack 46 High Peaks or try a more leisurely favorite like the Jackrabbit Trail. With complimentary snowshoes available for guests, Whiteface Lodge makes it easy to focus on the adventure.
Nothing is better after a day outdoors than coming back to Whiteface Lodge and heading straight for the spa. Services like the Whiteface Arnica Recovery Wrap is a natural choice, featuring an Arnica infused shea butter masque and deep tissue massage combination. Relax in serenity as your muscles and body decompress from the adventurous activities of the day.
After a day in the snow, guests will find a variety of experiences at Whiteface Lodge. Two spacious, hand-crafted Lean-Tos provide guests with a romantic and inviting, sheltered spot under the stars to gather for cigars, whiskey flights, and hors d'oeuvres by the fire. Those looking to cozy up indoors can enjoy upscale, fireside dining at KANU or relax in Peak47 with light bites, signature cocktails, and live music.
Overall, the Whiteface Lodge offers the perfect amount of tranquility, romance, and trails for couples looking for a snowshoe adventure.
Discover even more about Whiteface Lodge here.
5. Halcyon Hot Springs, British Columbia, Canada
Close your eyes and imagine sitting in a cascading pool of fresh hot spring water, surrounded by the view of Arrow Lake and the snow-capped mountain peaks. Welcome to the village and spa of Halcyon Hot Springs in Canada's British Columbia–a perfect destination for couples to explore the trails during the day and relax at night.
Made up of private cabins and chalets furnished with kitchens or kitchenettes, private bathrooms, and sun-covered decks, this resort welcomes guests to cook their own meals. If you are wanting more luxury and less cooking, The King Fisher Restaurant features fresh and local food while offering one of the best views in Western Canada.
You don't have to travel far to find some of the finest snowshoe trails in the area; strap on your snowshoes at the resort and head directly to some of the best backcountry trails. Take a short trip to Revelstoke Mountain and take the gondola up to the beautiful snowshoe trails through the sub-alpine forests of the Selkirk Mountains.
Hot springs, private chalets, exceptional dining, and miles of trails make this destination a favorite of ours.
See more about Halcyon Hot Springs by visiting their website.
4. The Fairmont Chateau Lake Louise, Alberta, Canada
A luxury mountain resort located in the heart of Banff National Park surrounded by Victoria Glacier and a shimmering emerald lake… the Fairmont Chateau Lake Louise in Alberta, Canada is one of a kind. Choose from a mountain view or a lake view–or indulge in a luxury suite–either way these beautifully furnished rooms offer spectacular views and luxury amenities.
There is no better way than snowshoeing to explore the intimate corners of Lake Louise; with trails ranging from 1km to 9km. Explore frozen waterfalls, trek across the frozen lake, and take in majestic views of the Rocky Mountains.
We highly suggest taking a trip to Bow Summit with your snowshoes and create your own path while marveling at the view of the Bow Valley. Back at the Chateau, your dining options are endless, but if you are looking for an intimate setting, look no further than the Walliser Stube. Inspired by the Swiss Mountain Guides, the Stube is lined with a floor-to-ceiling wine library; a choice of Swiss, German, or Alpine inspired dishes; and has wonderful views of the mountains.
A romantic getaway would not be complete without a trip to one of the best resort spas in the country where you can relax those hard-working muscles and enjoy the tranquility of your surroundings.
Click here for more information on The Fairmont Chateau Lake Louise.
3. ICEHOTEL, Jukkasjärvi, Sweden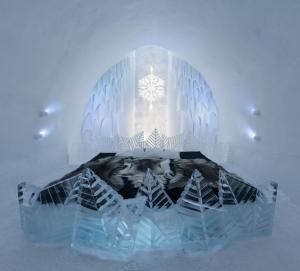 A once-in-a-lifetime opportunity awaits you at the ICEHOTEL in Sweden where couples can cozy up in -7C degree ice rooms; but don't worry, the ICEHOTEL offers warm accommodations as well.
Most guests who visit the ICEHOTEL choose to spend a night in a cold room: your choice of a deluxe suite or artist suite and spend the rest of the time in the very warm and inviting chalet. Featuring a variety of restaurants and the famous ICEBAR–where everything is made of ice–this hotel is a unique resting place after a day of snowshoeing.
The ICEHOTEL offers guided snowshoe treks, which are worth looking into. Just an hour's drive away is Abisko National Park–known for its world-class snowshoe trails. Abisko is also a great viewing point for the Northern Lights, which are visible on most clear nights in the winter.
A night in a room made of ice, a world-famous ICEBAR and impeccable snowshoe trails throughout the region makes this an adventurous vacation for any couple.
For more information on the ICEHOTEL click here.
2. Kakslauttanen Arctic Resort, Finland
Situated deep in the wilderness, Kakslauttanen Arctic Resort is Finland's best-kept secret. This one-of-a-kind resort offers the opportunity to see the Northern Lights while lying in the comfort of a private, heated glass igloo.
Along with an opportunity to spend a night (or many nights) in a glass igloo, this resort offers superior log cabins outfitted with private saunas and fireplaces. For the couple looking for a little more romance, be sure to book the queen suite cabin, which includes a luxurious bathroom and private outdoor hot tub.
For a more traditional viewing of the Northern Lights, strap on those snowshoes and trek out into the deep powdery snow on any clear night. With more than 200km of tracks and 30km of them being illuminated, you can simply set out of your cabin with snowshoes on and hit the trails.
With an exceptionally long season that runs from October to May, this is a snowshoer's paradise. With numerous restaurant choices, reindeer sleigh tours, and a chance to try your hand at the popular sport of dog-sledding, Kakslauttanen offers the perfect snowshoe adventure for couples.
To find out more about this unique resort click here.
1. Devil's Thumb Ranch Resort and Spa, Colorado, USA
What says romance better than a rustic upscale resort and spa located in the heart of the Rocky Mountains? Devil's Thumb Ranch Resort and Spa is the perfect getaway for couples looking to escape their busy lifestyles and spoil themselves in the beauty of Colorado. Featuring four choices for dining, including an upscale pub that houses craft beer and an impressive wine cellar dining experience you can be assured there is something to please everyone.
For those couples looking for the utmost privacy Devil's Thumb offers ridgetop cabins outfitted with antique furniture and cozy fireplaces. Looking for more of a resort experience? There are two lodges to choose from–each offering spacious rooms, fireplaces, and an outdoor patio.
The 18,000 square-foot spa that offers a couple's suite, 15 spa options, and overlooks the beautiful ranch only makes this resort more spectacular. With nearly 6,000 acres of meadows and woodland–20km of marked snowshoe trails and spectacular views of the mountains–this is the perfect getaway for the avid snowshoer. Bring your own snowshoes or rent them from the lodge for $20. Be sure to check out the evening snowshoe options that are offered throughout the winter.
For more information on Devil's Thumb Ranch, visit their website.
This article was originally published on October 13, 2014, and was updated on October 29, 2020, with additional information provided by Whiteface Lodge.