Palm Springs, CA and snow are two things that most people would not put together in their minds. Nevertheless, if you are in the desert resort town that has a fixation on mid-century modernism and want to take a break from it, take a short drive to the Palm Springs Aerial Tram on the edge of town and take a ride on it.
When you get off at 8,500 feet, after starting around 2,600 feet and ascending through five eco-zones, you land in a pine forest. This seems like a sky island, and if it is winter, you can likely go for a walk, a hike, or a snowshoe outing in winter wonderland.
Officially, you are in Mt. San Jacinto State Park and Wilderness (CA), which is adjacent to the federally designated San Jacinto Wilderness. The state and federal governments protect this fragile and precious land up there.
Transported to the Top with Yaktrax
My wife and I took the tram, wanting to get in a hike in the trees. We knew there would be some snow up there from a storm that passed through. Thinking there would not be enough snow to require snowshoes, we brought along our Yaktrax. These traction cleats are a useful alternative when little snow or ice is present.
After waiting on the tramside deck for our time slot to get on the tram, we got in the round, rotating tram car and were transported from the desert to mountain in fifteen minutes. The ride was such fun! Everyone on it pretty much turned into kids, except for the kids!
Up top, we quickly passed through the restaurant and gift shop area and out into the blue sky and pines, where there were well-trafficked paths through the snow, some on-trail and others not. People had sleds, seeking out a few areas for more winter fun.
We made a quick left away from the crowd of people, and decided we would leisurely hike the 2 miles of trail that affords desert views while standing in the snow. At the outset, the trail was slippery with snow/ice, with occasional patches of dirt, but with the Yaktrax, we had no issues.
As we made our way around from notches/views 1-5, the snowed-in trail was more consistent. This turned back other people, most not even wearing hiking shoes. At notches 4 and 5, we saw only two families and then making our way around the backside through the meadow, we saw only one at the bridge.
Almost back to the tram, we stopped and talked with a ranger. She shared that the biggest winter challenge on the mountain is trash, especially sleds. People bring plastic sleds up on the tram, or buy them at the gift shop. The sleds often break, and then the sledders leave them on the ground or sitting next to trash cans. In the spring, after the snow melts, sled pieces of all colors dot the land. Rangers and volunteers have to go around and clean up the area.
We finished the afternoon feeling refreshed, and were glad that we had taken the tram to get in a winter out of sorts. When we told family and friends about it, they did not quite understand: so you take a tram from the desert up to a snowy mountain where it is winter? Our response: Exactly, and if you ever come out this way in winter, we will go do it.
Additional Info When You Go: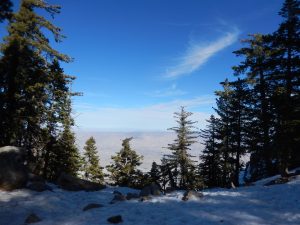 The Tram:The Palm Springs Aerial Tramway can have a long line and wait. This is especially true on weekends and during the holiday season, when it can get upwards of 1.5 hours. Get there early. Your ticket gets you up and down the tram. The way back down does not involve a set time, like when you go up. There is a restaurant and café up there, as well as a small shop and bathrooms.
Permits: You do not need a permit if you plan to snowshoe/hike the area up top that is described in this article. If you plan to hike to the peak—Mt. San Jacinto, 10,883 feet—you need a day use permit. In winter, plan accordingly for what can be typical alpine conditions. It is some 2,000 feet of elevation gain from the tram to the peak.
Lodging in Palm Springs: We stayed at Andreas Hotel and Spa. It is downtown and within walking distance to everything. For us, it was pretty much perfect. It's adults only, with no smoking, and no phone use permitted poolside, so very quiet.
Food in Palm Springs: California cuisine at Lulu's is great and the setting at Tropicale throws you back into the Rat Pack era
Drink in Palm Springs: Grab a beer at La Quinta Brewing Company's downtown tasting room