We are on a train bound for Lhasa. I can barely believe it. "On our way to Lhasa" … wow!
For as long as I can remember, I have been fascinated by Tibet, an exotic, remote, and sometimes troubled land. I have always wanted to experience for myself the colourful monasteries, the endless soaring mountains, and the resilient inhabitants.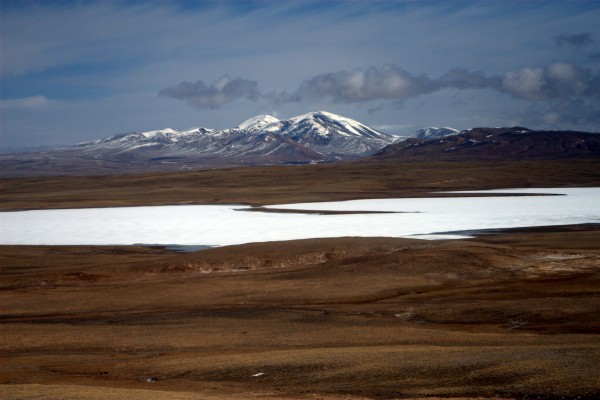 And now we have the opportunity … my husband Jack and I are traveling on the railroad that links Beijing with Lhasa. The railroad was built less than 10 years ago and, depending who you ask, either brings much-needed progress to Tibet, or dilutes their culture by allowing easier Chinese access. We board the train early in the evening in the Chinese city of Xining for a 24-hour trip across the Tibetan plateau. Part of my dream is watching this vast landscape unfold, and I think the train will provide a great picture window to watch this happen.
We drift off to sleep in our "hard sleepers", cramped bunk beds stacked three deep. The next morning a starkly beautiful landscape greets us … treeless plains stretching in every direction, with smooth snow-covered mountains on the horizon. The ground is covered with pebbles, short brown grass, and often snow. Rarely is there any sign of human habitation. I love that there is such wild, wide open space left in the world. Occasionally, there is a frozen lake or stream. All under brilliant sunshine. The altimeter on the train reads 14,000 to 15,000 feet elevation. Welcome to Tibet, the Land of Snows.
As our journey progresses, we see Tibetan antelope, foxes, and yaks … more animals than people. There are a few small villages, or often just a single house sitting alone on the high plateau. Sometimes there is a person or two looking after a herd of yaks or sheep. Approaching Lhasa, the settlements grow larger and, with a slight decrease in elevation, the terrain becomes more fertile. Several villages are ringed by stone-walled garden plots, and yaks drag ploughs over the land.
As promised, the train pulls into Lhasa almost exactly 24 hours after leaving Xining. Foreign travel is highly regulated in Tibet, and as such we are delivered by police escort into the hands of our waiting guide. Dawa, from Tibet Wind Horse Adventure, is with us during our entire time in Tibet. We could not ask for a more personable companion, and his extensive knowledge of Tibetan history and culture greatly enhances our experience.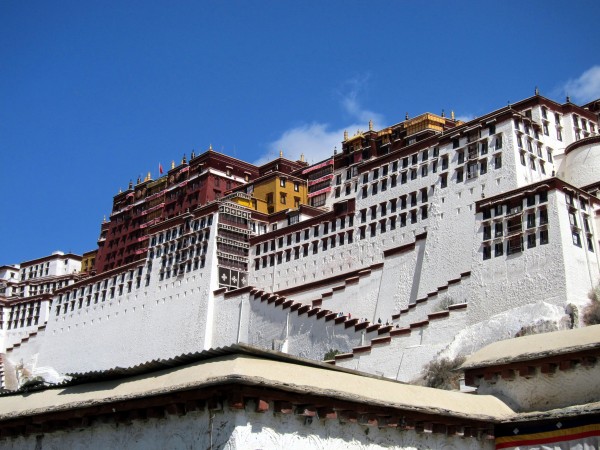 Lhasa sits in a high valley at an elevation of 11,975 feet and is ringed by mountains on all sides. It could partially be this rarefied air, but my first sight of the Potala Palace literally takes my breath away. All the photos I've seen have not prepared me for the beauty and scale of this incredible structure which, to many, is a magnificent symbol of Tibet. The red and white palace, dating from 1645, is set on a hillside against a backdrop of mountains. Formerly the religious and political centre for Tibet and the home of successive Dalai Lamas, it is now essentially a museum with several rooms open to the public. The artwork, furnishings, religious statues and artifacts provide an assault on the senses, enlivened by the bright colours that Tibetans love, swirls of fragrant incense, and the stories that Dawa shares with us.
We enjoy several days in Lhasa, and it would be easy to stay much longer. I could spend hours wandering the streets of the Barkhor, Lhasa's medieval town centre and marketplace, the spiritual heart of Lhasa for Tibetans. This is where the Jokhang, Tibet's holiest temple is located. Pilgrims perform kora (pilgrimage) – always clockwise – around the temple and the maze of streets surrounding it. We join the shuffling throngs. The most devout prostrate around the entire circuit and some have traveled from distant areas of Tibet, prostrating for the entire journey.
Finally, after much initial huffing and puffing while ascending our hotel stairs, we deem ourselves sufficiently acclimatized to the oxygen-reduced air to venture higher into the mountains. We have planned a four-day trek on an old pilgrimage route from Ganden Monastery to Samye Monastery.
Ganden Monastery is spectacularly situated high on a mountainside. After wandering around the monastery's chapels and courtyards, we finally depart to the sound of a roomful of monks chanting and praying. It feels like they are sending us off on our mountain journey.
This trek is a rare treat as it is only Jack and I plus our wonderful support crew which consists of Dawa, a cook, and two yak men who tend the five yaks that carry our expedition's gear. The yaks are all boys, which makes me the only girl on the trek.
Our route follows a wide green valley with brown, snow-dusted mountains rising on both sides. There is no trail, which feels like trekking in the truest sense. Dawa leads the way through meadows and over rocky ridges. We pass a few nomad tents where people bring their yaks in summer for grazing. Our camp is a beautiful spot above a fast-flowing stream with mountain views in all directions. There are a few yak herds on the surrounding mountainsides, sometimes accompanied by the nomad who owns them. Our yaks are tethered behind our tent and we are serenaded by occasional snorts and the soft chiming of their bells.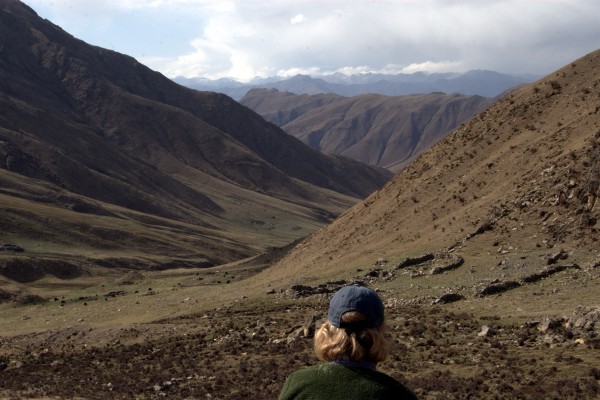 The next morning we start a tough slog steadily upwards, heading towards 17,224 foot Shug-la Pass, the highest point of our trek. We are moving slowly now, finding it increasingly difficult to breath at this high elevation. Tiny purple flowers litter the slopes early in the day, followed by snow patches and scree as we gain elevation. Big views, a sense of accomplishment, and a mini snowstorm greet us upon reaching Shug-la. Our day's destination is now visible in the distance, a frozen lake called Palha Tshodu.
After a chilly rest stop on the pass, we begin a long descent. It feels good that we are no longer taxing our lungs. We reach the valley and Dawa asks a nomad family if we can visit their tent briefly to rest. They kindly welcome us and I sink onto a warm fire-side bench, feeling tired and breathless from the day's exertion. The family has 100 yaks that graze this valley and the adjoining slopes in the summer months. The man has been having some knee pain as he hikes the mountainsides to tend the yaks, so we are happy to give him some of our medication in the hopes that it will help him.
To my dismay, after leaving the warmth of the nomads' tent, our route starts to climb again. It isn't far to our campsite though, slightly above Palha Tshodu. Surrounded by majestic snowy mountain peaks rising to over 20,000 feet, I feel that remoteness and solitude of this magnitude is a rare and special experience. After a bracing hand and face wash of snowmelt and a hearty dinner, we retire to our tent. I am almost able to ignore the wind whipping the tent walls as we gratefully settle into our down sleeping bags for the night.
The next morning I skip the chilly face wash altogether and rely on sanitizer for my hands. Our day starts with … more climbing! One more pass to cross, the Chitu-La at 16,732 feet before beginning a steady descent towards Samye Monastery. Once again we move at a slow pace, but thankfully it is much shorter than yesterday's climb to Shug-La. A cairn consisting of a pile of stones, prayer flags, and yak horns marks the top of the pass.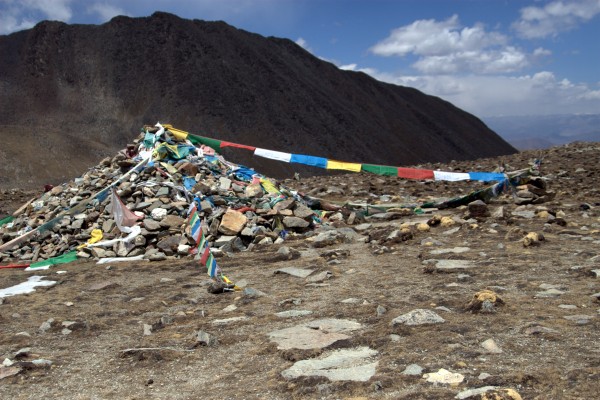 Descending from Chitu-La, we gradually encounter warmer temperatures and thankfully notice that our breathing is a little easier with the slightly increased oxygen levels. A wonderful surprise greets us as we approach tonight's camp … we start to notice a few low prickly shrubs, then juniper bushes, and finally magnificent pink flowering rhododendrons. The mountainside backing our campsite is a riot of blooms. We are now in a narrow valley with a fast-flowing stream in front of us. The air is much warmer tonight and the warm afternoon sun feels wonderful as we wash in the freezing water.
The next morning we savour the last few hours of downhill hiking before reaching the end of our trek. After sadly saying good-bye to our support crew, Dawa continues with us to visit Samye Monastery, which was Tibet's first Buddhist monastery. It is huge with many chapels and residents for monks. When we arrive, there is an event in progress to honour recently deceased people. It feels quite joyous although we don't fully know what is happening. Chanting monks, beating drums, offerings being tossed in the air, and best of all, blowing of the long traditional Tibetan horns.
Late in the afternoon we do a long walk with Dawa, clockwise around the perimeter of the mandala-shaped monastery. Pilgrims from all over Tibet come here to complete this kora. As our time in Tibet draws to a close, we feel incredibly thankful to be here and to have experienced such a rich sampling of Tibetan culture. I know that Tibet will linger in my thoughts for a very long time.
Practical Information:
Regulations on Tibetan travel change quickly so ensure you have current information. You must travel with a pre-booked guide and you need permits. Tibet Wind Horse Adventure  did an excellent job of organizing all of our travel in Tibet including permits, hotels, guide services, and the train from Xining to Lhasa. Contact them early in your planning.
We stayed at the friendly Kyichu Hotel in Lhasa which is beautifully decorated in a traditional Tibetan style. The restaurant is excellent and the courtyard is a great spot for relaxing. Kyichu Hotel is located mid-way between the Potala Palace and Jokhang Temple.
While in Tibet, respect the altitude. If you plan to trek, allow yourself at least two or three days in Lhasa to acclimatize before setting out. Consider taking Diamox to combat the effects of altitude.
All photography by Jack McKeown.