Hot times in snowshoeing are occurring! Many types of ground root, alpha activities to introduce our sport to a wider mass are underway. You need to get involved. Here are two examples of what's going on:
The Midwest Mountaineering Expo, an annual event by a popular outdoor retailer in the Twin Cities, is widely attended over its three days of presentations and displays. I attended the Snowshoe Basics presented in the atrium of a nearby University of Minnesota Building. Other programs on a wide variety of topics related to the out-of-doors were occurring simultaneously throughout the building (and others) each day of the expo.
Nicely attended, the presentation was conducted three times over the course of the expo. Seth led the presentation and opened with, "if you can walk, you can snowshoe."  He covered traditional wooden snowshoes like Iversons and a 'Viking' from Michigan that is now extinct.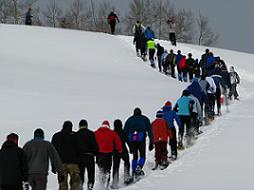 In the modern varieties, he favors the Crescent Moon bindings but mentioned MSR, Tubbs, Atlas, and Red Feather as being lighter and providing more traction than the ash wood models. His major complaint was that these modern shoes are noisier. I have used both wood and metal shoes and never really noticed any difference but that might be something to think about.
Conditions, like packed trails versus virgin snow trails, were explained. He discussed why that would affect the decision on the type of shoe one would prefer.
He pointed out the women's models are tapered more aggressively plus the proper shoe would be shorter, affecting stride.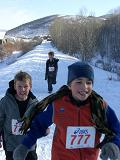 His view was a $100 tag is a good price for a name brand. I felt that was aggressive. Maybe $100 per shoe??  What do you think, reader? Let me know phillipgary@snowshoemag.com
Several asked in the Q&A time about getting started. I raised my hand and pointed out that many of the races include rental snowshoes that allow one to experience a course without having to just go buy a pair. Whatfollows is another answer to this question.
Teaching a Snowshoe Class
Here is an example that can be replicated throughout the country and world: Teach a group of rookies to snowshoe like Jim McDonell of Woodbury, Minnesota is doing. In this article published on his upcoming classes, note that Jim has coordinated his activities with the Afton State Park, a popular and widely used metro state park, used their email newsletter to advertise his class, and will utilize park trails to get new snowshoers out and about.
www.snowshoemag.com/media/aftonstatepark.pdf