The Sixth Annual "Switchback Challenge" is in the books and was a great success, punctuated by a great turnout from the snowshoe community, and terrific performances by the athletes, who set new course records in every division.
Named for the primary trail that snakes its way up the Niagara Escarpment from the Craigleith Ski Club, just outside Collingwood, Ontario (what started as our little snowshoe race) has developed into the premier event in the area.  We offer Open and Masters (+50) divisions, over 5K and 10K routes which both begin with a challenging 1.6 km section up the Switchback Trail to the top of the escarpment.
Participants are largely members and guests of local private ski clubs, but as our reputation grows, we are attracting many more snowshoers from running clubs and the general public.  We have always maintained our event is geared for everyone, young and old, fit, and on the way to becoming fit.  There are as many mum's and dad's taking part with their kids as there are accomplished athletes.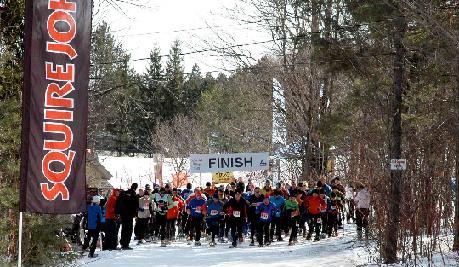 There is much talk about offering a Youth division for the future as our youngest competitor this year was ten years old, finishing the 5K in a very respectable 33 minutes, and the winner of our 5K open division, setting a new course record, was sixteen.   Not that he openly admitted it, but our oldest competitor who has entered the race every year was seventy two, and completed the 10K while lobbying all the way around the course for a seniors division.  We might have to take him up on that one.
We have been very lucky to have sponsors for our event that allow us to provide support for the Canadian Ski Patrol and keep the entry fee low, while still giving everyone a great gift, and a chance at some killer prizes in the bib draw.  The Ski Patrol was on course all day directing traffic and providing encouragement.
Atlas Snowshoes and well know local retailer Squire Johns were onsite with snowshoe demo's and some shoes and gifts for the prize table, and GV Snowshoes (Made in Canada) showed up with two pairs of Cat Trails for some lucky folks.  We have also styled our own first place trophies using donated GV Mini Originals, that are a much coveted symbol of excellence in these parts.
We have developed sponsorships through friendships, and luckily one of our friends is the Labatt's  rep for our new official beer "Kokanee" which was enjoyed by many following the race and was the perfect way to wrap the day.  All in all, this is a true feel good event, and will be around for many years to come.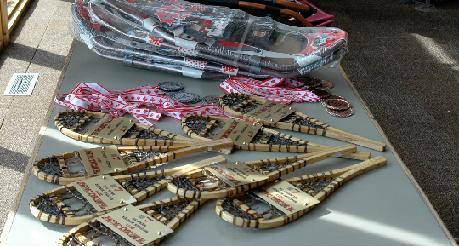 It was our luck to have a reporter in the field from neighbouring Alpine Ski Club, and the Globe & Mail, Canada's national newspaper.  So, our little snowshoe race made the first section with a beautifully written article by Lisa Rochon (link below).
Switchback Challenge Course Records
Ladies Open 5K – Christy Barber – 27:02
Ladies Masters 5K – Rita Botelho – 33:16
Mens Open 5K – Joshua Kofman – 25:42
Mens Masters 5K – Grant Williams – 26:51
Ladies Open 10K – Allison Wiley – 1:00:21
Ladies Masters 10K – Patty Clune – 1:21:37
Mens Open 10K – Bob Miller – 51:32
Mens Masters 10K – Phil Medonia – 1:02:46
Globe and Mail Article – http://bit.ly/enNvTt
Photo Gallery – http://bit.ly/eM1Xa1