It's time to discuss the benefits of using snowshoes for backcountry skiing and snowboarding. Quite simply, snowshoes can help you get there. However, additional gear is necessary: an Osprey Kode 30 Backpack. The Kode 30 is what a winter backcountry explorer requires to lug the ski/snowboard equipment up the mountain and holster the snowshoes for the descent.
In addition, the pack has a killer combination of avalanche gear compartments and insulated storage areas that prove Osprey's expertise in creating gear that's resilient and adaptable to any cold environment. Don't think twice. Get one. No matter if it's for a day tour, overnight stay or extended adventure. A pair of snowshoes should not be without a Kode 30 to assist with carrying the necessary gear for high altitude winter hiking.
I thought I found a backpack that met what I required (and desired) for my snowshoe excursions. During the summer, I reviewed the Osprey's Mutant 38 pack. I fell in love – especially with Osprey's design and quality. The Colorado-based company knows what outdoorspeople need in a good, reliable backpack: More than just an everyday carrier of stuff. Both the Mutant 38 and Kode 30 wield what the snowshoer yearns for in winter conditions; it's the Kode that wins out with the more precise snowshoeing features.
The Mutant 38 is ideal for the alpiner and extreme backcountry climber, while the Kode 30 is made especially for the backcountry gravity sports enthusiast. Both extreme adventurers can use snowshoes to get to where they're going but will typically need to carry the tools that add to the thrill of their endeavors.
The Kode's dual compartments allow for a snowshoer to plan for the conditions. The front compartment is engineered for avalanche gear: probe and shovel handle sleeves, shovel stowage, and a pocket for a snow/repair kit. The compartment closer to the back provides additional storage areas, especially in the case of separating wet gear from dry gear. And to boot, a hydration system compartment….
Because the Kode 30 will most likely carry heavier loads, a LightWire frame supports and flexes depending on the movement of the user. Nevertheless, a backcountry hiker, skier or snowboarder will most likely load up the Kode 30 with what's necessary for any scenario.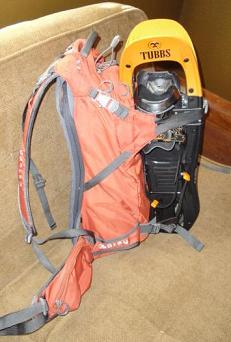 Skis can be carried in an A-frame (a ski on either side of the pack), at an angle (right or left) when placed together on the back straps of the pack, and vertically together on the back. Similarly, a snowboard and snowshoes (as pictured) can be carried vertically using the upper reinforced V-carry straps with the lower reinforced carry straps. If mountaineering on icy slopes, an ice axe can fit on the back of the Kode as well.
The upper portion of the pack has surprisingly efficient features, including a goggle pocket and a helmet carrier. The goggle pocket is made with material to protect sensitive goggle lenses (and other sensitive gear). The helmet carrier is a piece of material that can be unfurled to stretch over a helmet and buckled into place. Of course, I never used this to carry a helmet but found it helpful to strap-down an extra pair of bulky gloves, hat and gaiters. If the temperatures dropped and the snow depth increased, these items were easy to access.
The Kode's hipbelt pockets carry easy-to-access essentials, such as lip balm, energy gels and a compass. While the Kode 30 is hydration-ready – freezing temperatures in mind – the right side shoulder strap includes an internal sewn-in hydration sleeve. It features a reservoir hanger and a fully insulated, dual zippered harness router with hypo-allergenic stretch garage. Freakin' awesome!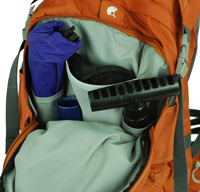 It seems like a lot for one backpack. But having the right gear, engineered in the right way is what counts when in the elements that will test a snowshoer's strength. Don an Osprey Kode 30 for your next snowshoe trek – a smart choice for any trail challenge.
Dimensions:
In: 21.7 x 11.8 x 10.2
Cm: 55 x 30 x 26
For more information on the Osprey Kode 30 Backpack, visit http://bit.ly/gcpVge.
To purchase the Osprey Kode 30 Backpack, click here.