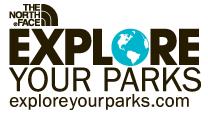 The North Face today announced the expansion of its Explore Your Parks program to encourage families to get outdoors and enjoy the nation's treasured and endangered State Parks. The North Face, along with American Hiking Society and Leave No Trace Center for Outdoor Ethics, has teamed up with state parks in 10 regions across the country in an effort to encourage more people to take advantage of close-to-home recreational opportunities.
Participating stores will be providing activity guides and free park passes to customers in partnership with California, Idaho, Massachusetts, Colorado, Georgia, Maryland, Missouri, New York, Ohio, and Oregon State Parks. Additionally, The North Face is supporting first-time camper programs to help introduce new communities to close-to-home opportunities to get outside.
First-time camping programs are overnight experiences for those new to camping, or for those who could use a refresher. The focus will be on the basics of camping, such as campsite set-up and etiquette, outdoor cooking, as well as staff-led nature hikes and plant identification, wildlife interpretive programs, and fun family activities like fishing and canoeing. Anyone who wants to learn more about receiving a free park pass and activity guide to local parks in their area, or participating in a first-time camping program from The North Face should visit www.exploreyourparks.com.
"If you don't have anyone in your life to show you how to pack your bag for a backpacking trip, how to set up a tent or even how much water you need for an overnighter, getting outside for the first time can be daunting," said Ann Krcik director of Outdoor Exploration for The North Face. "Our goal is to help families begin to create an outdoor legacy, a tradition of exploration that can be passed down from generation to generation and the Explore Your Parks camping programs and gear lockers will help do that."
To kick off the program on National Trails Day, The North Face has partnered with Maryland State Parks and a number of military veterans affairs programs, such as the U.S. Marine Corps Wounded Warrior Regiment and the Sierra Club to host overnight camping in Patapsco Valley State Park with veterans and their families. Beginning on June 2, more than a dozen military families will join state park rangers, American Hiking Society, and Leave No Trace in hiking, paddling, geocaching, and a campfire cookout with s'mores, giving them the opportunity to connect with nature and each other.
"The men and women of our military have dedicated their lives to protecting and defending this country, and programs like this making sure they have access to our public lands is a very public thank you to them," said Stacy Bare, Iraq War veteran and Sierra Club military and veterans affairs coordinator. "The benefits that come from getting outdoors are immeasurable when dealing with the daily stresses veterans face. It gives them a sense of camaraderie, of purpose, a mission, and a sense of physicality that is oftentimes missing when you come out of the uniform."
Local overnight camping events and first-time camping programs open to all, including military, veterans and their families, take place from June through October. Visit www.exploreyourparks.com for complete details. State Park Partners include those in California, Colorado, Georgia, Maryland, Idaho, Massachusetts, Missouri, Ohio, New York and Oregon.