Sean Connery was a major player in the movie "Hunt for the Red October;" I was the unwitting star in "Hunt for the Blaze January." On a smaller scale, to say the least, but the situation created for me much of the same tension Adam Baldwin felt when he briefed the Security Chiefs early in that movie — my heart was in my throat. How did this happen?
Arriving at my favorite local snowshoe hill route, temperatures were fine at a few degrees above zero but the breeze was not so welcoming. Hours before daylight – – – it takes patience and organization to make sure I have what I need before leaving my travelling aid station, the Red Durango, at its designated parking spot. Sore from a prior day of heavy lifting and moving, my bones creak like a steel bridge giving and bending but I know how to get going anyway: flick on the headlamp (I'm not using my flashlight-on-glove today that I demonstrated in 'Ten Tips For Snowshoeing in the Rain), and just get started.
It has taken longer to get the big wooden Iversons on my feet this morning as my fingers don't want to leave the comfortable confines of my gloves. The heat packs I use now, ever since Jim McDonnell of Woodbury, Minnesota, told me that was his secret for snowshoeing in his summer shorts and singlet, really work on hands and toes. No kidding! When you read my articles you will recognize him in the photos as the racer with the Braveheart paint.
You will not be surprised to find out that his wife won't travel with him when he is dressed in full regalia. But he stands out. Snowshoe racing needs more creativity like Jim's.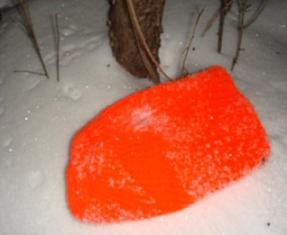 I am super careful not to lock the keys in the truck . . . that would be a pain. I also double check to insure my cell phone is with me, too. When out in super cold conditions and there is no one else around, one is responsible for their own safety and that cell is my lifeline should I ever need it. Maybe that is one of the appeals of solo night snowshoeing – the fact that one is responsible for their own well being though I'm not anxious to be tested.
Finishing lap one in about an hour, my enthusiasm is low for continuing for my planned second loop. The cold today, for some reason, is sapping my fervor. I decide if I can find my Vivarian tablets (caffeine without the coffee) I'll continue on. If not, I'll cut and run. I find them. The Vivarians tend to lift my spirits and enthusiasm, and they do just that as I leave the Dur. Maybe the Clif Bar helped, too; at least I'm on my way.
Today's headgear included a headband to warm the ears, my Diamondback Headlamp that features the third strap resting over the top of the head, and my blaze orange boggan. I have a heavier, newer version of a black wool pull down hat but it is best for super sub zero weather. My blazer orange fits nicely over the headlamp straps. All outfitted, off I go for lap two.
About a third of the way in, through a tree area not on the beaten path, a small branch scratches my head lifting off my boggan — at least that is what I thought happened. Turning around to fetch it, I realized the branch had touched my bare head . . . no tuque to be found.
I was one tuque over the line!
Now I felt ridiculous. Moments before, I'm snowshoeing to beat-the-band, comfortably lost in thought that only a snowshoer knows when I realize and say out loud, "I have lost my blaze boggan!" I'm talking to snowflakes here; there is no one in the park.
These hats, in blaze orange, are produced by the millions so that wasn't why my heart went to my throat; it is the fact that this particular one has been with me now starting its fourth decade. It is broken in like no other and, with the wear, is thin to the degree that I can use it just like today – pulling over a head full of stuff without a lot of fuss.
Heart pounding, I search the immediate area, looking up in the tree branches like they could have passed it off limb to limb, playing a game of keep away with me. My light, dimming, wasn't helping. Thus my plan emerged. I would back track the 30 yards or so through the woods and take the short cut down a paved but snow covered path to the Dur and freshen my batteries and use my heavier head gear. Carrying all of these extra clothes, gloves, hats in the truck on these snowshoeing escapades pays off. I would have suffered without a boggan.
I would return to this intersection and back track my steps from the beginning of the second lap.
Here's where this experience helped me as a part of training. The internal feeling, my heart rate, just the tenseness of it all, started to replicate that of a race. I found it easier to go quicker in my big woodies and make some time. All thoughts earlier that I wanted to quit were vanquished to some other land – – 100% of my focus was on finding the blaze orange. The Hunt for Blaze Orange was on. I was choppering up the snow, submarining the trees just like the movie. I was on the move.
I finished the lap, no luck, back at the Durango Aid Station and even walked around the truck 'just in case' it had fallen off there. I looked inside . . . again . . . like it would magically appear, "Yes, I must have just overlooked it laying there in the seat like that." But, no it wasn't there.
I hustled back up to the intersection with the full determination that I'll spend the day if I must to locate my blaze orange. Backtracking up the off-beaten path I had taken back out of the woods earlier, I see the orange blazing away along the side of the trail. It had hidden from me in the pre-dawn dark and with failing batteries. But with the sun up now, the color stuck out like a Clydesdale at a snowshoe race . . . very noticeable. But I found it. The reward, the relief, was immediate. Clutching it, I returned quickly to the Dur, cranked it up, got home and reminded myself of the lesson learned: Don't be careless with Sean Connery's legacy anymore.
comments on this story? email me phillipgary@snowshoemag.com
(phillip gary smith writes about snowshoeing and other things from Minneapolis, Minnesota. visit http://www.ultrasuperior.com/)