Recognizable by all, Minnesota's Jim McDonell now rates as the face of Snowshoe Racing with his Braveheart attire and blue/white face paint. His energy and enthusiasm drives the Braveheart Snowshoe Racing series to one of the most popular in the land. His happiness out on the snow represents all that is good about snowshoeing. His work for snowshoeing and miles-and-miles of driving to races in the Midwest along with travelling to each national championship competition is renown; also rates as the most photographed snowshoer on the planet! What I really wanted to know, though . . . how does he do that face paint?
First, he is a busy guy as he told me: "I just got back from my land on the Snake River East of Pine City, about five miles from the St. Croix River. I purchased my adjacent neighbor's place that is also on the river, and now have 20 acres on the river with an existing house right on the bluff overlooking the Snake River and Bear Creek. Yesterday I watched the sunrise over the river from the breakfast table as a bald eagle soared for fish right at the front window." That is quite a sight; we're on the way over for brunch.
He just shrugged and continued, "I make each Braveheart award from wood on my land. Now I have twice as much wood!" Plenty of room remaining in the Braveheart Snowshoe Series . . . particularly since there is no limit on the number of entries. Uniquely, the series provides awards to those who complete a set number of races regardless of finishing position in the races themselves.
"For the 2015 Braveheart participation awards (completing eight or more sanctioned races), I was inspired by my trip to Korea and will have special, unique awards. Snowshoer Dave Sykora said he is also making a special award for the person who does the most races."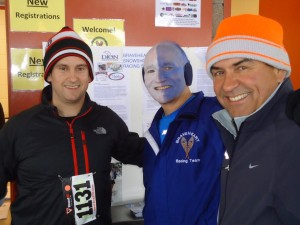 I asked him to talk about the races, identifying perhaps the ones he most favors. McDonell said, "Of course I love all snowshoe races and greatly respect all the selfless dedication and hard work of all race directors and volunteers; if pressed I would have to say my all-time favorite was the now sadly retired Northwoods Snowshoe Race in Duluth.  Starting in Lester Park, the race traversed through seven private land owner's property, through all types of terrain and beauty.  A 10 km, half-marathon and full marathon offered a choice for everyone. The beer and pizza party afterward at the classic Fitgers with the camaraderie afterwards in the evening was especially memorable. Barb Van Skike, the organizer and race director, is a special lady."
How did you learn to wear face paint that well? It's so you. "I learned about face paint from a friend and professional clown [Twin Cities Magic and Costume, W. St Paul].  A real clown, not just one like me! She taught me about applying an acrylic clear base, different sponges to apply the professional clown paint and an overcoat of special powder top prevent the paint from running from sweat.
After years of practice I can now apply and remove the paint in about five minutes.  I use a mix of olive oil and bar soap to instantly dissolve away the paint." He humorously describes "stopping at gas stations on the way to a race, I usually get one of two reactions: either they ask me what game I am going to, or they look at the floor and avoid eye contact.  Snowshoers are a different breed. I have had countless requests for pictures with fellow snowshoers."
How is it to race in the costume; do you ever get too hot or cold? "The kilt is wool and very warm and is of the same cloth and Tartan as that worn by Mel Gibson in the movie Braveheart. The breeze under it prevents me from ever getting too hot." Sure, Jim, sure, as I move quickly along. Next Jim unveils a unique discovery. "I have lots of hair; frost usually coats the hair ends becoming a great insulator.  And I may be crazy, but I am not insane . . . below zero Fahrenheit I do add tights and a light shirt." Well, I witnessed him at -20F at Duluth before factoring in the wind wearing just a singlet; fortunately, he waited until the start to shed his jacket.
The Braveheart Series requires significant support behind the blizzard of fun on trails. Jim said, "The series is a result of the hard work and dedication of Dave Sykora who tracks all of the participants [try it sometime; it is a lot of hard work], along with Tim Zbikowski and his wife, Carol, who run the popular source of information Cutemoose.net . Cutemoose offers complete information on upper Midwest snowshoe events along with articles and results, the Braveheart Snowshoe Series including past results, contact information for snowshoe manufacturers, publications and books on the sport, and lastly, photos and "Majestic Moose" facts and links. Appearing to be an understatement of the highest order, the couple says, "We are avid snowshoe racers." And very good at it, too.
McDonell closes with, "My motto is 'Live life like someone forgot to lock the door' . . . you have probably seen that saying with a dog running wild from an unlocked gate.  My one-eyed wonder dog and mentor, Sophe, taught me that."