Mountain climbing and backcountry snowshoeing are no longer activities reserved for those "crazy" types – it's actually becoming more and more popular. There are various organizations and sports clubs that constantly introduce new people to mountain climbing and show them the magic of nature, high peaks, and snow-covered mountains.
Now, if you already have some experience and you did enough time to know the routine, preparation, and potential dangers, you might want to consider the following destinations. Once you get hooked, it's difficult not to climb, but going over to the same peaks, again and again, can become boring.
This is why I've decided to give you 5 mountain peaks that are fairly easy to climb and that provide snowshoe opportunities at the same time, so that you can satisfy your thirst. For a little while at least.
1.    Mount Fuji, Japan
Mount Fuji is the tallest mountain in all of Japan and it's considered sacred. When I climbed it the first time I was really scared, as I thought it would be really difficult to reach the top, but from my experience, it really isn't. As soon as I joined my climbing group I felt the pressure go away, as I saw people that were over 50 years old going along on the climb. In spite of the high altitude (12,388 ft; 3,776 meters), the climb is an easy one-day hike if you set out early.
Over 300,000 people a year climb to the summit of Fuji, with a lot of those being tourists that don't have lots of experience with climbing mountains. Even though this may be the case, it is recommended to come prepared for the hike, which includes a pair of trekking boots, waterproof clothing in case of rain, multiple layers including a base layer, mid layer and outer layer, a head lamp, and food and water. One also needs solid stamina and fairly strong legs to complete the trek.
There are four trail head options to reach the summit, each with different altitudes, time recommendations, trail topography, mountain hut availability, and access. More information can be found at the Official Website for Mt. Fuji Climbing. The trail I completed starts somewhere around 2,300 meters and the summit ends at 3,776 meters, which was not long at all for me, but can be for some climbers. Expect 5-10 hours for the climb, depending on the trail you choose. The hike can be broken up into two days by staying at a mountain hut along the way.
Bear in mind that the climbing season on Mount Fuji starts on July 1st and ends on August 31st and you can expect a big crowd during this period, so it's important to plan ahead. It is possible to catch the snow on the top if you go at the start of the hiking season as well.
You can still climb in the off season, but the police department requests that a climbing form is filled out ahead of time, which can be found here under 'off season climbing'. Luckily, there are certified instructors, such as Fuji Mountain Guides or certified private guides who offer off-season tours or will take you up there while there is still snow. Some might say that climbing Mt. Fuji when it's snowy is better and I agree completely.
Winter conditions on Mt. Fuji typically last from late November through mid April and snow can be found all the way through June. During the winter months, please note that Mt. Fuji is a much more serious climb and should only be attempted by experienced climbers due to extreme wind conditions and thick ice. Temperatures can drop to -50 Celsius (-58 Fahrenheit) with wind chill! Also bear in mind that the weather on Mt. Fuji is very unpredictable and you should always bring full cold weather gear noted above, including your snowshoes!
2. Maunakea, Hawaii
From its base up to the summit, Maunakea is the tallest mountain in the world. It's an inactive volcano that stretches for 10 kilometers (over 6 miles)! However, over half of the volcano is under the sea level and this is why Mount Everest is the tallest mountain. In just 5 hours of hiking (in my case), you can reach the top of the (technically) highest mountain in the world and have a cool story to tell your friends.
The hiking trail to the summit is 6 miles, with the start of the hike over half of the way from the actual base, which is why it can be fairly easy to reach the summit. The start of the trail is near Maunakea Visitors Center. Please note that while it took this author 5 hours to reach the summit, the average time is closer to 8 hours and may take longer. So while you're at the Visitors Center, it's a good idea to register and get additional information about the climb, trail, and the necessary equipment you need to take with you. The only nuisance I've had while climbing Maunakea was that it was really hot and you need a lot of water to stay hydrated, so remember to pack 1 to 2 gallons of water for your hike.
After all, it's Hawaii and the whole mountain is basically a desert environment, with exceptions during winter. Maunakea does receive snowfall throughout the year, with some storms bringing a up to a foot of snow! This mountain can be a bit tricky as the temperatures can go down to minus 4 degrees Celsius (25 Fahrenheit) or lower during winter, and even to 0 degrees Celsius (32 Fahrenheit) during summer. Please note that road closures at the Maunakea Visitors Center do occur with snow or ice on the roads. More information on road closures and hazards can be found on the Visitor Center website.
This is why you should have gear for snow climbing, including snowshoes in winter time,  because you never know what to expect. It is also suggested that young children, pregnant women, and people in poor health shouldn't climb father than the visitors center. Bear in mind that the location around the visitors center can get crowded, especially during the climbing season and you might get caught waiting up in a big line.
3. Pikes Peak, United States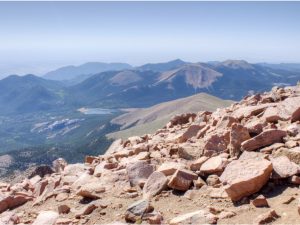 Pikes Peak is probably the most difficult mountain to summit on our list. It's right on the verge of being an intermediate difficulty climb, as the route itself is over 21 kilometers long (13 miles) with almost 1,300 meters (4,200 feet) in elevation gain. This means that you already need to have good cardio ability and the necessary strength as the climb is almost a half-marathon that comes in the form of hiking.
However, the route to the top is well-built and maintained, which makes the climb easier. There is no need for any technical climbing but you still need to be physically fit. You can summit via the Barr Trail or from the Crags. What makes the climb easier is the fact that from the Barr Trail, there is a resting point at the half-point of the trail called the Barr camp. This is where you can rest as much as you want before you regain your strength. This is why my group and I reserved a stay overnight in advance, just in case. Even though we had some experience by then and didn't need so much rest, it's a beautiful place to stay and we enjoyed every moment of it.
The Barr Trail is recommended for hiking during the spring, summer, and fall months. Please note that temperatures at the top can be 40 degrees cooler than at the start of the trail, according to the USDA, so please prepare for all conditions. Additional gear may be required including snowshoes, trekking poles, thick socks, gaiters, a base layer with long sleeves and long bottoms, jackets, and a warm beanie.
For snowshoe specific trails, the Crags Trail is open all year round, including winter. This trail is approx 1.5 miles long with an elevation gain of approx 300 meters (1,000 feet). Roads are not plowed in the winter to the trailhead so be prepared with a 4 x 4 vehicle. Snowshoe specific tours in the Pikes Peak area are offered through Pikes Peak Alpine School.
4. Mount Temple, Canada
Rising at 3,400 meters (over 11,000 feet), Mount Temple is one of the most popular peaks for climbers within the Canadian Rockies. This is because, in this author's opinion, it's also the easiest to climb. Even though the road up to the top is fairly long and it might take a day or a two to reach the peak, the elevation gain of the climb is approx 1,700 meters (5,500 feet). Still, this mountain is gigantic and it is the tallest one in Banff National Park, from which the trail to the top starts.
The average time expected for this hike is 7-12 hours. You can expect fairly moderate scrambling up to the top and even some intense moments, even on the easiest route possible. The site is simply beautiful and apart from climbers, many painters and photographers visit this area to see the amazing landscapes.
The most difficult area is the final climb, where you will have to do some snowshoeing. However, even on the easiest route, winter climbing can be difficult, as temperatures average between -4 Celsius (25 Fahrenheit) to -32 Celsius (-26 Fahrenheit) between October and April.
When I was climbing this peak during winter, there was a lot of snow and ice and you had to move slowly, but the terrain doesn't present too much trouble for someone experienced. The biggest issue is that the temperatures can drop quite a bit, so be prepared with full winter climbing gear and then some: quality winter boots, helmet, harness, crampons, headlamp, mountaineering axe, waterproof jacket and pants, thick and warm bottoms and tops, gloves, toque, hiking poles, hiking socks, and gaiters. For additional preparation recommendations, consult Banff National Park's Scrambler's Guide to Mount Temple.
5. Tofana di Rozes, Italy
Tofana di Rozes is one of three peaks of the Tofane group rock massif in the Dolomites in Italy. It rises at 3,225 meters (10,500 feet) and is located in the south of the massif. Even though the climb is only around 700 meters (2,300 feet), it requires certain technical climbing knowledge and gear. The summit can be reached via the west or the north face.
Tofana di Rozes from the west face is a  ferrata climb, which makes it easy for beginners for the most part, even during winter. For a ferrata climb, you will need a helmet, harness, and ferrata kit. In fact, this was my first ferrata climb ever and it was really a piece of cake. From the north face, the summit can be reached via a more traditional hike. There is a hiking route that reaches the climb and here you have a beautiful plateau with an amazing view where you can rest before the climb.
The climbing season typically ranges from July-October, but winter climbs are also a possibility.  Snowfall typically begins in December and can be present throughout the summer months on Tofana di Rozes. Winter temperatures on average can range from 15 Celsius (60 Fahrenheit) down to -7 Celsius (20 Fahrenheit).
It's recommended that you get a mountain climbing guide, such as Dolomiti Mountain Guide or other private guide to help you reach the top. You need to get the standard mountaineering gear such as quality snowshoes, trekking poles, warm and waterproof clothing, trekking boots, snow/ice pick, and crampons. For me, this climb was to be or not to be, and after you climb it successfully, the feeling is so darn rewarding.
These are some of the (almost) easiest peaks to climb across the world. However, bear in mind that climbing is different for everyone when it comes to difficulty, especially during winter climbs. Some people are able to advance faster than others. This is why you should make sure that you are prepared for these mountains before embarking on them.