The first annual Summerstown Forest Snowshoe Race was the first race in the Dion Eastern Ontario Snowshoe Running Series, and it set a pretty high standard for the rest of the series.
The Summerstown Forest is located northeast of Cornwall and was a quick drive from Kingston, and as I would find out Montreal, Ottawa and beyond as well. This great location would prove pretty fortuitous as lining up along many first-timers was two-time World Snowshoe Champion David Le Porho and his 2012 teammate at the World Championships Derrick St. John and Natasha Elliott. This combined with a beautiful mild day and a pretty impressive snowpack gave everyone a challenge. For some it would be to finish their first snowshoe race. For others it would to challenge their fitness and contend with some of the brightest stars in the sport. But, regardless which category you may have fallen in, we were destined to have an amazing day.
Race director Gilles Parisien and his volunteers layed-out an impressive course. Leading the participants on a twisting, rolling adventure through the forest. The 7.5K race had, according to my watch, upwards of 300 feet of elevation gain and encompassed most if not all of the best features of the forest
.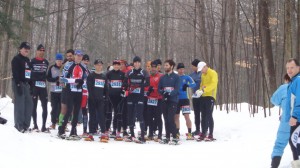 The race start was pretty frantic as the race director was smart enough to give some room for the race to spread out before plunging into the singletrack that most of the race follows. The race split up quickly with the leaders taking it out hard down the main track before cutting back on singletrack trails that twist and turn, never really giving much chance to get a comfortable rhythm.
In the end David Le Porho pulled away from his main competition in Derrick St. John to take the win in a time of 36:14–a scant 51 seconds between himself and St. John was proof enough of the tough battle up front. Third place winner Rob Lefebvre rolled in a few, short minutes later with an impressive effort of 43:06
The women's race up front was not as close as the men's with Natasha Elliot proving once more that when she is at a race, she is the one to key on. Her winning time of 44:43 bested much of the field as she also placed 4th in the overall field. Sara Montgomery placed second in a time of 52:07 and third place was captured by Lynne Giroux with an impressive 55:02.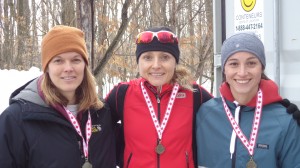 As is custom for much of the races that Spafford Health and Adventure organize, random prize draws are given out to any participants that stick around for the major awards for the winners. Chili, warm refreshments and treats were available and much talk was about what an amazing event Gillies had put on.
I think what made the race such a hit on its first go round was best said by the race director himself: "Having the world champion here is great, but seeing people trying this for the first time and enjoying themselves, that is the most satisfying"
I couldn't have said it better myself, Gilles.