About 20 minutes north of downtown Steamboat Springs, Colo. is a nature lover's paradise called Strawberry Park. Ten minutes into your drive (four-wheel drive required in the winter) the pavement will give way to dirt and you'll discover a massive forest Aspen trees, a multitude of trails leading into the Medicine Bow and Routt National Forests and finally the Strawberry Park Hot Springs.
Strawberry Park is an enchanting collection of natural hot and cold pools situated along a river as well as a variety of affordable rental cabins and camp sites.  I was surprised to discover such a remote-feeling wonderland so close to town, and so I booked a rustic cabin for my honey and I to enjoy a winter weekend getaway of skiing, snowshoeing and soaking.
Hot springs are more than just a nice way to thaw out after a long, cold day. Due to their high mineral content, thermal pools have been celebrated for centuries by native cultures for their ability to cleanse the human body of toxins by drawing out impurities (through heat and sweat) and to balance "qi" or life-force energy by connecting the human body with the five elements of nature (earth, metal, fire, wood and water). The Ute Indians frequented such healing waters to bathe and socialize, and the homesteaders followed suit later on, making hot spring soaks an age-old Yampa Valley tradition.
We arrived from Denver on a Friday evening and checked in to the hot springs after dark. The drive up Strawberry Park road was tricky because the roads are pitch black and not well-marked. Also, cell phone service is non-existent, so my Google Maps skills were worthless in helping us navigate. After a few turnarounds on the bumpy, snowy road and a lucky wild guess we finally found the rustic paradise we were seeking.
Cheerfully ignoring the rather icy welcome from the irritated man at the front office, we made our way past the front office to our assigned cabin, eager to set up "camp." Although the cabins are heated, they offer not much more than a wall-mounted gas lamp, a gas grill, a wooden chair and a bed with a thin mattress. We quickly fired up the thermostat and made the bed before curling up by the potbelly stove to share a nightcap. Looking forward to an early morning of skiing, we decided to turn in and save a visit to the hot springs for the next night.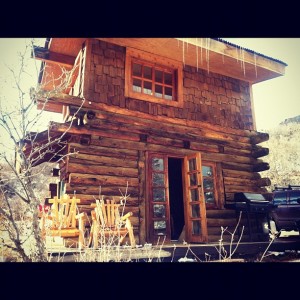 The next morning I was awakened by the sunrise and bundled up for a short walk to the nearby outhouse. I stepped onto the front porch of the cabin and was greeted by sweeping views of the valley below showcasing mountains for miles. I could hear water rushing down the Hot Springs Creek, and steam rose off the thermal pools below. I inhaled the crisp, mountain morning air and enjoyed a precious moment of stillness and solitude before gearing up for a full day of downhill skiing.
Later that night, around 9 p.m., we ventured down the hill to the hot springs with our bathing suits and headlamps. The pools were pretty crowded this particular Saturday night, and unfortunately a little too loud and rambunctious for our liking, as we had been looking forward to a quiet, relaxing evening soak. No one under the age of 18 is permitted after dark when the hot springs become "clothing optional," but although there were a few exceptions, it seemed most everyone was wearing a suit. Also, only cabin and campsite guests are allowed in after 10 p.m., so the crowd thins after this time.
We poked around the different pools and eventually found a small, Jacuzzi-sized one that was empty and gladly sunk in, letting the healing waters of the springs melt away the soreness and tightness in our muscles. Finally, the rowdy co-ed's dispersed, leaving us to enjoy the stars in peace.
When the heat eventually became too hot to handle, we carefully made our way in the dark along the rock formations to the bath house to rinse off and get ready for bed before heading back to the cabin. It was snowing lightly and I was glad I decided to bring a terry-cloth robe from home and my trusty Muck boots to keep me warm, dry and comfortable between the pools and the cabin. Relaxed, exhausted and content, we settled into for another restful night's sleep in our cozy cabin.
A few hours later I woke up to a clattering sound outside.  It sounded like an animal on the front porch, where our cooler full of drinks and snacks was placed. I woke up the man in the room and sent him downstairs to check out the situation. I was right! He reported that the lid of the cooler was on the ground below the porch and a box of leftovers from the night before was missing. Missing?! I contemplated what kind of an animal could open a cooler and literally carry away a box of food (bears are surely deep into hibernation in February, right?). All of a sudden we heard the noise again.  This time, we peeked out the window just in time to see the shadow of what was probably a fox slinking away with the other box of food from the cooler. Lesson learned: even in the dead of winter it's still important to keep food items safely away from animals.  Non-hibernating animals are probably even more eager to seek out human food in a frozen, dormant wilderness than in the warmer months.
The next morning we picked up the leftover trash from the fox raid, put the cooler inside and drove a down the road to the Elk Park trailhead, located about two miles below the hot springs, just after the pavement ends when driving from town. We squeezed into the plowed out pull-off next to another car to gear up for a morning of snowshoeing.
It was a bright, sunny, bluebird day so I decided to ditch my goggles for sunglasses, leave my fleece pullover behind and apply sunscreen. Although it had snowed several inches the day before, which made for great skiing at the resort, I could tell the now packed powder would melt fast in the intense sun. I chose to strap into a pair of Tubbs Xpedition snowshoes, which are lightweight and described by Tubbs as "a great all terrain shoe."  Grabbing some poles, we set off on a narrow, fairly flat trail into an Aspen tree forest.
After just a few minutes the trail began winding upward through the trees, setting a striking scene with a bright blue background, stark white poles of bark and stripes of dark shadows on the bright white snow, blinding us with the reflected sunlight.  We soon had to stop and remove our jackets with our heart rates and the day's temperature quickly increasing.
A breathtaking vista a few minutes later provided the perfect spot for a water break and to shed our gloves. Around the next bend the trail took a sharp turn upward for what looked to be a pretty steep hike. We paused to pop up the handy heel lifts on our snowshoes to make the hike easier, and then continued onward and upward, digging into the hard snowpack with our toe crampons and using our poles for stability. Ski tracks to our left indicated this was a popular spot for powder seekers looking to avoid the crowds at the resort, and we both wished we, too, had thought to bring our skis for a fun downhill float.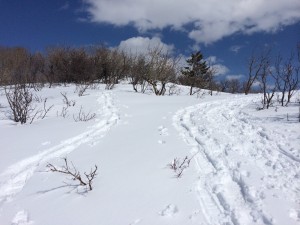 After another 30 minutes of hiking we reached a boulder that offered a nice break spot with 180 degree views of the beautiful Yampa valley. Although the Elk Park trail continues on for several more miles, eventually ending at the top of Crystal Peak, we decided to head back down the hill and hit the road in hopes to beat the routine Sunday afternoon I-70 traffic jam. We descended quickly, half hiking and half slipping down the now extremely slushy trail.
Back in town we grabbed a hearty sandwich from Backcountry Delicatessen and hit the road, wishing we had time to go back to the hot springs and use the pools during daylight so we could see them in their full splendor instead of just by moonlight. Well, we thought, we'll just have to come back again!