Whether you're looking for a family friendly trail, or something that provides a brief but enchanting reprieve from the hustle and bustle of the city, Utah's Donut Falls is your place. It's a mild hike during the summer, great for adults and kids alike, but a nice challenge for snowshoers.
Donut Falls is located up Big Cottonwood Canyon, which is about 12 miles southeast of beautiful Salt Lake City, Utah. Big Cottonwood Canyon is home to some of Utah's most famous ski resorts (Brighton and Solitude), and is an adventurer's heaven.
Donut Falls, itself, is a brilliant circular shaped waterfall formed by water that gushes through a large hole in the rock, which was created by many years of the water pounding away at it. It is a very unique waterfall and one of the most popular hiking destinations in Utah. Getting to the trailhead is fairly easy; it is located roughly nine miles up the canyon and situated at the south end of the parking lot designated for the Jordan Pines picnic area.
The hike is about 3.5 miles in and out with an elevation gain of 420 feet and is considered easy/moderate. Estimated time from the trailhead to the falls is one hour.  Be sure to leave your furry friends at home, as Big Cottonwood Canyon is watershed territory. There is also a trailhead that can be accessed via Spuces Campground which is closed during the winter months.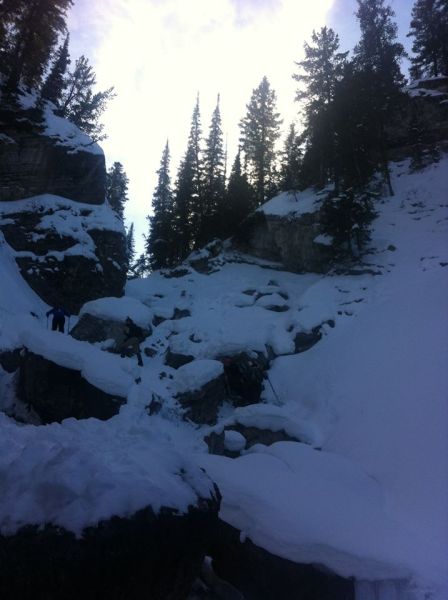 Although a spectacular sight at any time of year, Donut Falls is a particularly magical vision in the winter. While hiking, you'll be surrounded by beauty that is Big Cottonwood Canyon. You will hike past beautiful streams, glittering snow-covered pines, and you may even see some local wildlife.
The hike is fairly level for the most part, but immediately before the falls, the terrain gets a little more rugged and will require you to ditch the snowshoes as you climb the boulders to the falls. The falls can be seen without climbing up the boulders, but if you want to see the falls in all their splendor, climbing the boulders is the thing to do.
Depending on the weather, the falls could be entirely frozen, or a combination of ice and chilling water.  The ice formed in a circular shape mimics a stunning crystal chandelier.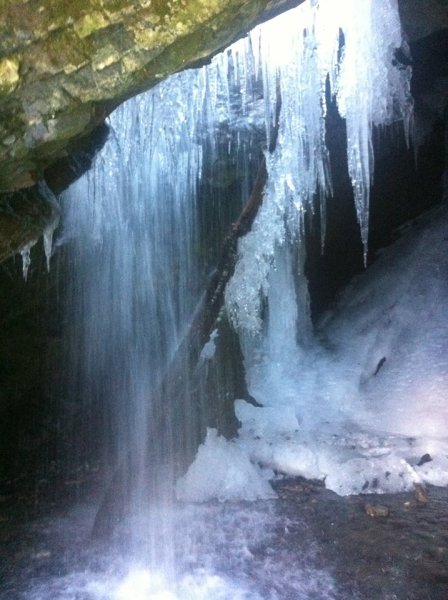 If you've worked up an appetite from your adventure you'll have some excellent options to choose from. Molly Green's at Brighton Ski Resort is a few miles east up the main canyon road. Molly Green's is a full service bar and grill offering anything from burgers and fries to hand tossed pizzas. Their menu is sure to have something for everyone.
Silver Fork Lodge is also fantastic place to eat, and is also just a few miles east up the main canyon road. The lodge is open for breakfast, lunch, and dinner and offers a cozy rustic environment complete with a blazing fire and spectacular mountain views. Warming up by the fire sipping a glass of wine or a cup of hot chocolate is a fantastic way to end a day of adventure in the greatest snow on earth.
For more information on Donut Falls, visit http://www.utah.com/hike/donut-falls-trail.