Whenever possible, I always like to sing the praises of the Transylvanian Alps in Romania. It is a place of extreme beauty with high, craggy, semi-alpine mountains, picturesque valleys, glacial lakes and huge forests, with an abundance of serious wildlife that includes wolves, brown bears and lynx. The entire region has been described as the last wilderness of Europe.
Indeed, the whole of Romania has a profusion of visitor appeal. As well as mountains, there are Black Sea coastal resorts, the Danube delta, traditional villages, mediaeval towns, the capital city of Bucharest, and castles including, yes, Dracula's Castle at Bran. But, we were going snowshoeing!
Originally, our plan was to snowshoe in the Fagaras or Retezat areas. However, due to a huge fall of fresh spring snow, Iulian, our guide, suggested the avalanche risk would be too great to snowshoe amongst the steep summits of those mountains. As an alternative, he suggested we go to the lower, more rounded and therefore safer Cindrel Mountains.
Iulian Panescu met us in the mediaeval square in the center of Sibiu, a historical town of immense character in the middle of the country. He is a Romanian guide and mountain rescuer and joined Nik, my son-in-law, and myself for three days of snowshoeing. Within an hour of arriving in Sibiu, we were walking with snowshoes tied to our rucksacks out of the attractive village of Rasinari at 625m (2050 feet), situated some ten kilometers (around six miles) south-west of Sibiu and on the edge of the Cindrel snow. We slowly walked up the Coasta Boacii Ridge, surrounded by pine and oak trees with the village gradually getting smaller below and misty views opening up above.
The ridge carried on upwards as the first patches of snow appeared which gradually turned into a complete cover. Higher still, a thin veneer of mist clung in patches to the undulations of forest and snow. In fact, it was a confused seasonal scene with trees wearing their new light green spring leaves against a backdrop of winter white.
The snow became thicker so we tied snowshoes to our boots. The route climbed quite steeply over Fraga Peak at 1,100 meters (3,608 feet) and then down to Plaiului Saddle. Out of the vista, a shepherd's hut came into view. We walked closer – there was a fragrance of fresh mountain wood smoke coming from a narrow tin chimney above the small wooden hut. We learned that Ion, an 84-year-old shepherd, remains in his hut throughout the year, no matter what the weather or season.
Despite a great deal of calling, Ion did not appear; Iulian explained that he sometimes visits his old friend and takes him tobacco, but on this occasion he was probably sleeping as soundly as a hibernating brown bear!
Continuing upwards once more, we walked over Buru Peak at 1,230m (4,035 feet) as a thick mist enveloped us. We began our descent and snowshoed downwards as rain began to fall. Eventually, the snow became much too soft and thin so we took off our snowshoes. Further on we strode into the Valea Muntelui (the Valley of the Mountains), across a recent mudslide that had come down a steep waterway and then back into Rasinari village. We had covered some 23 kilometers (14 miles) and had thoroughly enjoyed our first day in these new hills!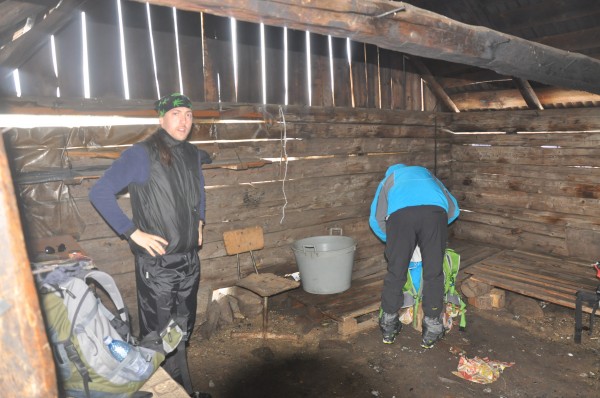 The following morning, Iulian suggested we travel to a higher part of the Cindrel in order to be above any "melt" line. So, we drove from Sibiu up to the small ski area at Paltinis at 1,457 meters (4,757 feet). This resort had been the brainchild of the infamous Nicolae Ceausescu before the Romanian Revolution – it remained somewhat unfinished with its limited ski tows but had been proven to be a good place to begin both ski and snowshoe tours.
Iulian's friend, Ciprian, joined us in order to get a little exercise and to practice his snowshoeing. We began with our snowshoes on and soon found the Doru Clujului Trail, but by starting at a higher elevation the snow was deeper and had not received the melting of the lower slopes. We followed Iulian along this forested path – the snow had suitably accumulated between the trees. As the path gradually led us ever upwards, the depth of snow increased. Save for the sound of our breathing and crunch of snowshoe on snow, it was eerily tranquil. A subtle mist filtered through the forest as the incline we were traversing increased its angle. We crossed a small stream – a black fluid line flowing across a forest floor of white.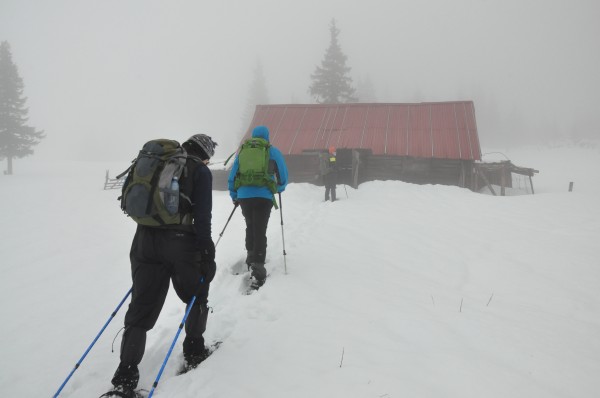 Eventually, a series of zig-zags led us out into the open Gaujoara Glade above the forest and there the snow became even deeper – between 60 to 80 centimeters (around 20 to 30 inches). Now there was increased toil as we waded through the deeper snow but it was still far, far easier than without any snowshoes! Iulian suggested we had a rest and something to eat in the empty shepherds' hut in the middle of the glade at 1,800m (5,905 feet). We finally arrived at an open-doored wooden hut with a red tinned roof just as a thin mist returned to the mountain. Off with our shoes, we went inside. This is where the shepherds would be based for many months during warmer seasons where their sheep could enjoy feasting on the grass that carpeted these rolling heights. It was a shepherds' workplace: there were chairs for sitting on whilst milking yews, benches for buckets, raised floor-boards, a charcoal pit for fires, beams for hanging items, a dirt floor, and a pile of chopped logs. All activity was now in hibernation until the warmth of the spring sun would inevitably lure them all back to these high hills. We shared our food and listened to the wind blow through the gaps in the walls of this rustic shelter.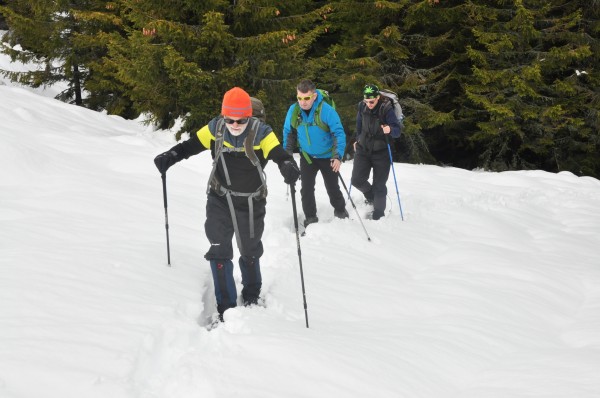 We didn't linger for long at the shepherds' hut as the cold was beginning to seep into us. So, on with our snowshoes and then through yet more steep deep snow into Muncel Glade at 1,715 meters (5,626 feet). We were soon walking amongst the trees again, occasionally with tight zig-zags, making our way down another forest path. In due course, we met a wider, less inclined forest track that took us back to Paltinis. The day's journey had totaled around 17 kilometers (11 miles); we all agreed that it had been a good day, especially whilst walking the forest paths and in the deep snow of the glades.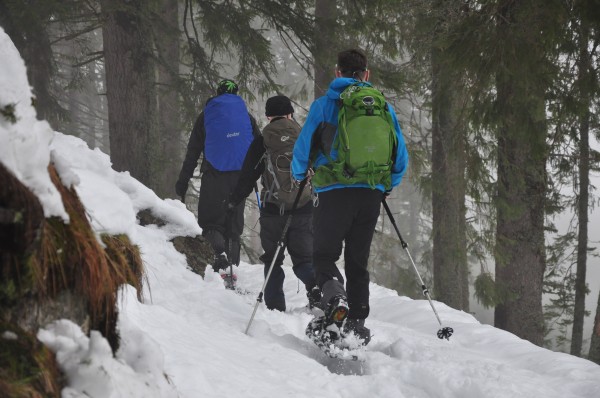 For our final day, we once again began at Paltinis. The snow remained deep and in good condition; we took the Muncel forestry track until Iulian led us on a different path through the forest. There were further undulations along the way with bends and nature-soaked atmosphere to absorb on our journey through the trees. It began to snow. We entered the Gaujoara Glade with more deep snow to walk through and an increasing wind to accompany the fall of the snow. Turning, we then followed the Doru Clujului Trail that had been walked up the previous day and then made our way back to Paltinis. We had travelled some nine kilometers (over five miles). And, so ended our excellent three days of snowshoeing in these rarely visited Cindrel Mountains in the Transylvanian Alps!
I would recommend that any forays into the mountains of Romania ought to be taken with a guide – such as Iulian Panescu – who is both a fully trained Romanian mountain guide and is also part of the mountain rescue service. Although I normally advocate independence in the mountains, when traveling in the Romanian uplands, I would avoid going alone.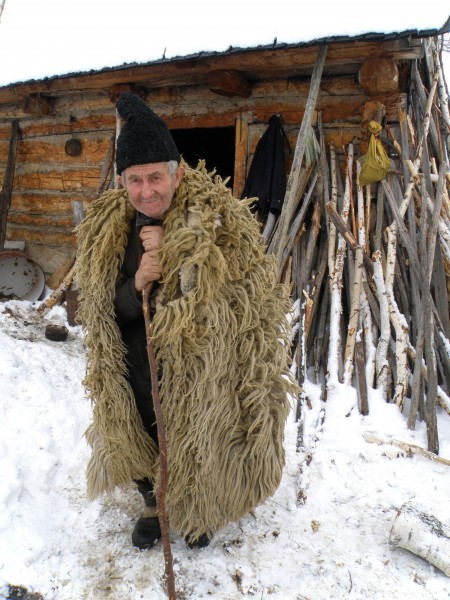 A properly trained Romanian mountain guide will be familiar with the paths and tracks, many of which are not marked on the maps of these mountainous regions. The maps that are used have limitations; navigation is often problematic as the scale is not large enough so many features are not shown in enough detail. Local knowledge is important for working out where the best areas will be for snowshoeing at any given time; equally, local professionals should be able to minimize any avalanche or other winter dangers. Going with a guide into the mountains will also help visitors keep away from any confrontations with other creatures that frequent upland areas of the country; brown bears and wolves live in the mountains, along with sheep dogs that are trained to be aggressive and will quite readily attack. All this said, these mountains of Transylvania have a uniquely wild character and deep beauty that any connoisseur of the world's high places, ought to visit – in short, they are amazing.
For more information contact: iulian.panescu@mountainguide-sibiu.ro.
Iulian can organize snowshoeing and ski touring trips during the winter and general mountain walking in warmer seasons.  Any length of tour can be arranged throughout all of the mountain regions of Romania, from just one day to several weeks in duration. He can also organize airport transfers, overland transportation, accommodation and cultural visits.
Other useful contacts:
Romanian tourism in general: Info@RomaniaTourism.com
Dracula's castle at Bran: office@bran-castle.com
Count Kalnoky of Romania and the Prince of Wales of the UK, Transylvanian guesthouses: www.transylvaniancastle.com.