Driving up as high as possible above the classic Arab style village of Capileira we were halted by a man named "Paco" from the National Park "interpretation" service. He was asking all the visitors about their intentions and equipment as they approached the mountain. Many visitors are tourists from Spain's nearby Costa Tropical driving the 40 miles and exchanging the beach for the snow. There have been several deaths in recent years.
Do you have a map? Yes.
Do you have a compass? Yes.
Do you have a GPS? Yes.
Do you have an ice axe? No we are staying in the forest.
Do you have crampons? No, we have snowshoes!
Paco was clearly going through a list drawn-up by someone else but found our reasoning acceptable and let us pass.
Although Spain's Sierra Nevada contains the highest mountain in mainland Spain (Mulhacen 3472m), there is only one downhill ski resort in the range. Essentially, this is an undeveloped wilderness in winter where you can get away from it all and experience some genuine backcountry snowshoeing. Each day you can access a different part of the range from the relatively warm southern side with its pretty villages built hundreds of years ago when the Arabs ruled Spain. Dirt track roads lead to high starting points. It's also possible to stay high in relative comfort at the Poqueira Mountain Refuge at 2500m or fend for yourself at one of a number of unmanned bivouac refuges to make a multi day trip.
The appeal for us running snowshoeing holidays there is the undeveloped nature unlike so many European alpine resorts whose association with skiing, après-ski, and chairlifts spoil the wilderness experience.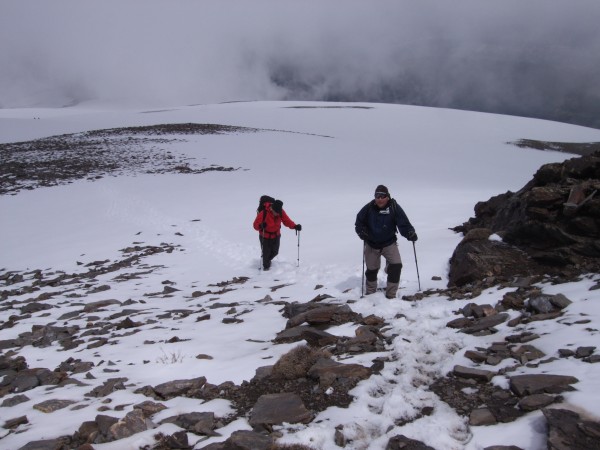 Above Capileira
Leaving Paco to continue his questioning, we set off into the trees. The forest above Capileira is our favourite starting point when introducing people to snowshoeing or to this area. Capileira at 1300m is usually just below the snowline and breakfast of coffee and "tostada con tomato" can be had in one of a number of bars before heading up into the snow.
The usual summer road head of Hoya del Portillo is unobtainable, but it provides a good highpoint for a first day out on snowshoes. Up through forested valleys we tramped, passing numerous rocky outcrops, which gave us views of the valley below. The route that day would take us to the summer road head, which in winter was blocked by many feet of snow. We return partly through forest clearings and recently thinned trees, which offer ideal snowshoe terrain. One of the highlights in spring as the water starts to flow again is crossing an "acequia" one of the many water channels built by the Arabs who settled here in medieval times. Although, the Arabs are long gone, their legacy in these water channels and village architecture still remains. The style of building in the high mountain villages here are similar in style to the Berber villages of Morocco's High Atlas Mountains.
A Trip to the Poqueira Refuge
An alternative is to continue above Hoya del Portillo, which offers a good circuit up to the Poqueira Refuge at 2500m. Not easily possible as a day trip, the refuge does provide a "hotel" service 365 days a year. This modern refuge sleeps up to 84 and can be busy at weekends. Booking is advisable though at anytime of the year.
From Hoya del Portillo it's possible either to ascend through the stunted pines or easier up the fire break with its stunning views above the Poqueira gorge up to Valetta the second highest mountain in the range. Forty minutes above Hoya we come to the viewpoint of Puerto Molino. It's from here that we get our first decent views of Mulhacen, mainland Spain's highest mountain. An undulating ridge leads from here to Mirador Trevelez 2700m where we begin our descent down towards the hut. We skirt the hill of Alto del Chorrillo where we can see a huge cairn about 1km in the distance. This marks the way to the Refuge, which can be seen from the cairn.
A night in the Poqueira Refuge is a great experience. Although the food is basic mountain fare, there are usually four courses and plenty of it. The log burner in the dining room provides plenty of warmth though a down jacket and sleeping bag are useful for upstairs.
By spending two nights at the Poqueira refuge it's possible to ascend Mulhacen. This is a more challenging proposition, and really only the South Ridge from Alto del Chorrillo is suitable for snowshoes – the West Ridge being steeper and requires ice axe and crampons.
If choosing the West Ridge route, the ascent from the refuge to the Caldera bivouac refuge is up through the valley of the Rio Mulhacen. There is some avalanche risk here and starting early is a must as is having avalanche transceivers, shovels and knowing how to use them. Despite the difficulties, the summit on a clear sunny day offers some great views, of the entire range, and well beyond.
Returning to the valley from the Poqueira Refuge can itself be interesting. It's possible to complete a circuit by either returning along the path running under the west side of the ridge we ascended back to near Puerto Molino or by descending down to Cortio los Thomas and by following the acequia, which brings us out onto a trail (driveable in summer) beneath Hoya.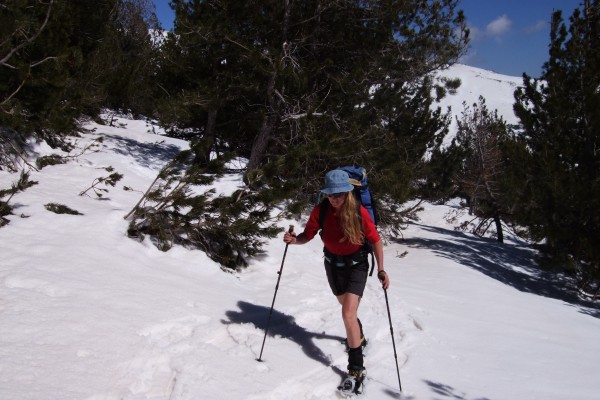 Caballo, Europe's Most Westerly 3000m Peak
Caballo is our favourite mountain and has been the source of many adventures. It's a nice – though hard day – out from Lanjaron. Driveable dirt tracks take us up to near the road head at 2100m just short of the old ruined Ventura Refuge. Where the snowline starts varies, but it's usually possible to reach the road head and have snowshoes on within 20 minutes of starting the ascent.
It usually takes around four hours to reach the summit this way. Last march we were able to drive most of the way in a friend's four-wheel drive and a group of us, including six-month old in a backpack, enjoyed a day of warm sunshine exploring the southern flanks of the mountain. From the old refuge we headed northwards ascending gradually until we hit a forest of stunted pines. An ascent to the top of the forest before leads to a diagonal traverse up to the ridge, which is then followed to the summit. The safest way back avoiding the avalanche risk of the Rio Lanjaron is to retrace your steps, which on a clear day gives views across to the mountains in North Africa some 150Km away. Allow three hours for the descent.
If the snow conditions allow access to it's possible to drive high, onto the West Ridge of Caballo, which provides the easiest and safest ascent. We've found it to be a nice route in April and early May – a four- or five-hour round trip.
Puerto De La Ragua
This is a cross country ski "resort" situated at 2000m. The road to this point is usually kept clear and it provides a good starting point for both easy snowshoe itineraries and for some more serious mountain itineraries. Parking with a café bar, restaurant makes this more of a traditional style alpine resort and good base for circular routes.
Following on from our Poqueira trip, we decided to head off to Ragua. We resisted the temptation to have a coffee, as the forecast for the afternoon was not so good. Instead we skirted the prepared cross country ski tracks and took a big loop to scale the easy rounded summits of Morron de la Cabanuela 2223m and Morron del Hornillo 2375m. From here we dropped down through the trees to follow the track for a short way back to base.
Care should be taken when returning through the forest, especially near the Baranco del Hornillo as there is some avalanche risk here. The more adventurous may wish to extend this itinerary to include the Morron del Mediodia 2753m though a cautious eye should be kept on the weather and time. On this occasion we just managed to enjoy the open tops before the wind got up by which time the café beckoned and we returned to the warmth.
Conditions and Technical
Spain's Sierra Nevada lies a long way south relatively close to North Africa. Its height attracts the snow and there is usually reliable snow cover most years from 1900m in January, February and March. That said, we have found acceptable snow well into May, and the ski resort has remained open into May for the past three years.
The area can attract very high winds and because of the high altitude the climatic conditions can be very adverse. If contemplating the higher routes you will need experience in survival situations and be able to navigate well in snow. There are plenty of lower more sheltered routes in the forests for those windy days. The Guardian and staff at the Poqueira refuge are always happy to advise on conditions in the higher mountains.
The maps are for the most part accurate in what they show. If it's on the map it's usually there on the ground. However, none of the maps show craggy features; so much caution needs to be exercised if following a compass or GPS device in poor visibility as you may be walking off a cliff.
To make the most of a trip to this region you should consider hiring a car. We hire small vans for the extra ground clearance negotiating the dirt track roads. Hiring four-wheel drive vehicles is better though expensive. Capileira is the best base if you do not have a car though you will have to walk an hour to the snowline. The Spa town of Lanjaron is a good base for access to a variety of routes, but you will need your own transport.
Mountain House Holidays will be running seven-day snowshoeing holidays based from the spa town of Lanjaron in February and March 2012, though we also take clients for daily-guided trips at other times.
There is some information on our website for those wanting to plan their own trip, but we are always happy to share our experience with anyone who gets in touch.
There are other guides available locally, but please be aware that only acceptable qualifications for snowshoe guides in Spain (and most of Europe) are International Mountain Leaders or IFMGA Guides.
Summary
There are few places left in Europe's mountains that are undeveloped for skiing and winter sports. Spain's Sierra Nevada remains one of these giving a truly wild backcountry feel. A higher level of commitment is needed though because of this lack of development. Rescue can be problematic with no dedicated rescue service; maps not including obvious features such as cliffs; and the combining of altitude and possible high winds giving sometimes arctic conditions. We have got to know the area over many years, sometimes turning back when conditions have dictated it. We expect to spend many more years further exploring the range.
These days Mountain House guides are well known and Paco doesn't bother going through his checklist with us, rather we engage in pleasant conversation about the mountains, weather and environment. As he says, "you know it all."
For more information, visit http://www.mountain-house.co.uk.