Davos is not a "hole in the wall" place. It's a premier ski resort in Switzerland. About two and a half hours by car from the Zurich airport, it's been well known for quite some time. Arthur Conan Doyle wrote an article about Davos in 1899. Robert Louis Stevenson wintered there for health reasons in 1880 and Davos was the inspiration and setting for Thomas Mann's novel, The Magic Mountain.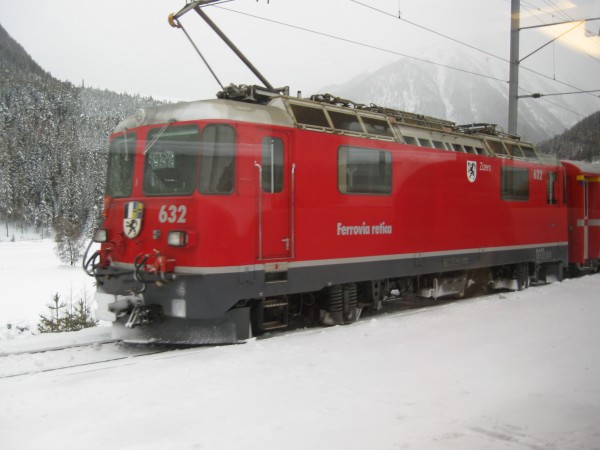 With consistently excellent snow cover, Davos is in the middle of an alpine playground. The town runs along the Landwasser River Valley with a straightforward layout. A mix of modern and old houses, hotels and office buildings sprawl against the scenery. The main street, lined by chocolate shops and sports stores, in Davos begins in Davos Dorf (the eastern end) and extends into the central main town area, Davos Platz (the western end). City buses run frequently. Squeeze in among locals and tourists carrying skis, skates, snowboards, hockey sticks and even Swiss natives with plastic bags filled with groceries.
Sixty miles of pistes as the Swiss call trails or tracks surround the town. It's possible to step outside your hotel or pension, strap on a pair of snowshoes and get going without much ado. The Alps form a majestic back drop and create scenery that can be mesmerizing. You can spend hours absorbing or trying to take in the mountain views. Resembling a calendar page, Davos is picture perfect and looks just like the postcards you've seen.
But if you want to know more about Davos and the surrounding areas or just want a break from snowshoeing, many options and activities are available. Here are some suggestions:
MONSTEIN BREWERY
"Last beer stop before heaven"
Take a city bus to visit the highest altitude brewery in Europe which is 7 miles from Davos. Look straight ahead if you're bothered by heights. The road to Monstein has many hairpin turns with sheer drop offs. Formerly an old dairy, the brewery is in the mountain village of Monstein.
Several types of beer are produced and they're made with fresh spring water from a stream winding through the town, Swiss hops and malt. How beer is made is explained during a tour and you will see state of the art brewing kettles and vats. The tour ends by a beer tasting in a cozy vaulted cellar. Try either a glass of pale lager or the darker variety. A plate of shaved cheese and air dried beef accompanies the beer.
Contact info@biervsion-monstein.ch
HORSE DRAWN SLEIGH RIDE
Start at the Banhoff or make arrangements for a hotel pickup. Don't worry about comfort. The seats are padded. Bundle up with huge faux fur blankets which are topped with a sheepskin throw. Quiet, except for the clip-clops from the horses, the ride proceeds along a stream dotted with puffs of snow. You may see a cross country skier glide by or perhaps, a deer bounding from the nearby forest. Arrive at a typical Swiss chalet where cheese fondue is served. End the meal with complimentary schnapps before heading back.
www.davos-kutschen.ch
www.Teufi.ch
ST.MORITZ
Catch a train to St.Moritz, Switzerland's swankiest resort town. A round trip excursion takes about three hours. The bright red train stands out against the landscape as it curves around the hill sides and crosses bridges. St. Moritz, vacation home for the rich and famous, includes King Carl Gustaf of Sweden as one its prominent guests. With a population of slightly over 5,000 permanent residents, there are five 5-star hotels. Via Serlas, the exclusive shopping street has been compared to Rodeo Drive in L.A. You'll see shoppers in gorgeous furs and beautiful leather boots carrying bags from Louis Vuitton, Armani, etc.
MUSEUMS
Kirchner Museum
Ernst Ludwig Kirchner, a German expressionist painter, settled in Davos around 1916 for several years. While in the Alps his main subject matter was mountain scenes. He returned to Germany where many of his works were confiscated or destroyed by the Nazis. The museum's exhibition displays fifty important works and is supplemented by photographs and documents relating to color theory in Kirchner's time and a selection of the artist's writings.
Winter Sport Museum
Toboggans, bobsleds, skis and ski bindings are on exhibit. Beautifully tailored ski and skating costumes are also on display. Davos is a mecca for ice skating sports and many speed skating records took place here. Remnants of these events as shown on trophies are on view.
PARSENN
Parsenn is one of the five ski areas in Davos. Ride the cable railway, which leaves every 15 to 20 minutes during ski season, to the top. You'll see breathtaking panoramic views of the Alps. When you return, walk across the Promenade, the main street to the Sporthotel Parsenn. There's a full outdoor bar in front. Sit on a bar stool covered in sheepskin and order a gulwein. Watch the skiers coming down from the mountain and the locals passing by.
www.parsenn.ch
www.hotelparsenn.ch