For sheer geologic eye candy, Alaska sure does deliver. From craggy rock faces to striped glacial moraines, the Last Frontier is flush with opportunities to observe the world's shifting, grinding perpetual motion up close. For those who venture to Alaska's capital city of Juneau between December and March, snowshoeing provides access for a different view, one with color and texture the summer visitors won't see, especially near the mighty Mendenhall Glacier.
One of a few glaciers accessible by road, Mendenhall sits a mere 10 miles (16 km) from Juneau. So, it's a "bucket list" attraction for the nearly one million visitors who come to Alaska each year. Part of the enormous Tongass National Forest, Mendenhall is also an endpoint for the equally vast Juneau Icefield, a swath of compressed snow and ice made up of 38 glaciers spanning 1,500 square miles (2415 km). Thus, space for recreational pursuits is unparalleled, as is the scenery.
Some of the links in this article may contain affiliate links. When you make a purchase using these links, part of the proceeds go to Snowshoe Mag. These proceeds help us pay for site maintenance and article contributions. Additionally, as an Amazon Associate, we earn from qualifying purchases. Please see our disclosure for more details.
Mendenhall Valley, Tongass National Forest
Typical winters in Juneau and the Mendenhall Valley can swing between snowy and rainy with a few days of brilliant sunshine intermixed. This "panhandle" section of Alaska is located in a temperate rainforest.  As such, weather patterns are often far from ideal for those used to fluffy powder and bluebird days for skiing or snowshoeing pursuits. But Southeast's scenery and wild places easily cause one to forget about the damp, gloomy skies in favor of uncrowded trails and wide-open spaces to strap on snowshoes and take to the mountains.
First, start by a trip to the Mendenhall Glacier Visitor Center, located at the end of Glacier Spur Road. Here, you can sign up for a rambling tour of the glacier and learn a bit of history about its recent retreats. A small entrance fee provides access to exhibits, a bookstore, ranger information, and films about this mountain of ice. Also, the visitor center is a great place to check on trail conditions and is open all year. The Tongass National Forest Service staffs the facility to ensure the safety of all guests who venture out on trails or across the frozen lake.
More extensive guided tours of Mendenhall Glacier and the surrounding area of Juneau are also available if you're interested. Go on a half-day tour, combo adventure experience, helicopter tour, or explore the city!
Read More: U.S. Forest Service Mendenhall Glacier Visitor Center Provides Incredible Tourist Experience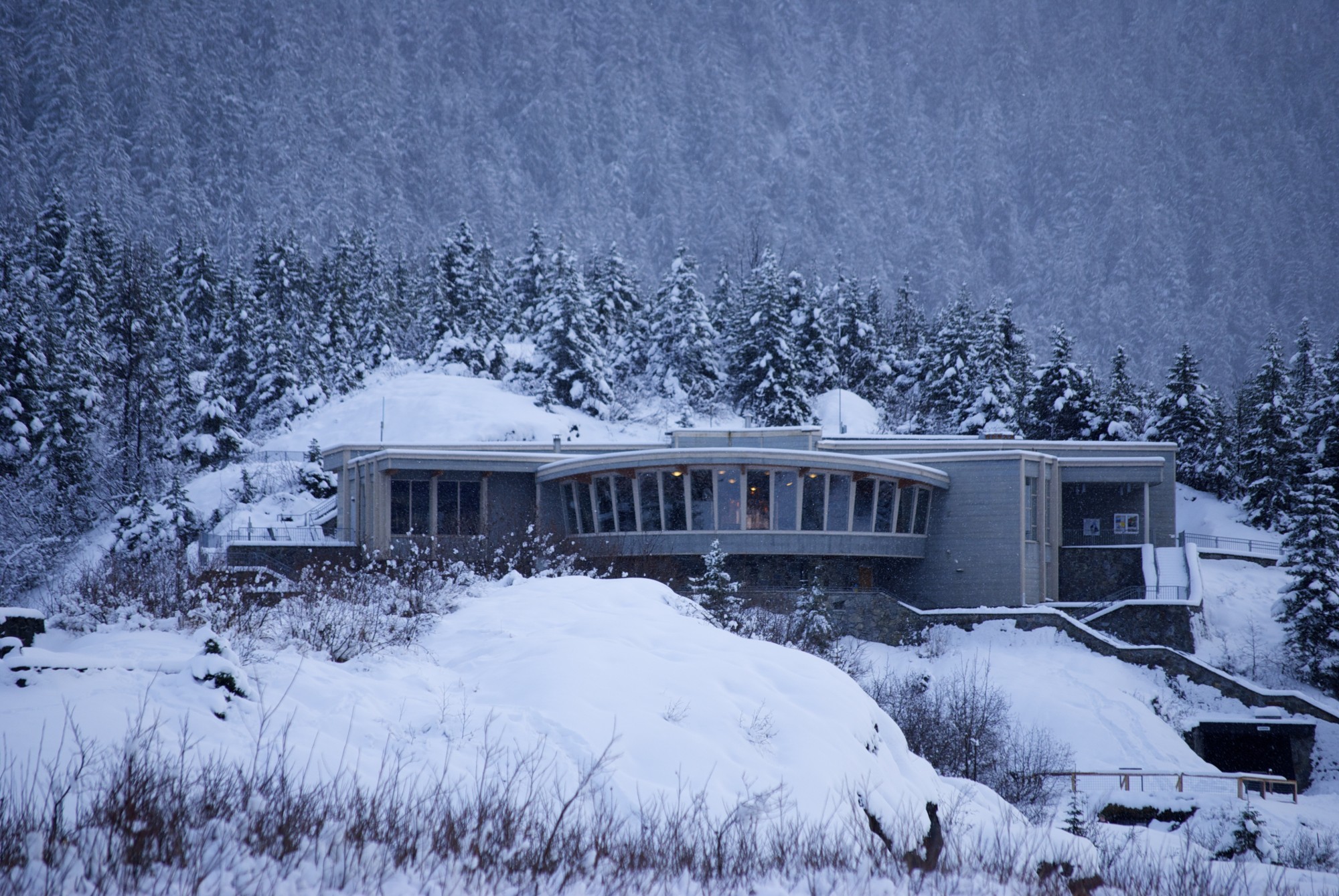 Snowshoeing In Tongass National Forest
The Trail of Time is a 0.7-mile (1.1 km) out-and-back trek that leads from the visitor center along the fringe of Mendenhall Lake. Changes in the landscape are evident, even in the winter. The glacier has retreated so much that many Juneau residents remember how old they were when the Mendenhall was visible from specific locations along the trail.
The glacier itself empties into Mendenhall Lake, which generally freezes solid anywhere between November and December, depending upon the year. Once that happens, and the snow falls, the lake's surface buzzes with skiers, snowshoers, and skaters eager to capture a few moments feeling tiny beneath Mendenhall's crystalline face. Even from several hundred yards, the glacier captures the landscape and is well worth the hike across the surface.
Note: Do be constantly aware of changing ice conditions! While icebergs may appear solidly encased in the lake's frozen surface, they are indeed unstable and should be avoided. Likewise, with the glacier itself, as the formation is continuously shifting and could break off at any time. Stay back at least 200 hundred yards, and heed all warning signs posted by USFS personnel.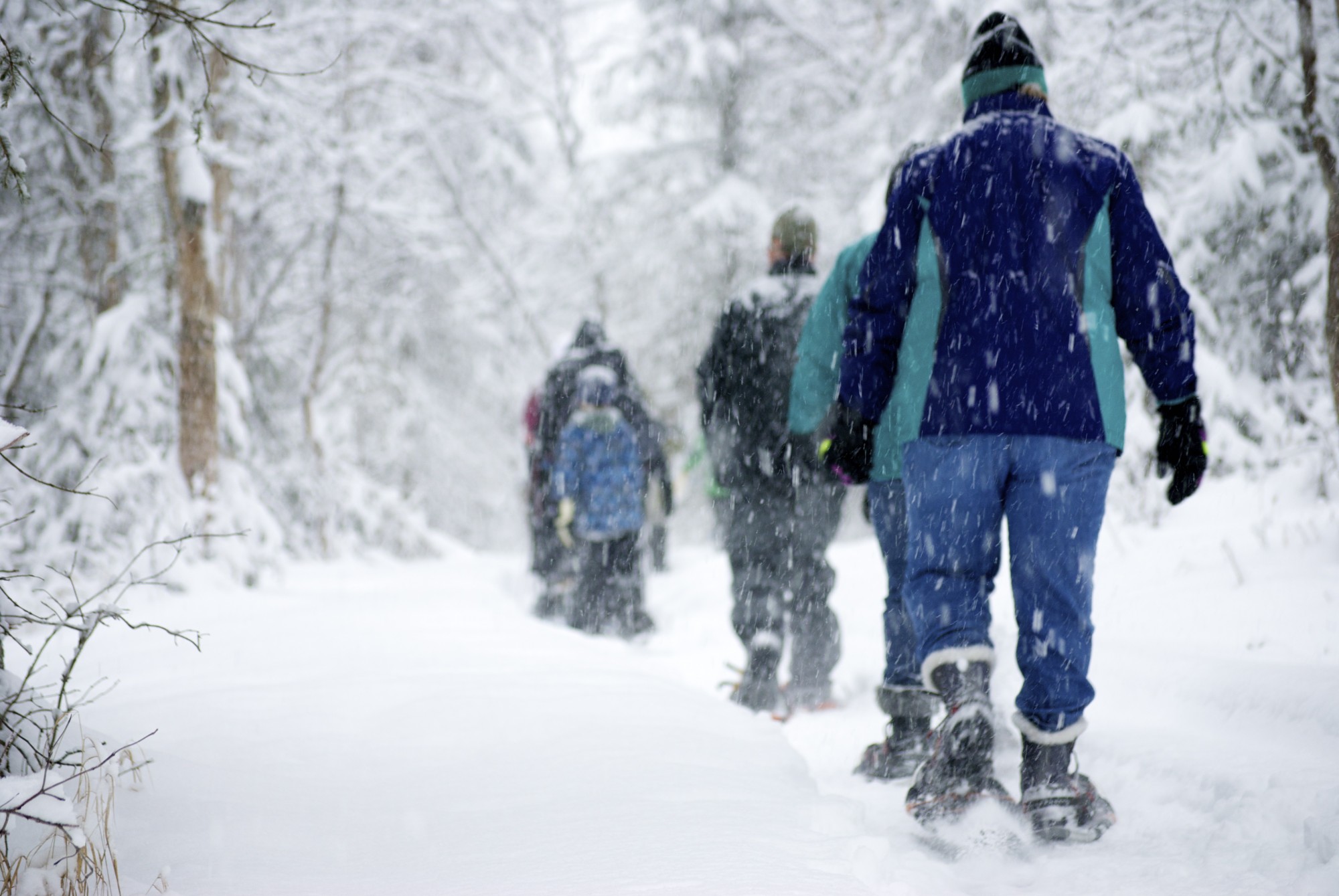 Those wanting a more extended snowshoe experience can try the Dredge Lakes trail system. This system connects to other trails like Moose Lake, Old River, and the Moraine Ecology Trail.  The trailhead is just behind the Tongass National Forest District offices along Glacier Spur Road.
The Dredge Lakes trails travel several miles through post-glacial vegetation of willow, alder, and cottonwood forests. Watch for signs of beaver activity, even in the winter, as North America's largest rodent chews, then drags trees and branches toward waterlines. Be prepared for an out-and-back trek, and take all necessary essentials like food, water, and extra clothing, as temperatures and weather can fluctuate without warning. You don't want to become stranded like this snowshoer in Washington or this one, who was lost for 50 hrs.
Additional Travel Info For Juneau, Alaska
Getting here is easy. In about two hours, a flight from either Seattle or Anchorage whisks visitors to Juneau; remember, this is one of two United States capital cities inaccessible by road (the other is Honolulu, HI). Rental cars are readily available at the Juneau airport, and lodging is plentiful during this typically quiet season. Mendenhall Valley is about 10 minutes from the airport and nearby accommodation, and 20 minutes from downtown Juneau, like all Alaska National Forests, full of nature-based opportunities to get outdoors.
Read More: Anchorage, AK: Top 5 Day Trips For Beginners
On the way back to town, stop by the Alaskan Brewing Company's headquarters for a tour and sample of this eco-friendly brewery, then swing into the Hanger Pub and Grill for a basket of fish n' chips or a burger, complete with a view of the Gastineau Channel and the harbor.
For lodging, we like the Silverbow Inn, a quaint, renovated 1914 property that also happens to be above the Silverbow Bakery and Wine Bar. Winter rates are reasonable, and the staff is friendly. Furthermore, access to downtown Juneau's historical attractions is easy.
Juneau is more than cruise ships. It's a glimpse into the unique landscape of Alaska, and a winter snowshoe trip might just pique your interest for a return, next year.
Have you been snowshoeing near Juneau and the Mendenhall Valley in Alaska? What recommendations do you have? We'd love to hear about it in the comments below!
Read Next: Alaska's Inside Passage: My Way
Article Updated March 2020 to include formatting and link updates