This is the fourth in a series of interviews with notable snowshoe personalities that we will be presenting throughout the season.
Mike Caldwell is the race director of the Mad Trapper Snowshoe Series in Low, Quebec (about 40 minutes north of Ottawa, Ontario). He started the series six years ago, and has watched it grow and attract many of the area's best runners, triathletes, cyclists and adventure racers. He makes his events fun for beginners as well as the more competitive types. His backcountry style races take in some of the most beautiful and challenging terrain in Eastern Canada.
Snowshoe Magazine: You've been a snowshoe pioneer in Canada. How did you get involved?

Mike Caldwell: I started snowshoeing and snowshoe racing when I lived in Colorado. We all did a lot of backcountry snowboarding in the Colorado Rockies and snowshoes were the best way to ascend a mountain in the winter. I was living in a town famous for its 100 Mile Trail Race, the Leadville 100 and given the abundance of endurance athletes there, it was just natural for there to be a 20 mile snowshoe race around Turquoise Lake every winter. I couldn't pass up the opportunity to participate in an event as crazy as that!
What made you want to start up a snowshoe race, and how did your Mad Trapper series evolve to where it is today?

MC: When I moved to Ottawa from Colorado I was impressed with all the snow here but disappointed nobody was taking advantage of the possibilities associated with snowshoeing. All my friends in Colorado owned snowshoes, but none of my friends here did. So by starting up the Mad Trapper Snowshoe Series, I gave my Type A, race obsessed, Ottawa friends a reason to start snowshoeing. Eleven people attended our first race here, and our numbers have been growing steadily over the past 6 years.
What are some of the obstacles to the growth of snowshoe racing?

MC: I can only speak to the Ottawa obstacles, as there basically were none out west. It seems to me the Ottawa region produces a very conservative type of person. And this shows itself at two ends of the spectrum. At one end, we have the hard core athlete. They are obsessed with training plans, heart rate monitors and watt meters. I've had athletes tell me they can't attend any Mad Trapper races because Saturday's are their "long run" days! These guys/gals obviously have never tried running 10k on my trails here in snowshoes. But since, a 10k snowshoe run won't fit nicely into their graphs at home, they don't come out. Many (not all, but many) Ottawa athletes have their sports they focus entirely on. In most cases it's either triathlon or cross country skiing. And so that's all they do. There is just no room for snowshoeing in their routine. At the other end of the spectrum with have the outdoor enthusiast. They like to get out and hike around and snowshoe, but are too intimidated to race because of the Type A personality of some of the people who attend Ottawa area races.
Is there any anecdote you can share about a participant over the years that captures what you're trying to do with your races?

MC: A couple of years ago, I had thought that all the racers were in and the race was over. So I began the Awards Ceremony. Our Awards Ceremony focuses on participation over competition, so people win awards for carpooling to the race, being the oldest person, wearing the wackiest clothes, or racing with their family. So I was part way through the Awards, when through the window behind me someone saw a racer coming down the final hill. "There's Mary!" There was still a racer on the course and everyone rushed outside to cheer her to finish. This shows the essence of community I want to prioritize in my races. It's not about finishing first, or fast, it's about taking part, supporting and enjoying the company of others. And of course, Mary was awarded a prize for her efforts.
Your courses are known for their challenging hills. How do you design your routes?

MC: There's no magical formula here, my neighbour and I share our trail networks and between us we have about 10k of maintained trails. Since I want some diversity over our 3 or 4 race series, I divide the trails we use to those which have the least elevation change with those that have the most. For our grand finale we combine the 2 loops. And reminiscent of my races in Colorado, I like to keep the courses natural, single track with some good challenges. A couple of years ago I actually hosted an "emergency" race. The snow and weather was just too perfect not to offer a race and none had been scheduled for another month to come. So I got a little inventive here and simply set the course by following the meandering wanderings of some deer tracks. They took us through some pretty crazy places, but the Mad Trapper is a pretty crazy race!
You are hosting the Canadian Snowshoe Running Championships this year. Please tell us about the history of the championships and what competitors can expect.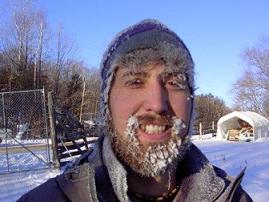 MC: Oddly enough, the Canadian Championships were actually spearheaded by the USA Snowshoe Association. 4 years ago, the USSSA was attempting to have snowshoeing included in the 2010 winter Olympics in Vancouver. In order for a country to compete in that race, they would have to have a formalized race system which could decide who the fastest racers in the country were. Ironically, despite Canada being the birthplace of snowshoeing and despite our incredibly long winters, we had no system in place for ascertaining our fastest racers. So, in 2007, in coordination with the Yeti Snowshoe Series in British Columbia the Mad Trapper hosted the first ever Canadian National Snowshoe Championships. Last year this race was hosted by the Yeti Series. This year it is back here and next year, the National Championships are going to piggy back on the Olympic events, despite not being formally accepted by Olympic committee. (Note: there is no qualifying required to compete in the Canadian National Snowshoe Championships, so everyone is welcome to attend including international competitors).
You're very environmentally conscious; how do you try to set an example for that with your life and your races?
MC: For my life, we live off the grid and rely as much as possible on creating our power through solar and wind energy. If you live off the grid, you have no choice but to conserve energy as fanatically as possible. In May of 2009, I'm offering a course at the main Algonquin College campus entitled "The Reality and Practices of Living off the Grid". For the races, I no longer print specialized race bibs. These are only used for an hour and then end up in the land fills. So we use bibs not used by other race series and our 10k racers wear jerseys that were not being used and donated by Raid the North Adventure Racing. These jerseys are used again and again and again. And finally we encourage our racers to think of the environment when they participate here. So prizes are awarded to participants who carpool or bring their own non-disposable cups, plates, and utensils for the race and post race buffet. Actually this year, Mountain Equipment Co-op is sponsoring a specific "Conservation Award" to the racer who has shown the greatest environmental awareness.
Your race venue itself generates a lot of discussion. Tell us about the Ark.
MC: You'll have to buy my 200 page book, V.E.A.R. Toward Success for the full story. But basically in 2002 I purchased an abandoned 6,000 square foot sawmill on 164 acres of hardwood forest. Without any experience in construction, carpentry, electrical or plumbing I went to work single-handedly turning this dilapidated structure into our home and conference/race centre. And we're completely off-the-grid!
Is there something distinctive about snowshoe runners that set them apart from other athletes?
MC: In my opinion snowshoe runners run more for the purity of the sport. They do it because they love being outdoors and pushing their limits. The tough thing about snowshoeing is that an individual's results are hard to measure. Since my race courses are ungroomed single track, the first place runner has to push through deeper snow than every other person behind him. On repeat loops the second loop is usually faster than the first one. So for racers who get their motivation solely from their times and personal bests, snowshoeing is not for them. Every day conditions change, so no 2 races are ever alike. As the race series grows, so does the competition, but most people who race here are only competing against one person and that is themselves. And that is why my awards ceremony reflects that mentality.
What are your upcoming goals, both personal and professional?

MC: I've worked extremely hard the past 8 years building my business and my home. So my personal goals are simply to start enjoying that which I have built more instead of continuing to push forward so hard. Professionally, I'd like to see my Motivational Speaking practice grow. VEAR Toward Success is a powerful book. My motto is "If it can be done, it can be done by me", and my message is "if I can do it, why can't you?". As for the Mad Trapper, I'd like to see maybe another 10-20% growth in race numbers. I want to keep our race settings intimate and fun. But the more people I can introduce to the sport of snowshoeing the better.
Where do you see the sport in 5, 10 years and beyond?

MC: More people are now starting to see snowshoeing as a primary winter race endeavour. Before it was only considered cross training for their "real sport". But people are now ensuring that they have the fastest, lightest race shoes out there and are using other sports to cross train for snowshoeing! So I expect this trend to continue as long as winter in Canada does. I don't know what's going to happen with this ongoing Climate Change. But if the snow continues to stick around I expect to see more races start to pop up in more places. I just heard a new race is starting this year somewhere around Huntsville and I wish them luck and success in their event.
Quickie Questions
What snowshoes do you use?

MC: Atlast 10Series for general hiking and snowshoeing pleasure. Atlas Race Series for serious running/racing.
My perfect snowshoe outing ___.
MC: A 5k hike here at the Ark with my wife Monique, miniature horse Nellie, and 2 border collies: Maple and Jazz. Followed by some relaxation time in front of the fireplace with a cup of Bailey's hot chocolate!
What was your most unique snowshoe experience?

MC: In Colorado, back country snowboarding. But here it was hiking with Nellie. She got too close to me and somehow ended up with her hoof and leg down in through my snowshoe binding. There were a couple of tense minutes before she knocked me down, and galloped off, freeing herself.
Favorite post-snowshoe meal?
MC: Bailey's hot chocolate.
Your best snowshoeing tip?

MC: When the conditions are wet, spray the crampons with WD40.
For more information on the Mad Trapper Snowshoe Series, please visit www.themadtrapper.ca.
(Back to www.snowshoemag.com)