Finding a geocache may not have the meaning of a hidden immunity idol but its global allure is seemingly unstoppable. Geocaching (pronounced geo-cashing) is a GPS-enabled adventure played around the globe. Consider it worldwide GPS treasure hunting.
The hobby began in 2000 when the U.S. Military degraded the GPS signal for civilians by ditching the "service availability." Dave Ulmer tested the idea of locating a hidden object with only its coordinates and his GPS device. The rules for the finder were simple: "Take some stuff, leave some stuff." He posted his findings on an Internet GPS user forum. The rest is history. The name of the activity became "geocaching."
Jeremy Irish created Geocaching.com in September 2000. It was believed that 75 caches existed worldwide. Explosive growth created Seattle-based Groundspeak.com with his partners Elias Alvord and Bryan Roth. Their avocation became their vocation.
Eric Schudiske, Spokesperson and Social Media Specialist at Geocaching.com, stated that annual growth has been phenomenal. "Geocachers can be found on every continent on earth from Antarctica to Asia and in almost every country." It is estimated that more than 5 million people on the planet participate in geocaching. This is determined by the number of Geocaching.com active accounts, he said.
Geocaching via snowshoes adds several new dimensions to the experience. Snowshoeing and geocaching are natural fits according to Schudiske. "Hikers discovered the purposeful nature geocaching adds to their outdoor adventure. When the weather turned cold, hikers strapped on snowshoes and kept geocaching," he said.
The affinity for geocaching via snowshoes has drawn more than hikers to the mix as evidenced by a recent Facebook post which exceeded 189,000 hits and a plethora of responses that spanned the globe.
The long winters in northern Idaho created the ideal outlet for snowshoeing according to Annie Love. Her father introduced her to geocaching in 2004 when her famly searched for caches in the Bruneau Sand Dunes near Boise.
She was hooked. Love has worked at Groundspeak.com for four years in the business development and related sectors. "I like to joke that I begged for a job here. Geocaching was a hobby of mine and when I realized that the company that ran the website was in Seattle, I knew I wanted to work there," Love said.
Becoming involved in geocaching is a snap.Create a free account at Geocaching.com. Premium memberships ($30 per annum) provide additional benefits related to search, map, statistics, Favorite Point functions, and more.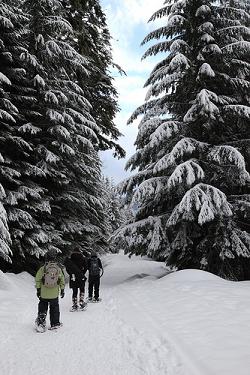 Families account for a major percentage of memberships according to Schudiske.
Geocaching rules are casual and evolve as the adventures mature (Extreme and Scenic Geocaching, for example). Schudiske noted a few universally understood rules:
1: If you take something from the cache make certain to leave something of equal or greater value;
2: Write about your 'find' in the cache logbook;
3: Log your experience at Geocaching.com.
Additional rules respective to hiding a cache and the like may be accessed at Geocaching.com.
Geocaching groups and organizations form organically. These groups exist from South Africa to Asia, North America, Australia, New Zealand, and beyond. Joining groups or organizations is a way to learn from veterans and meet other geocachers.
One such group in Washington is headed by Greg McCaddon, a systems analyst who has been a geocaching member since 2003, and a member of the Washington State Geocachers Association for nearly as long. McCaddon initiated Hike-of-the-Month (HOTM) excursions designed to access different trails in the region.
His snowshoe geocaching debut was a memorable trip to breathtaking Artist Point on Mount Baker. "The snow was about 200 inches deep and was a lot more work than I anticipated making me question what I was doing out here. Ultimately, I had a lot of fun," McCaddon said.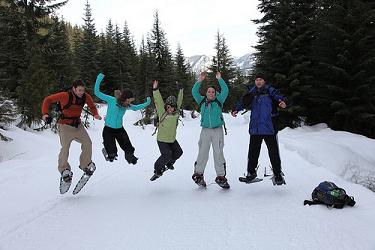 McCaddon uses geocaching as a menas to an end. The HOTM has evolved into a destination event to attend. Snowshoeing has an allure that is hard to resist, he said. 'For me, it is not only the destination, but the journey to get there and back that makes it part of the adventure. Words and pictures do not do justice to enjoying the beauty Mother Nature has to offer,' MCcaddon said.
Love emphatically agreed. "I love getting out in nature. I love the destinations geocaching takes me to," she said. Love enjoys the comaraderie and the outdoor pursuits such as snowshoeing that enhance the experience. "Playing in the snow never gets old for me," Love said.
Geocaching is an amazing way to engage the entire family. The search for a geocache adds a fun, purposeful element to snowshoeing that is exciting for both the adults and the kids, Schudiske said. McCaddon sees nothing but growth in snowshoe geocaching. "I see lots of videos and blogs of geocachers going out on snowshoes to continue playing a game that they enjoy so much," he said. Love envisions a lot more snowshoe geocaching endeavors on the horizon due to the explosive growth and the complementary nature of both activities.
Snowshoe geoaching is an economical way to engage families in the joy of using technology to explore new territories, meet people, exercise, learn environmental stewardship through the CITO (Cache In Trash Out) philosophy, and enjoy a sense of community while communing with nature, Schudiske said.
Which device one uses to track coordinates is really a matter of personal preference. The applications at Geocaching.com can seamlessly be implemented via various cell 'phones (iPhone, Android, Windows Phone 7…) or GPS devices  (Garmin, Magellan, DeLorme…). Check the reviews and information page at the Geocaching.com site.
McCaddon emphasized the safety factor in addition to the wealth of enjoyable elements related to snowshoe geoaching. He vowed to never become a statistic and stressed the importance of being prepared for anything. McCaddon typically lugs gear and supplies to last three days. This includes a shovel and an array of tracking and communication portals (Twitter, Facebook, geocaching forums…) so that people know his location and progress.
The botton line: Use the technology to maximize both the safety and fun of each adventure. Suggestions regarding gear checklists from beacons to sleds to space blankets and hot chocolate can be accessed at Geocaching.com
Geocaching is a worldwide game of hiding and seeking treasure. Implement this simple concept and challenge yourself in the spirit of adventure to commune in new ways with your family and Mother Nature and learn more about both.
Links:
Founders – Irish/Alvord/Roth
http://www.geocaching.com/lostandfound/default.aspx
To access more information about geocaching:
http://www.geocaching.com/lostandfound/default.aspx
Facebook Page – Geocaching.com
http://www.facebook.com/geocachingdotcom
Facebook Video – McCaddon +
http://blog.geocaching.com/2011/01/snowshoe-geocaching-a-geocaching-com-video/
Groups and Organizations:
http://forums.groundspeak.com/GC/index.php?showtopic=198818
Extreme and Scenic Geocaching
http://extreme-caching.com/index.php?p=1_2_Extreme-Caches
GPS Reviews
http://www.geocaching.com/reviews/gps