|| This article is sponsored by DION Snowshoes (snowshoes made in Vermont): www.dionsnowshoes.com. ||
The meandering single-track layout long conceived for the Snowshoe Shuffle Qualifier in the Twin Cities was unveiled on this perfect day. The result? "Wow!" Same for the results, too. It took five years but with a move to an earlier race date and cooperative snow, the long awaited 10 km original layout debut, encompassing a single loop through wooded waterways and trails, surprised unsuspecting racers. Touring the course pre race, I knew this would be a special day for the fifth year of the event when the Qualifying course split from the 5 km loop to add these northern trails, marked with flags and bright orange arrows pointing the way to the banner finish.
Erin Ward, St. Paul, became the first woman to capture the group's gold twice — and consecutively — with a finish of 59:39, the only woman to break one hour. Becky O'Hean of Baxter won second for the second year in a row at 1:03.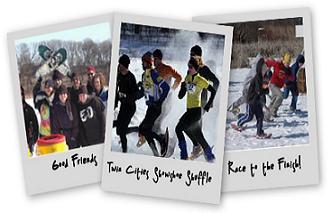 Shelly Wilson, active regional snowshoer from River Falls, Wisconsin, took third place and might have challenged higher but became stuck behind a slower competitor in the early single track — me. She was gracious at the rousing awards party as I explained I would have lumbered over if had known she and Mike Most were back there. The trail moved into open grasslands, they steamed on by yelling a friendly "good luck!", and that was that. Shelly unknowingly gave the title for this article as she described the single track as snow-beautiful.
The most amazing finisher of any racer today was fourth place, Lisa Trainor of Maple Grove, her first race here since taking second in 2007. She was way out in front of the pack with the leaders after the funnel start, which creates an excited jam like a Black Friday opening at Sam's Club. With a 'V' shaped start, Lisa was in sight of the starting area as she sat on the side of the trail, removing a broken binding and snowshoe. About an hour later she comes zooming by, surprising all, as she had returned to her vehicle, replaced the snowshoes and started over. Smiling at the Awards, winning her age class, Lisa gave a good lesson to all by respecting the race and the course by sticking to her guns and finishing.
Ed Whetham, St. Paul, established the record for the 'new' course with a 52:01, leading second place finisher, Mike Decker, Madison, WI, by two and a half minutes. Robb Class, Woodbury, continues a streak of winning third overall in terrific performances in regional snowshoeing this season, just trailing Mike by a few ticks across the finish.
In the largest male 10 km race in the half-decade history for this race, notable are those who travel a distance to qualify for the USSSA National Championships at the Shuffle. Tennessean Daniel Miller took third with a 56:01 at his first time at this race, winning by a few whiskers over Mark Brose, Minneapolis, who in turn led Josh Jorde, White Bear Lake ('Go Bears,' as is exclaimed in the movie, Fargo), by the same whiskers. Mark leads a Thursday night — and it is dark — race training at the Hyland State Park in the suburb of Bloomington. Timothy Hunsinger, Chicago, qualified here, along with Chris Miller of Belmont, MI.
First time snowshoer, using appliances provided by the race, Obed N. Gisemba, Minneapolis, finished ninth in a performance for the record books. A professional marathoner, Obed is just discovering snow besides snowshoes. Falling multiple times, he had to set a record for the most number of face plants for a top ten finisher. Obed and his friends were a wonderful addition to the Snowshoe Shuffle adding, "Snowshoeing is a great training." I suggested he visit www.snowshoemag.com and get a pair of racing snowshoes.
The oldest finisher of the 10 km, Ed Rousseau, 70, has raced all five Shuffle events, with his best finish a fifth. Ed said, "I'm in excellent shape, aiming to attempt a 100 km USATF age record for the road. This course was great, particularly with the switch backs." Ed races with Dions. On the flip side, Daniel Koutsky, Prior Lake, 18, beat dad, Dennis, crossing the finish, but both have so much fun in the race itself it is sometimes hard to realize they're racing . . . until they zip by. Daniel, making his first appearance in the Junior Class as the USSSA Nationals in Syracuse, noted, "I liked the variety" of trails in the course.
Mike Most was just happy to have crossed the finish before Shelly (see above), saying, "This is a toughly beautiful layout, made more so by the sugary snow." Ken Hertz racing his first snowshoe event with a course almost in his backyard took a tenth in the men's group overall and a third in his age group, commenting, "This was brutal! But so much fun!" Bob Durband, Shoreview, has fully recovered from surgery of a few years ago, winning his age class.
Jon Drew, Minnetonka, raced in the traditional way, wearing Iverson wooden snowshoes. Their larger flotation may have been advantage on this ungroomed, deep snow course. "I felt I definitely had better stability particularly on the virgin areas. This was a great course."
Snowshoe Magazine writer, Brad Canham, said, "This was a great race, very rough. This sugar snow is a true test of the discipline." Brad is sponsoring a charity funding the library in Amery Wisconsin. As he told me, "These donations make the librarians very pleased." You can be a part by clicking:
Jim Graupner, one of the most active qualifying racers in the country and a multiple USSSA medalist, opted for the 5 km event today as he was driving the hours to Wisconsin's Championships the next for their multiple races. "This course? Beautiful" He also shared, "I am looking forward to the Nationals in Syracuse; it should be a lot of fun." In a contrast of time in more ways than one, Jim, 65, won second in the most exciting race of the day, 29:34, edged a few ticks at the line by 16-year old Adam Braun, Shoreview.
The oldest finisher of the 5 km races, Bradley Ayers, 73 of Frederic, WI, (photo) is a vet who races with some war challenges, yet is one of the most enthusiastic of any participant. Winning the women's race was Anne Branstad, Minneapolis, at 36.39.
The City Royalty presents the handcrafted awards, lovingly created at Camp Bovey, a recipient of the proceeds from the Snowshoe Shuffle, to winners. Monica Riena, Laura Zaworksi, Brian Miskowic, and Peggysue (yes, one word) Imihy represent this year's enthusiastic group.
Hangar51 Software, parent of Virtual Race Assistant (VIRA), specializes in services designed to assist coaches manage their teams and events. Besides snowshoe races like the Snowshoe Shuffle, VIRA manages road races, mountain bike races, Nordic ski events, and high school / college cross-country meets. Bob is a welcome sight for participants when arriving at any event. Visit http://www.myvira.com/
For more information: www.snowshoeshuffle.org
USSSA: www.snowshoeracing.com
Comments? phillipgary@snowshoemag.com
www.iHarmonizing.com