If you snowshoe in cold weather — well, duh! — you need a Talus ColdAvenger Mask. As the fellow declares in an infomercial about an unrelated product: "If ya' got a brain in ya' head . . ." you will order a ColdAvenger Mask. But why did I choose the predator brown deception camouflage?
Talus offers several varieties of colors and styles for the fleece, but in my view, their camouflage is just about the coolest thing on the snowshoe trail. It will look good when I am wearing my Wilderness Athlete trek backpack with its red cover and black decking. Hey! Decked out like a snowshoe warrior.
Winter enthusiasts have been covering their cheeks, nose, and mouth with scarves, balaclavas, and just about anything else that fits on the face for decades. Talus comes along and creates a completely new category with their ColdAvenger by providing a key advantage to users: You get to breathe. "Breathe in the Air," sings Pink Floyd. The ColdAvenger has a state-of-the-art ventilation system that allows you to enjoy all of the air you want. You use less air? There is a dial on the mask to make the adjustment.
The snout eliminates sucking in cloth or woolen scarves as you gasp along, desperately trying to clear this next hill before the racer behind you closes in, taking a spot. You do not need distractions, or to gag, or restrictions on airflow at times just like that. I found the nose fit comfortable and soft, and never felt my mouth constricted . . . and I have a big mouth.
It is nice to know the poly they use in the air snout is medical grade, meaning it is non-toxic. With the small but vital warming space for the air as you are huffing and puffing, you are assured the air ingested is warmer than otherwise would be available, maybe 40 degrees or so, and carries more humidity. That is a good thing.
The method for attaching the ColdAvenger to your head is cool, too. Extending back from the mouthpiece on both sides are wide panels of soft fleece complemented with durable water repellency found only in upscale products like North Face. Additionally the panels are thermal, meaning 1) they block the wind and 2) they retain warmth, which can really come in handy turning onto north facing hills with mighty gusts sending wind chills deep below zero.
These wraps cover your face and chin below the eyes, and fully swathe the ears and neck so often you can skip additional headgear. The ends easily mesh behind the head because the flaps have attachments made with generous pads of die-cut Velcro and loop neoprene connectors. One does not have to be perfect patting them together as there is enough Velcro for the Avenger to work as long as one comes close — in other words, no annoying tiny snaps to click. This feature will become the highlight of your day when the temperature is zero and you are wearing thick winter gloves.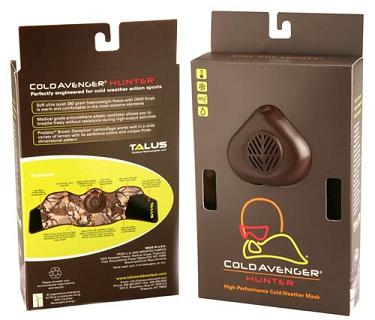 For extreme cold, like the next time your friends invite you to snowshoe Mt. McKinley, Talus offers a category-busting Expedition Balaclava incorporating the ColdAvenger Mask adapted with the most professional head covering on the market. The Expedition Balaclava goes to the top of my want list — not that I am ever going to be able to fully tax its ability — but when those 20-below days greet you with its friend, a northward gale, you can gear up and know you will be comfortable.
Keeping warm, staying dry, remaining comfortable — all keys to extending endurance times on snowshoe trails. The Talus ColdAvenger Mask helps you in all three.
For additional information: www.talusoutdoortech.com
Free email Snowshoe Magazine subscription: https://www.snowshoemag.com/subscribe.cfm
Write: phillipgary@snowshoemag.com
Phillip's book HARMONIZING: Keys to Living in the Song of Life is available at Amazon, Lulu, and www.iHarmonizing.com