Quebec City is breathtaking in the winter with its towering historic walls, twinkling lights strung upon every building and snow softly falling. This winter wonderland is the perfect destination for any snowshoe beginner with its opportune trails and gorgeous landscapes. From trails in the heart of downtown that overlook the gorgeous Saint-Lawrence to treks through beautiful boreal forests of Quebec, this area begs to be explored through the delightful sport of snowshoeing. Here are the top five daytrips for snowshoe beginners.
5. Saint-Tite-des-Caps
Beautiful paths await you at Saint-Tite-des-Caps with stunning scenery, a variety of difficulty and snowshoe rentals on site. Located just 45 minutes from downtown Quebec City these series of seven snowshoe trails all take you to lookouts on the Saint-Lawrence and views of the Archipelago of Montmagny Islands.
The Rift Trail is the easiest of the day hikes and offers spectacular views and a chance to rest on top of a huge geological fault that overlooks the river. Snowshoers can either rest or dine up here partway through their day. The trails here are clearly marked and make it easy for beginners to follow. Do keep in mind that these trails are meant to be full day hikes so be sure to pack plenty of snacks, beverages and dress appropriately. Surrounded by nature with only the sound of the birds chirping and the wind whispering; beginners will find themselves coming back to this beautiful region time and time again.
Learn more at: http://www.sentierdescaps.com/
4. Camp Mercier
Drive about an hour north of Quebec City and you will find one of the most scenic snowshoe facilities in the province of Quebec. Camp Mercier not only gets an abundance of snow but offers a wilderness experience perfect for the beginner snowshoer.
More than 43km of trails await you here along with heated sheds and shelters for resting points along the way. Camp Mercier can either be a day trip or be turned into an overnight destination with the rental of one of their nineteen heated chalets complete with electricity and running water. Wildlife is often seen in this reserve and trails are well-marked and range from beginner to difficult. The reception offers a snack bar, trail maps and the rental of equipment along with knowledgeable staff that will point you in the right direction. With a longer snow season that most others, Camp Mercier is easily accessible, stunningly beautiful and provides a wonderful landscape for beginners to try this sport.
More information here: http://www.sepaq.com/rf/lau/camp-mercier/index.dot?language_id=1
3. Plains of Abraham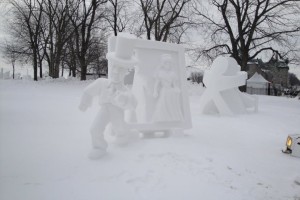 The Plains of Abraham was once the site of the 1759 battle of Quebec, between the British and the French and is an important part of Canada's history. Today, this city park is an ideal winter playground for the beginner snowshoer and outdoor enthusiast.
The on-site museum offers both Nordic ski and snowshoes for rent by the hour, day or season. Along with heated washrooms, a place to rest and hot beverages and snacks, this is an ideal place to strap on your snowshoes for the first time.
A designated 3.8km round trip trail is specific for snowshoers along with the opportunity to head off the trails and make your own path. This location can get windy as it overlooks the magnificent Saint-Lawrence River so make sure to bundle up. Easy access, superior views, opportunity to try snowshoeing, Nordic skiing and skating all make this location the perfect day trip for beginners.
Find out more: http://www.ccbn-nbc.gc.ca/en/activities/cross-country-skiing-and-snowshoeing/
2. Parc national de la Jacques-Cartier
Home to one of the most beautiful glacial valleys in all of Quebec and amazing beginner snowshoe trails, it is no surprise Parc national de la Jacques-Cartier is our second favourite daytrip on this list.
Located just half an hour from the city; this Parc is accessible and full of places to discover. Start at the visitor's center where you can rent a pair of snowshoes if you don't have your own. Also provided here are washrooms and trail maps.
There are 11 snowshoe trails totaling 78km including several that are easy enough for beginners. From loops that run 2kms to an easy day trek that will take you over 15kms the possibilities are endless. Views of the Rivière Jacques-Cartier, Sautauriski mountain and hardwood forest await visitors. Also located on the trails are heated huts, the perfect stopping place to warm up and have a snack. Prepare to spend an entire day here exploring the wilderness and breathtaking views.
Learn more at http://www.sepaq.com/pq/jac/index.dot?language_id=1
1. Foret Montmorency
The largest teaching and research forest in the world is located just 45 minutes north of Quebec City and offers some of the best snowshoeing trails in the area. Whether you are a beginner or an expert these trails are designed to take you into the heart of the woods, tops of the hills and through some of the most beautiful scenery your eyes have seen.
The welcome center offers snowshoe rentals along with a place to use the washroom and have something to eat. The groomed trails range from 1.8km to 10kms in length and over several huts along the way to rest and warm up. Thousands of acres of forest are available for off-trail snowshoeing but please keep in mind the enormity of this forest if you venture off the path. From a bird feeding station where the chickadees eat out of your hand to stunning views of rivers and waterfalls to the opportunity to try snowshoeing, skiing or even ski shoeing, Foret Montmorency is our number one day trip for snowshoe beginners.
More info at: http://www.foretmontmorency.ca/en/activities/winter-activities/snowshoeing/