When Goldtoe Moretz developed the powerful PowerSox Merino Wool Boot Sock, they must have thought they should receive all the credit for creating such a comfortable, cushioned sock. Our investigation uncovered a happy clue. A photo reveals the source.
I jumped at the chance to test these new cushioned Boot Socks knowing the strong reputation Gold Toe PowerSox has among their favorite users . . . feet. They have many possible uses for your feet. Certainly, the Merino wool is woven thick enough to be perfect for a boot. No rubs from the boot reaches the foot, no blisters, just comfort.
Some of my forms of exercise require lifting, movement, twists and turns, and I wear boots. The built-in cushioning–thick, luscious cushioning–allows me to ignore my feet and concentrate on the task at hand, lifting and moving multiple and variable weights continuously over a several hour period. Other than my boot coming untied from time-to-time, I have no need to think about my feet at all while wearing these socks. PowerSox does that for me.
On a trail or snowshoe run (photo, happy at Camp Saratoga Race) if  feet have any pain at all, you know it from that moment on until resolved. Pain has a way of capturing your attention. But, why do these wonder socks differ from the ordinary?
Perfect for snowshoeing and winter sports in general, they are constructed and woven with merino wool, as in the merino wool that keeps your feet warm when it is umpteen degrees below zero.  The merino sheep, producing the world's softest and most perfect wool, are literally Boot Sock producers . . . that's what they do to earn their keep on the ranch. It is a simple formula: Ranchers from Vermont to New Zealand mollycoddle the sheep, and in return they happily provide this opulent wool, the caviar of thread.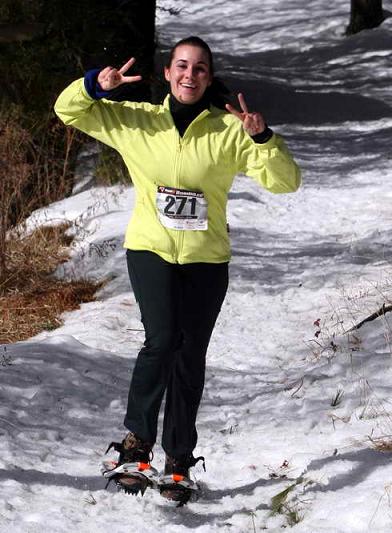 Merino is suitable for ultra performance athletes seeking the best. If it works for them, surely it can help the  aspiring average performer, too. Next to the skin, the wool acts like a warmer for your extremities . . . call it a green feet-heater. Additionally the material licks the perspiration off your skin and casts it away, so you don't get wet feet a definite no-no in exercise, particularly when the cold invades.
Cotton would just get soppy, chilling and chafing your toes to the bone. They would not be happy in that condition and would send you an email–via pain– asking you to alleviate the condition, or they will spam your nerve endings.
Think of these socks as a kind of warm sleeping bag hugging your feet, except they are always awake and working big-time for you. The wool from these wonder sheep is naturally formed with air pockets, and that is the secret for how they keep the warmth next to your skin.
I turned the Boot Socks inside-out to inspect them; the cushioning is highly visible, surprisingly soft and comforting. Special added cushioning along the heel and forefoot aides in shock absorption in those rough trail patches. Compare that soft thickness with other socks in your collection–you will be buying a lot of replacement socks.
Another benefit is this type of wool does not keep odor . . . thanks again to the sheep. Your friends will love you for that.
These GoldToe – Moretz people sure take their socks seriously . . . .
And there is more. PowerSox builds in an arch brace to aid mid-foot support. In addition, the fabric includes Spandex, a synthetic stretchable fiber, which is why those socks stay nice and snug during all of that movement.I have also used them on the trail in races wearing running shoes. I tested the crew length, there is an optional quarter size.
They stay right where you put them so you don't have to worry about them moving about. This whole idea of cushioning that maintains its place is Gold Toe's Exclusive Contour Cushioning.
I've also worn them with lace-up dress shoes for true comfort. In my eye, they look great. Just in case, PowerSox has merino wool dress socks for the more proper of occasions.
Comparing somewhat to a high output processor chip, maybe one can agree with the PowerSox assertion that Boot Socks are built with Advanced Performance Technology. Perhaps we should call them iSox?
So who really created these socks? Was it the country's top sock engineers and designers sitting in windowless rooms hatching these great ideas? Maybe, but I discovered a clue one morning when the following happy message was sent to me by–of all things–my feet. I think they were trying to tell me something in the photo below (scroll down):
To find more info, go to the PowerSox link to the Merino Wool Boot Sock:
http://www.goldtoemoretz.com/store/products/Merino-Wool-Heavy-Cushion.html
To subscribe to the free online Snowshoe Magazine edition:
https://www.snowshoemag.com/subscribe.cfm.
Connect with Phillip@UltraSuperior.com  Twitter   FaceBook