Plymouth's Barbican is steeped in maritime history with its spectacular marina. The launch site for the Pilgrim Fathers in their quest for the New World, and a hub for tourists from around the globe. It's here you'll find narrow cobbled streets, Jacobean and Tudor buildings, stunning views across the harbour and countless family attractions, cafés, restaurants and bars.
The area occupies the northern and western sides of Plymouth's old harbour and if you dig deep enough, you'll discover the architectural heritage of its historic fishing port. The Barbican isn't all ancient history and old buildings, far from it. Allow me to indulge you in a virtual snowshoe tour of the district. You'll be pleasantly surprised.
We start in Southside Street on a deep snow covered morning. On our right, the Plymouth Gin distillery – England's oldest active gin distillery. Although the building, a former monastery, dates from the 1400's – and one part from Medieval times – it's been producing gin since the 1790's.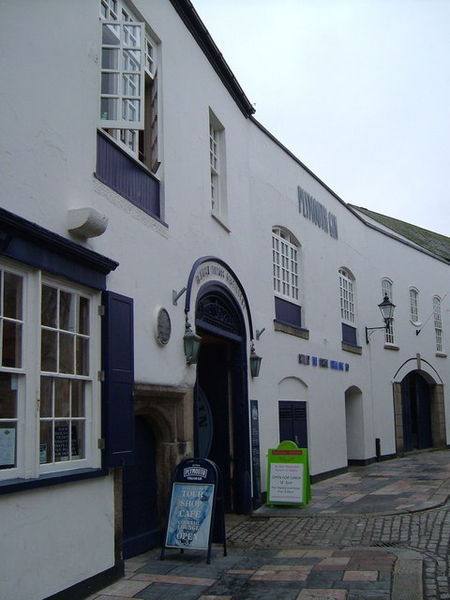 A guided tour is not to be missed, and if you're looking to keep out the chills on a winter morning, a tasting of its world famous product should do the trick.
Sample some of the south west's finest at the Barbican Kitchen, open for lunch or dinner. For details of this and Connoisseur Tours of the distillery and reservations, call 01752 604448.
Southside Street is also home to a diverse selection of gift and speciality shops. It's here you'll find The House That Jack Built – a unique shopping arcade, Whatnot Woodcraft, Chocaccino and The Whistlefish Gallery. Wonderful names and great places to stop off and browse.
For something totally different, visit Clay Art, a unique 'paint your own' pottery studio. This is where the whole family can indulge in a relaxing and creative atmosphere, and the only limit is your imagination. For full details – including birthday parties – call 01752 665565.
Opposite the Pasta Bar restaurant, you'll find the newly opened Number 29 Coffee Shop. Just the thing on a snow covered day as they offer a range of speciality coffees and teas. For sheer indulgence, try their white chocolate and strawberry cheesecake as well as their lunches and selection of cheeses.
Across from the historic Mayflower Steps is the Admiral MacBride pub. The two are well linked as the pub stands on the original site from where the Pilgrim Fathers set sail. Very much a traditional English pub, the Admiral MacBride offers a great selection of wine, cider, lager and real ale. Fish and shellfish caught virtually on the doorstep along with a wide choice of local produce, should keep the hunger pangs at bay. Accommodation is also available. Call for details and bookings 01752 262054.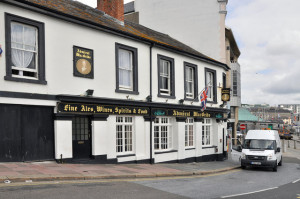 Close to the Mayflower Steps, you'll find the Barbican Theatre, dating from the early 1980's. With nightly shows and 'open mic' nights, there's bound to be something for the whole family. It's Thai Noodle restaurant is well worth a visit as is the main bar and restaurant. The theatre opens Monday to Friday 11 am – 6 pm. Phone for details on 01752 267131, or visit www.barbicantheatre.co.uk.
For those keen to immerse in local history, The Merchant's House on one of Plymouth's oldest streets, is a survivor from the 16th century. The building forms an almost perfect backdrop for a snowy day as it seems to come straight from a Dickens novel. Full of historic artifacts including a Trelawney fireplace, it opens from late March to late October 10 am – 5 pm.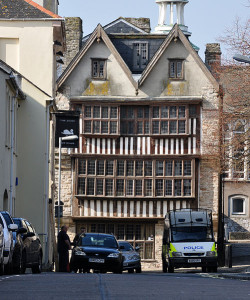 Plymouth has long been referred to as Britain's Ocean City, and it's a title which fits like the proverbial glove. A walk around Sutton Harbour a scene of many world-class events is a must. No matter what time of year, there is always something to see and do. And for choices in cuisine, it's hard to beat. Thai, Italian, Turkish, Indian or Greek, you'll find them all and more here.
Try a snowshoe walk on the circular Harbour Heritage Trail part of the South West Coast Path. The views of the harbour are stunning, and on your way round, you'll discover more about the city's maritime past. The Trail on level tarmac is perfectly suitable for pushchairs and wheelchair users. For refreshments on the way, there are plenty of cafés, bars and restaurants.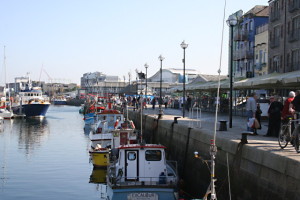 If you're keen to escape the surrounding hives of activity, visit the Elizabethan Gardens on New Street. This tiny garden, with its boxed hedges, herbs and flowers, is tucked away in a quiet corner and although popular with tourists, you're guaranteed some peace and quiet. The gardens are open all year round Monday to Friday from 9 am – 5 pm with free entry.
For a walk with a difference, the Barbican plays host to the much acclaimed Haunted Plymouth Ghost Walk. This is a great experience for anyone keen on the supernatural. You'll be guided around the mysterious cobbled streets and hear tales of hauntings, ghosts and ghouls. Group bookings are welcome and tickets are available on arrival, www.hauntedplymouth.com has full details.
No trip to the Barbican is complete without visiting the National Marine Aquarium, one of Britain's largest. Once you're done with the snowshoes, exhausted all else on offer, and are searching for something different, a relaxing time among the fish could be the solution. From the UK shores as far as the tropics, you'll be treated to an amazing spectacle of all things marine. For more information and opening times, call 01752 275214 or visit www.national-aquarium.co.uk.
The word Mayflower holds great significance in Plymouth's past, so it seems fitting to round things off with a trip to the Mayflower Museum. Over three floors you'll see fascinating exhibits about this epic voyage of discovery. Including interactive displays, and a scale model of the Mayflower, this is a must-see for anyone interested in maritime history. The museum is open all year. For admission prices and further details, call 01752 306330.
With its quaint shops, major tourist attractions, maritime past and slow pace of life, Plymouth's Barbican really does cater for all tastes. Whatever the weather, whatever your interests, the variety is simply staggering. Visit once and it'll leave a lasting impression.