Wisconsin is home to more than 2,700 miles of recreational trails, many of which are available for snowshoeing. On a recent visit to the Badger State's Northwoods region, I explored a number of these designated trails, along with breaking a few of my own.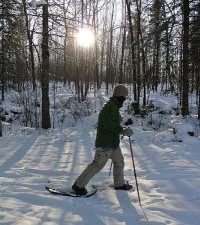 Located a three-and-a-half-hour drive northeast of Minneapolis, the picturesque Northwoods reveals its spectacular offerings any time of year. Winter is especially appealing in the small towns of Hayward and Cable. These towns are inseparably linked by the American Birkebeiner, the country's largest cross-country ski race held every February. In 2018, skiers from 49 states and 36 countries participated in the Birkie.
Though the driving distance is just 15 miles between the two towns, more than 10,000 skiers begin the Birkebeiner in Cable, and end the race 55 kilometers (34 miles) later in Hayward. Steeped in Nordic history, the Northwoods area's charm and appeal includes a variety of specialty shops, equipment rentals, hotels, restaurants, coffee shops, pubs, and numerous outdoor activities.
Snowshoe Near Cable & Hayward
Cable offers snowshoeing near town thanks to the North End Ski Club, which maintains National Forest cross-country and snowshoe trails. Three easy to moderate snowshoe trails are available, including the 1.4 km Ridge Trail, 2.4 km Bear Paw Trail, and 2.8 km Penny Lane Trail.
In addition to snowshoeing, the Ridge Trail offers a self-guided Mammal Tour. This tour features 25 metal cut-outs of common Northwoods' mammals along the route. The educational Mammal Tour is a joint project of the North End Ski Club and the Cable Natural History Museum, which also rents snowshoes. It's a great way to learn about the area's wildlife while snowshoeing.
According to Cable Area Chamber of Commerce Executive Director Jeffery Raether, "The Cable area boasts the largest community-wide multi-use trail system in the United States." That expansive trail system includes 125 miles of hiking/snowshoe trails, 94 miles of cross-country ski trails, and 1,200 miles of snowmobile trails.
If you need a break from snowshoeing, an adrenaline-producing activity like snowmobiling is available by stopping at Hayward Power Sports, which rents snowmobiles and offers guided tours as well. You can spend hours or days on these exhilarating machines! If you get hungry, many local restaurants are a part of the snowmobiling trails. Lakewoods Resort also offers snowmobiling options and several hundred miles of trails to explore.
In Hayward, snowshoers can enjoy a variety of trails right near town, thanks to the Hayward Area Memorial Hospital. The Hayward Area Ski Trails Association maintains dedicated snowshoeing and walking trails on hospital property. Several miles of trails are available, with the snowshoe trailhead located off Hospital Road.
Other Outdoor Activities
Ice fishing, ice skating, elk viewing, and fat biking are also popular winter activities throughout the Northwoods. Howl Adventure Center is a comprehensive one-stop recreation facility for snowshoeing and other outdoor activities. If you've never tried it, fat bike riding on snow trails is a hoot, and a good workout. Fat bikes have extra-wide rims with low-pressure tires making it possible to cruise on soft terrain like snow. Howl Adventure Center also offers snowshoe and cross-country ski rentals, along with dog sled trips.
During my visit to the Northwoods, I enjoyed a cozy cabin (Gall Condo Rentals) on the frozen shores of Lake Owen, just outside of Cable. This picturesque lake features 1,300 surface acres, all of which were soundly covered in two to three feet of ice and topped with a foot of snow. On the last day of my week-long visit, and just before the sun set, I looked out over the lake and its prevailing silence, and strapped on the snowshoes one more time.
From my cabin, I trekked several hundred yards out towards the middle of the lake to witness the setting sun. I was the only one on the entire lake for as far as the eye could see. The incredible silence was almost spiritual. As the sun dipped below the horizon, I knew this was certainly one of the highlights of the trip. Besides my heartbeat, the only sound I heard was the eventual crunching of my snowshoes as I headed back to the cabin. This final snowshoe impression on Lake Owen was a memorable way to end the trip.
Après Snowshoeing: Food, Drink & Stay
• After a hearty morning of snowshoeing, relax at the Brickhouse Café for a meal and a warm up drink. They offer a variety of hot coffee drinks, along with a mouthwatering lunch items. The Lake Owen Panini was recently featured on the popular TV series "Diners, Drive-ins, and Dives." The sandwich includes turkey, provolone, homemade walnut pesto cheese spread, tomato, and red onion on a ciabatta roll. I felt obligated to try this sandwich since I was staying at Lake Owen. I was not disappointed!
• In Wisconsin, fish fries are a big deal, especially on Fridays. To experience an authentic fish fry, have dinner at The Landing on the Chippewa Flowage in Hayward. The walleye is fabulous.
• Tamarack Farms Winery uses locally-grown cranberries, blueberries, strawberries, and apples to produce their wines. They also offer craft beers, hot apple cider wines, and wood-fired pizza.
• The Birches Roadhouse Bar & Restaurant is a contemporary Italian steakhouse with a cozy atmosphere. The meals are to die for, which makes this a very popular destination.
• If you've ever eaten at a Famous Dave's BBQ restaurant, you'll love his Hayward, Wisc. version called Old Southern. Like Famous Dave's, there are lots of tasty BBQ options and sides, and they are all tasty!
• The Sawmill Saloon in Seeley features home-made pizza in a variety of combinations. They also offer Lumberjack salads and rib-eye steaks. It's located near snowshoe and cross-country ski trails halfway between Hayward and Cable on Hwy. 63.
• If you're looking for a place to stay with convenient snowshoe trails, consider the seven-room Cable Nature Lodge with its adjoining Rookery Pub Fine Dining. According to owner Bill Brakken, "You can get a pair of snowshoes at the front desk and explore the trails winding across our 22 acres, which also connect with the adjoining national forest." Guests are greeted by Arwen, a friendly British black lab who is named for the elf princess in "Lord of the Rings." She even barks with a British accent!
For more information about the Northwoods and the Badger State, check out Travel Wisconsin.