Wearing the Oboz Firebrand II shoes – strapped in snowshoes or snowshoe-free – is like wearing a bulletproof vest for your feet. Or better yet, the Firebrands are like robotic moon shoes that are engineered for an all-terrain galactic jaunt. They resemble a pair of rock climbing shoes on some crazy steroids – enough to make even Barry Bonds wince. Although lightweight, the Firebrands are shockingly sturdy and rigid. Normally, this is not the best way to describe a comfortable shoe. But what the hell – I done did it.
It's true. Walking around in the Oboz Firebrands offers a slightly different experience compared to the average, everyday retail shelf shoe. The curvature of the shoe's sole doesn't bend and manipulate with the user's natural stride on hard surfaces.
The Firebrands aren't meant for the concrete world; they're meant for rocks, dirt, mud, ice, slush and snow. And if you can successfully use the Firebrands to knock around all of the Earth's elements…well…my hat's off to you.
I suggest wearing a pair of gaiters with the Firebrand shoes while snowshoeing. Their low-ankle support performs like a hardcore pair of waterproof boots – combining Nubuck Leather and a high-abrasion textile for the upper. Deep snow will be a problem for the Firebrands, but paired with waterproof gaiters…the combination is spot-on.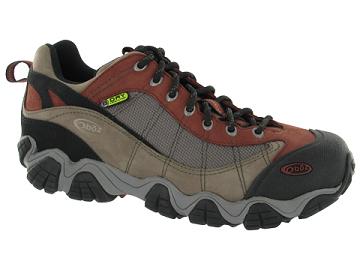 For recreational snowshoers and snowshoe racers, the Oboz Firebrands are a boon to snow- and ice-covered trails. The Oboz proprietary BDRY Waterproof/Breathable Membrane creates the ultimate cold weather barrier that's required by snowshoers.
Fit for the hardcore trails, the two-part midsole includes dual-densities of EVA and a nylon shank; the high friction, non-marking carbon rubber outsole offers a 3D molded external heel counter and sawtooth outsole design. Combine all this and each shoe weighs about 18.5 ounces. I mentioned that the Firebrands were sturdy and rigid for a reason, but constructed to last the extreme rigors of the outdoors. Add all this up and the Firebrands are still – by the definition – lightweight.
Packing a lot of punch with its sole arrangements and waterproofing membranes, the Firebrands' performance doesn't wane in the least. I've used them on several snowshoeing adventures – specifically in Montana's Glacier National Park where the temps dipped well below zero. Additionally, I used the Firebrands while snowshoeing in Québec City.
Each experience called for two different types of snowshoes: A pair of Easton Mountain Product Hike snowshoes in Montana and a pair of wood-frame Faber snowshoes in Québec. These are two vastly different snowshoes, but the Oboz Firebrands fit perfectly in the snowshoe bindings. It was as though the narrow design of the shoes was engineered to fit any style of snowshoe – no matter the strenuousness of the trail.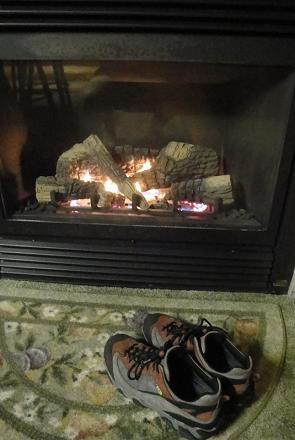 While I'm no expert on assigning notable gear recognition or awarding companies with Snowshoe Magazine's "stamp of approval," I genuinely extend my endorsement of Oboz and its Firebrand II shoes. What can I say…they're a good pair of snowshoe and trail running shoes.
While many pairs of shoes and boots will fade in and out of my gear arsenal, I think my Firebrands will stick around for the long-haul. Come December 2012 when the world is expected to end…I'll be wearing my Firebrands to help me dodge falling rocks and leap over ground fractures.
Maybe that's my affectionate stamp of approval: "Oboz Firebrand II: Good enough for end-of-the-world, death-defying scenarios."
For more information on the Firebrand II shoes, visit http://www.obozfootwear.com/site/oboz-mens-firebrand-ii.html.