At Outdoor Retailer Winter Market trade show this past January, Cascade Designs unveiled its 2011-2012 MSR Snowshoe line. The eight models in the line feature a variety of the best and newest technical features exclusive to MSR snowshoes.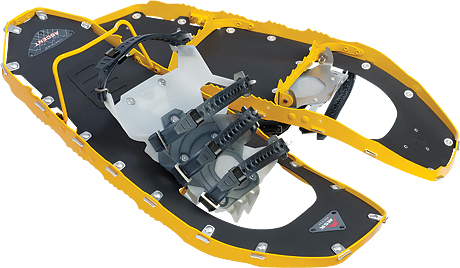 "Our number one focus is always on providing meaningful and technical solutions to enhance the snowshoeing experience and encourage more people to get out on the snow," said Chris Parkhurst, Division Director for Winter Products at Cascade Designs. "This mindset started with the pioneering design of modular flotation in 1995 and again with the paradigm-changing 360-degree traction frame in 2004, ultimately setting the bar for both. This year, we'll change how people view efficiency on snowshoes."
Axis Gait Efficiency Technology
The world's first bilaterally adjustable snowshoe binding compensates for typical toe-in and toe-out variances in gait. With an easy, spring-loaded pin adjustment, the user can turn the binding up to three settings left or right to match with their typical toe variance. The result is a natural, efficient stride for each unique user. Developed in conjunction with Katrina "Kit" Vogel, an Orthopedic Gait Specialist with a Doctorate in Physical Therapy and a Master of Science degree specializing in Biomechanics, Axis Gait Efficiency Technology is featured in the bindings of the new Lightning Axis snowshoes.
SpeedLock Binding
The new SpeedLock Binding System makes snowshoes faster and easier than ever to put on. After adjusting the single, broad toe strap to fit, the user slides their foot in at an angle and straightens it to secure and lock in place. A single heel strap secures the back. The broad shape of the single toe strap reduces pressure for all-day comfort, and is made of freeze-proof, glove-friendly material. The SpeedLock Binding is featured on the Lightning Axis, Evo Tour, and Lightning Flash snowshoe models.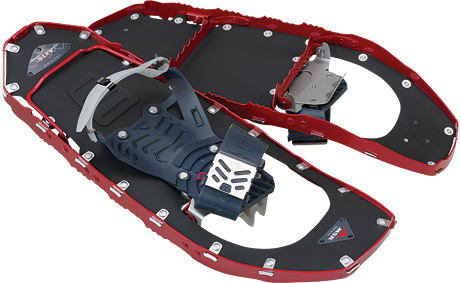 PosiLock AT Binding
The new freeze-proof PosiLock AT is the most secure and comfortable binding for aggressive ascents. A unique two-piece urethane binding body allows the user to secure each strap independently, resulting in a low-profile, binding that reduces pressure points and locks down tight to the contours of any footwear. The PosiLock AT Binding is featured on the Lightning Ascent and Evo Ascent snowshoe models.
Modular Flotation Tails
Modular Flotation Tails have been an exclusive feature to the one-piece composite UniBody deck snowshoes since their introduction in 1995. The optional tails make the snowshoe longer, providing more flotation in conditions that require it, such as breaking trail or deep powder. In the new MSR snowshoe line, Modular Flotation Tails are now an option for all new Lightning model snowshoes, making them more versatile than ever before. Lightning Tails are sold separately and are not compatible with Lightning-frame snowshoes released before the 2010-2011 season.
Televator Heel Lift
A metal bar that flips up under the heel, Televator heel lifts are designed to reduce calf-fatigue when climbing steeper hills by neutralizing the angle of the ascent while providing secure traction. An improved Ergo Televator heel lift features a high-clearance design that engages easily with the simple flick of a snowshoe pole or gloved hand. The Ergo Televator is featured on the Lightning Axis and Lightning Ascent snowshoe models. The original Televator Heel lift with a pull is featured on the Evo Tour and Evo Ascent snowshoe models.
2010-2011 Snowshoe Models
Explore Series (Lightning Axis) – All-terrain traction and versatility with a focus on all-day comfort and ease-of-use.
Ascent Series (Lightning Ascent) – The most aggressive snowshoes for traveling from point A to point B, regardless of what lies in-between.
Trek Series (Model Lightning Flash) – All-condition traction and reliability, engineered for optimal efficiency on rolling terrain.
For more information on MSR snowshoes, visit http://cascadedesigns.com/msr/snowshoes/category.