The only constant in winter is change—changing weather, changing snow conditions and changing terrain. At MSR®, we've been building snowshoes that keep you prepared for it all since we engineered the groundbreaking Denali snowshoe two decades ago, introducing a new level of safety and performance to the sport.
The snow has already begun to fall in our Cascade Range outside Seattle and the rush of escaping into the winter hills is what drives us to engineer unbeatable versatility, durability and traction into all our snowshoes.
Regardless of where you snowshoe, traction is essential. MSR snowshoes feature unique edge-to-edge traction that simply grips into all conditions for security and confidence whether you're traversing icy slopes or navigating steep terrain. Our Lightning™ models feature a 360° Traction™ Frame made of aerospace-grade aluminum for aggressive traction with minimal weight. And our Evo™ models integrate top-notch traction into their exceptionally durable Unibody™ frames.
Of course you won't go anywhere without comfortable, easy-to-use snowshoes. Because we engineer snowshoes for the professional mountaineer to the first-time recreationalist, we focus sharply on ergonomics. MSR snowshoes feature ultralight glove-friendly components, biomechanically engineered frames and revolutionary gait efficiency technology—all to help you conserve more energy with every step and go farther.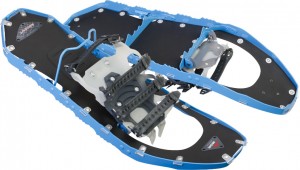 Our philosophy has always been "fast and light, efficient and reliable." It drives every aspect of our snowshoes and led us to create an exclusive MSR feature: Modular Flotation Tails. Our Flotation Tails allow you to choose a smaller, primary snowshoe for agility on packed snow, then add tails for more surface area and flotation when venturing into deep powder. They're easy to attach in the field and light enough to carry with you, increasing the versatility of your MSR snowshoes beyond any other.
These features can be found across our snowshoe categories. For backcountry trips through unpredictable terrain, our Ascent Series offers our most aggressive snowshoes for traveling from Point A to Point B, regardless of what lies between. This year, our Lightning Ascent models get a durability boost with new Torsion2™ crampons for better bite in rugged terrain.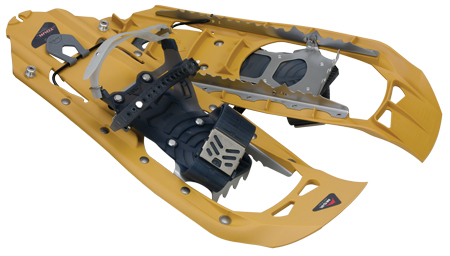 For those who prioritize all-day comfort and efficiency, yet refuse to compromise elite performance for off-trail forays, our Explore Series offers the revolutionary SpeedLock™ Binding system that delivers benefits found nowhere else in the market.
If you simply need a snowshoe that excels on flat or gently rolling terrain, our Trek Series offers our lightest snowshoes, still with excellent traction and built for traveling serious distance or having serious fun closer to home.
At MSR, we'll be doing both this winter. And if the inches of snow already piling up are any indication of the type of season we'll have—it's sure to be a good one.
Learn more about MSR snowshoes at msrgear.com/snowshoes. To purchase MSR snowshoes and other products, click here.