Snowshoeing California's Lake Tahoe area is a must-visit for the novice or experienced. The stunning natural beauty, variety of trail options, and endless blue skies paint a scene reminiscent of a Thomas Kinkade canvas. In South Lake Tahoe, you can get away from it all and have nothing but Mother Nature as your companion. Another option is to snowshoe right on the snow-covered beaches of Lake Tahoe at Camp Richardson, a historic year-round resort with numerous trails right from the camp.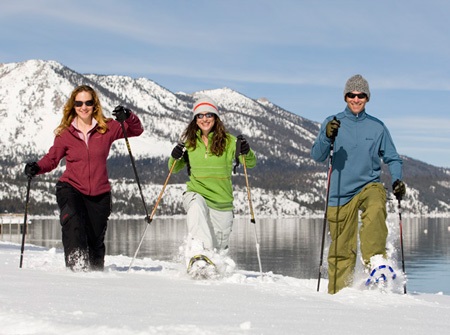 Camp Richardson offers affordable all-inclusive snow play activities, and in 2015 was designated "Top Destinations on the Rise" by TripAdvisor's Travelers' Choice. The resort offers a slate of family activities including snowshoe and cross country trails, and various tours.
Camp Richardson's Mountain Sports Center is an on-site recreation source where you can rent snowshoes and cross-country skis. The center also offers groomed and marked trails for beginners to experts, and these are great places to snowshoe along the shores of Lake Tahoe. You'll also find flat snowshoeing areas at nearby Pope, Kiva, and Baldwin beaches.
Clearly the most popular and fun events offered at Camp Richardson Resort are the Snowshoe Cocktail Races at the Beacon Bar & Grill, scheduled for Jan. 21, Feb. 18, and March 18. When I participated in this hilarious event last year, the snow had already melted by mid-March. But snowshoeing on the sandy beach was just as fun! Imagine, racers, with cocktail trays and full fake drinks in hand, navigate a variety of obstacle courses up and down the beach. This one-of-a-kind event is something you don't want to miss!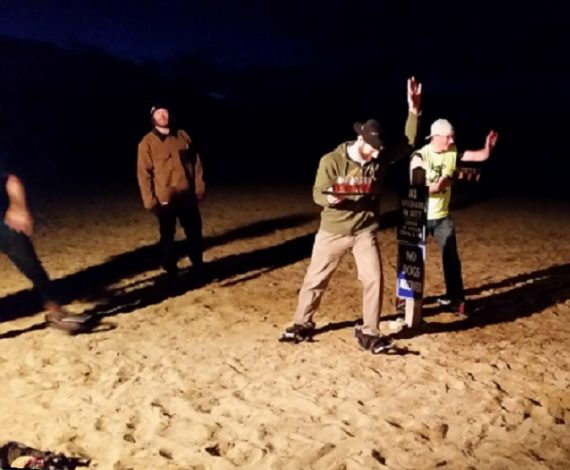 Snowshoe cocktail races are a blast!
If a little elevation is your desire, you don't have to go far. Drive a few miles north on Hwy. 89 and stop near the scenic Emerald Bay overlook. One option is to snowshoe down to Vikingsholm, a magnificent Scandinavian castle built in 1929 on the shores of Lake Tahoe. From there, head back into Desolation Wilderness via Eagle Falls Trailhead. If you're looking for the perfect photograph to take home, hike up to Maggie's Peaks (south) by way of the Bayview Trailhead, which is at the back of the campground. The two Maggie's Peaks are challenging with roughly 2,000 feet of elevation gain.
Just a few miles from Lake Tahoe is the historic town of Truckee. Be sure to take a self-guided walking tour of downtown on Donner Pass Road; it's definitely worthwhile any time of year. You can rent snowshoes right in town at Tahoe Mountain Sports, then head out to various snowshoeing options like Donner Memorial State Park, Northstar California, Royal Gorge, and Tahoe Donner Cross Country Center.
Featuring its new Alder Creek Adventure Center, Tahoe Donner also offers more than 100 kilometers of ski trails that are available for snowshoeing. However, 11 km of single track trails have been specially designed for snowshoers to avoid the skier traffic. These trails offer some of the most scenic spots on the trail system, meandering through beautiful meadows and forests, while gaining elevation that affords stunning views of the Sierra Crest. Don't miss the full moon snowshoe walks at Tahoe Donner, which are scheduled for Feb. 11 and March 11. Enjoy the beauty of the full moon on these guided snowshoe hikes above Donner Lake. Meet at Alder Creek Adventure Center at 6:15 p.m. to caravan up to the trailhead.
Within the spacious Alder Creek Adventure Center, visitors can rent snowshoes and also relax with a drink in front of the large windows looking out onto Hawks Peak. The grand fireplace is also inviting, as is a meal at the Alder Creek Cafe that features a bar and several televisions.
Like the California gold rush in the 1840s, many visitors come to the Lake Tahoe area to seek their own personal gold mine in the form of adventure. On average, Tahoe has 274 days of blue sky annually, basically three out of every four days. Also, snowfall has been recorded every month of the year at Lake Tahoe! When you consider that the lake's surface elevation is roughly 6,220 feet above sea level, and the lake is 72 miles in circumference, it's relatively easy to find your special place to snowshoe.
For more details on snowshoeing in the Lake Tahoe area, explore www.visitcalifornia.com, www.camprichardson.com, www.tahoedonner.com, or www.historictruckee.com.
Book your trip to Lake Tahoe for your snowshoeing adventure!
# # #