The JackRabbit Snowshoe Race Series is so fast… the five weeks of competition are already over! There's hardly enough time to notice, much less to enjoy, all the upgrades at the Kissing Bridge Snow Area. Plus, check out the new Kissing Bridge logoed merchandise, particularly if it was your spouse with whom you enjoyed a smooch.
The events toed the start line on Monday nights, a 6:30 pm launch, not on the weekends, unique in the world of snowshoe racing. The five-race schedule ranging from one-to-three miles in the "long course" category allows a heart-pounding quickie that ends early on a work night. These scrambles gallop a torrid pace. You may prefer to wear a headlight in the daylight saving's dark.
Overall gold medal winner Tom Williams accumulated a total time of 52:36 for five races, ranging from a short 11:35 in race 4 to the longer race 5 in 15:30. Four finishes qualify one for a possible medal.
Two others on the overall podium broke an hour: Brian Fraser (56:03 for 5) landing the silver place and Scott Thompson (57:47 with 5) standing with bronze. Charlie Anderson (5) and Christopher Smykal (4) rounded out the top 5 men.
Winning the overall women's class, Danielle Podeszek raced four events for a time total of 1:03:28. Juli Hergenroder (4) nailed second in 1:18:10 while Mellisa Melnik (4) snatched third in her cumulative time of 1:21:30.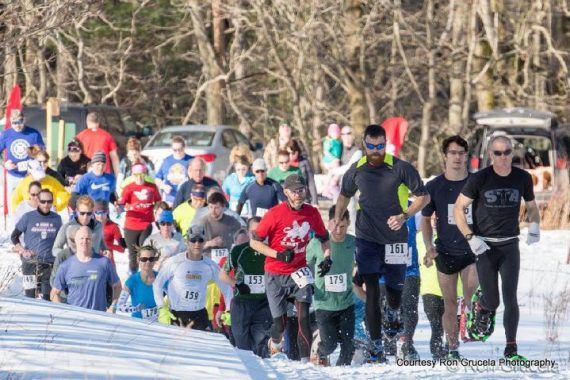 Heather McGonigle raced all five events registering an aggregate of 1:22:08. Sue Gallagher (5) with 1:24:19 rounded out the top five.
23 competitors qualified for a ranking, meaning they raced and finished four or more events. The JackRabbit Snowshoe Race Series completed sanctioning by the United States Snowshoe Association (USSSA).
A layout even a bunny would enjoy, the Short Course of a mile or so recorded Joe Silliman in 5 races finishing 27:03, Kevin Knoll (4) 41:40 and Fran Warthling 46:48 (4) for the podium. Fred Whipple (4) and Ed Russell (3) rounded the top 5.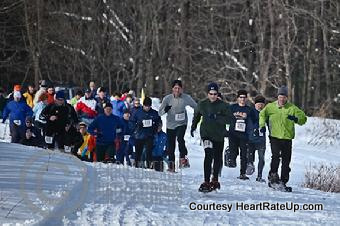 Heather Burger won the Short overall in a list of 32:53 (5) while Siobhan Davis (5) at 41:22 took silver. Jessica Deren's 42:24 winning the "Best Palindrome" award for her times in 4 races, earned the bronze.
A sweet 16 in both Short Course categories gathered times in four or more competitions giving them official finishes.
95 hares raced at least one of the events in the series this year. Here are the final results.
On awards night, DJ duties found the Yeti crawling in out of the chill choosing the songs. Notable titles included "Cold as Ice" by Foreigner, the Kiss tune "Cold Gin," no doubt referring to cotton, the more modern Foo
Fighters "Cold Day in the Sun," while Dolly Parton waxed poetic in "Baby, it's Cold Outside," which it can easily be in near her childhood home in Sevierville, Tennessee. The Yeti might be too young to remember Hank Williams' "Cold, Cold Heart" but was favoring Vanilla Ice's "Ice, Ice, Baby" all night. 
Kissing Bridge's Western New York history extends back to the 1970's where current President, Richard Fanelli recalls "walking to the YMCA ski buses that picked me and my sisters up in Nativity's parking lot on Fridays in the late 70's, to the infamous 'Late Nite Great Nite's.'" Blessed with lake effect snows, he pushes summer activities with new improvements while welcoming some of the best terrains for winter sports like snowshoeing.
The informative KB Times include schedules and vital information about this winter wonderland including articles you may not find elsewhere. Take Jill Gugino's "Confessions of a Former Hockey Mom" who claims in her tongue-in-cheek story to be a reformed hockey mom, 8 years clean and fully present. Best line? "I tried in vain to keep my other two boys entertained as their brother followed his–my husband's–dream of becoming a million dollar (NHL professional) player."
How about the guy who makes the snow (while Mother Nature takes a break)? Read "Behind the guns: A Snowmaker's Perspective" for such insights as "This winter while you sleep our dedicated crew will be working all night to make snow, open the hills you love, and groom them to perfection."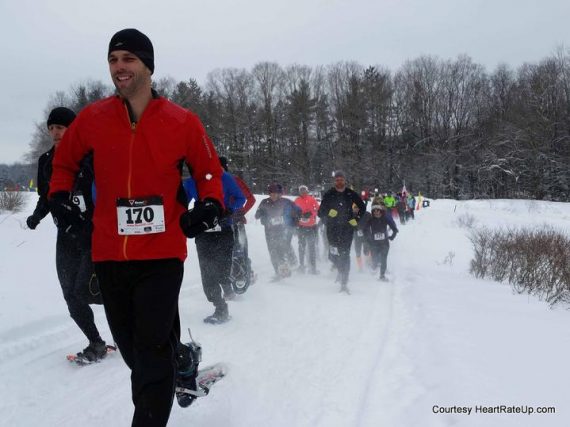 Tricia Mangan offers a compelling story why it is so important to take advantage of the snow fun whether on snowshoes, skis, boards, or your kazoo. Titled "Western New York, Where it All Began," she shares her story as a three-year-old twin with her brother in small skis with the tips "tied together, (while parents) let us go at the top of the Bunny Hill." Now she continues "to chase my dream of World Cup and Olympic success."
Next year's series tentatively schedules a start Monday, January 7, through the five-week conclusion February 4. Scramble on to the North Lodge and get your race on.
Contact phillip@ultrasuperior.com
Follow on Twitter  FaceBook