One particular day, fate treated my wife and me to three adventures. After a spectacular snowshoe trek and hot bath, we saw a fantastic village festival. There were towering bonfires, salmon stew, a one-legged shoe-tossing competition, as well as near-naked men running while waving torches in the crispy evening air!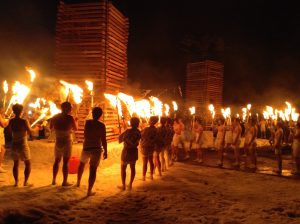 Our First Adventure: Mt. Gozu
We found ourselves at this festival after exploring Mt. Gozu (五頭), in Agano, Niigata, Japan. The kanji characters for Mt. Gozu mean five heads. So as the name implies, Mt. Gozu has five peaks, which some say resemble heads. Each peak is also supposed to represent different aspects of Buddha. In Japan, many mountains have holy characteristics.
Hikers and snowshoers can choose from trails on Mt. Gozu ranging from short and sweet to demanding and dangerous. We snowshoed a trail to the 910-meter-high peak known as Ichi-no-mine, the most well-known of the five heads. We embarked from the nearby hot spring village of Deyu Onsen.
Inexperienced climbers should not attempt this trail in winter. Last year, two unprepared climbers lost their way and perished on Gozu. Aside from that, the scenery and geography of Mt. Gozu offers experienced climbers aesthetically pleasing, athletic experiences in a relatively pristine environment.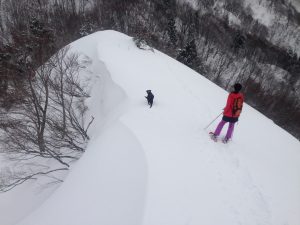 Starting Out On The Trail
At first, the trail slowly ascends next to a gently splashing stream through a forest of tall cedars. Climbers must cross the stream by walking over narrow snow-covered, rickety wooden planks someone placed there long ago. Some people balk and turn around. However, if you choose to go on, you'll not regret it. While on the plank, look for a cup that is attached by a chain to a large rock on the other side. Use it for drinking clear and mountain sweet water from the stream.
From there, the trail steeply ascends. Climbers will sink into powder after a fresh snowfall. Pink plastic ribbons dangling from cedar branches at intervals indicate the route. Snow can quickly cover the prints of previous hikers. Look carefully for signs indicating how far you are from the top.
Getting Closer To The Top
About halfway up the mountain, you'll leave the woods of cedar and come to a sacred rock. For thousands of years, Japanese have believed that spiritual beings reside in objects, including trees, rocks, and even used hotel sandals. Stop to thank the mountain and appreciate the quietness of nature. The only sounds you hear could be your breathing or snowflakes gently crashing onto your jacket. Above you, the sky and mountain peaks beckon. Below you, valleys spread out into a flatland of thousands of minuscule rice fields that lead to the ocean.
Continue ascending. The trees become thinner. Leafless branches end with rime ice fanning out from the tips. Near the top, the sharp mountain transforms into a treeless round plateau. In the distance, you will see two icy posts supporting a beam of ice. As you approach, a metal bell the size of a man's head becomes visible.
Reaching The Top
All year round, the metal bell waits for hikers to ring out their joy at a successful ascent. The icy posts are wooden beams surrounded by clusters of what appears to be albino mussels, but they are thick constructions of wind-crafted rime ice. Ring the bell! Then head back down to a well-deserved bath at one of the nearby hot spring villages: Deyu Onsen, Murasugi Onsen, or Tsukioka Onsen.
Read Next: Celebrating The New Year On Snowshoes in Japan
Our Second Adventure: Hot Springs
My first choice for a hot spring after a hike is Murasugi Onsen's community outdoor bath. It is named Murasugikyodorotenburo, which means public outdoor bath of Murasugi. Hikers from afar should consider staying at one of the local hotels there.
Chouseikan, also in Murasugi, is a Japanese inn with a hot spring that is reported to be Niigata's largest. Seikokan in Deyu Onsen is a gorgeous old-fashioned hotel that the government designated as a valuable cultural asset.  Kahou is Tsukioka Onsen's most elegant and luxurious hotel.
Tsukioka Onsen lies between Mt. Gozu and my house, so my wife and I drove there in the early evening. We pulled over for a relaxing dip in a simple public hot spring named Bijinnoizumi (美人の泉), which translates as the spring of beautiful people. The silky thermal water is naturally emerald green.
Our Third Adventure: The Dondo Festival
By chance, we had arrived in Tsukioka Onsen during the annual Dondo Festival. The festival is partly a memorial service for the spirits of traditional Japanese wooden clogs, geta. Strolling through hot spring village towns in clogs and loose cotton robes is part of Japanese culture. Japanese hotels and inns provide these to their guests.
Every February, Tsukioka hotels respectfully burn the geta in giant bonfires. Attendees pray for the geta spirits as well as their own health and happiness. The Dondo Festival also teaches ancient traditions to the town's youth.
Olympics At The Festival Before Sunset
Before sunset, locals and visitors gather at Tsukioka Carillon Park for festive snacks, dances, and games. Activities vary from year to year, but one popular one that has withstood the test of time is the "Geta Olympics." This is similar to the Olympic javelin event except that instead of tossing a spear, geta athletes stand on one foot in a snowy field while kicking a geta as far as possible down a narrow field. The clogs sometimes fly into the crowds or even behind the geta flinger.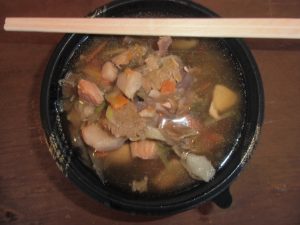 Besides typical modern Japanese festival snacks, such as popcorn, dried squid, yakitori, and chocolate-dipped bananas, a thick bowl of miso salmon stew is available for less than one US dollar.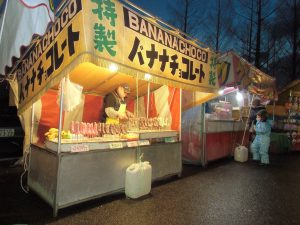 The Ceremony Begins
Around sunset, between sixty to one hundred young men and women congregate for an evening purification ceremony at the source of the town's thermal mineral water. Many jobs and incomes depend on that hot mineral water.
A Shinto priest in silken garb blesses the young people while they pray. The men are naked except for thick loincloth-like white fabric worn around the hips, but the women wear robes. The color white represents purity. Then they run toward the park while loudly chanting and waving lit torches in the growing darkness.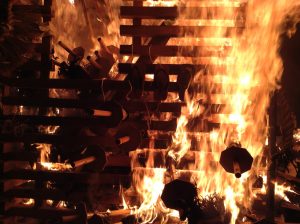 In the center of the park, two towers made of wood and bamboo are stuffed with used geta, old votive plaques, discarded sacred lamps, and flower holders. They stand almost ten meters high. The runners circle the structures and plunge their torches inside. Many small flames morph into two crackling bonfires, spitting out red and orange embers at the silver stars in the black night.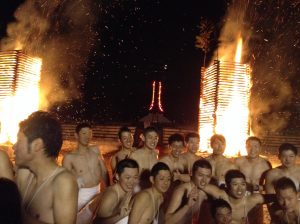 The crowd gasps as the towers consumed by fire, totter sideways before crashing onto the snow. Flames hiss and with a last gasp of steam, drown in the snow. The runners board buses and go to warm restaurants for a well-deserved feast. Most visitors drift toward home, hotels, or hot baths. For me, that day was a perfect combination of Japanese nature, festivities, and hot springs.
Getting to Tsukioka Onsen
Tsukioka Onsen is located on the outskirts of Shibata city. You can reach Tsukioka Onsen by bus from either Shibata Station or Toyosaka Station. Both are on the Hakushin Line from Niigata city.
Getting to Niigata
Train
Japan Railways (JR) Joetsu Shinkansen super-express from Tokyo (about 2 hours) to Niigata Station. Niigata Station Tel: 025 248 5211
Bus
Long-distance bus services from Ikebukuro and Shinjuku (Tokyo) to Niigata. Niigata also has bus links to Sendai, Kyoto, Nagoya (7 hours), and Osaka.