The first area in the country to be selected as a 'Hot Bed of Snowshoeing' by Snowshoe Magazine is North Central Wisconsin, located around an imaginary triangle of some of the most active snowshoeing in the country.  Consider this: In a period of eight weeks, from the first weekend in January through the opening of March, nine different and distinctively important snowshoe events are held in this tight area, attracting participants from neighboring states of Minnesota, Iowa, and Michigan, besides the big support of a strong Wisconsin contingent. And there is not a major metro area within sight. Within driving distance, yes, but you will have hours on the road both ways. Yet, as a whole, masses of snowshoers gather to partake of the challenging, yet fair, terrain and enjoy the incredible Wisconsin hospitality that accompanies each event's day.
So, here is how this geographic snowshoe triangle lays out: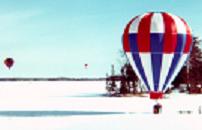 The base runs 89 miles East-West along Highway 29 from Wausau, Wisconsin, to Eau Claire/Chippewa Falls (suggestion: MapQuest) with four important snowshoe happenings comprising this leg:
The Badger State Games  now almost a quarter of a century old and held in Wausau  feature a grouping of snowshoe events such as a one mile run, 4 X 200 km relay, 5km race, and 10km race which also has a mountaineer class (for more on Wisconsin's mountaineer class, see Perkinstown below). The event is scheduled for Sunday, January 25, 2009.
Then on February 21 (tentative date), also in Wausau, the frozen 'Stomp the Swamp'  (6 km and 12 km) races through snow-covered weeds and woods at Nine Mile County Forest. In both of these events prominent snowshoe racer Jay (and Judy) Punke are race directors (with Joel Braatz at the Badger State Games). Jay is the annual winner at the Perkinstown Mountaineer Event, taking gold so many times they might as well give him the medal before he toes the start.
On the other end of the triangle base is Eau Claire's Rumble in the Jungle, now in its third year. After its first running, the popular and long standing runner/snowshoer/organizer, Timmy Dusick, died. As the founding race director for the Rumble and in his honor, the event was held in 2008 and will continue to be a memorial for Timmy. The race is scheduled for Saturday, January 31.
Near Chippewa Falls, the Lake Wissota Snowshoe and Ski trek is to be held at Sanderling Nature Center, New Glarus Depot, Zillmer trailhead, on Saturday, February 7 as of this writing. Held at night, this non competitive event features a two mile trail lit by candles, creating a magnificent scene  for a winter wonderland adventure.
And what about this: last Spring's inaugural Chippewa-Moraine 50km Ultra Trail event turned into a snow race as a late season blizzard blanketed the region. All types of foot gear were seen that day, from running shoes, micro spikes and the like, and even one participant brought along snowshoes to race the ungroomed course.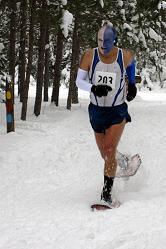 Now, going up — north — on my snow covered triangle, five events are clustered together not more than 50 miles or so between them. Yet they are all different and have individual features that are very much part of their appeal.
The Rib Lake Snowshoe Adventure is the USSSA Qualifier in this hot bed of snowshoe racing. The race is annually held on the first Saturday after New Year's Day. This year's date is two days after that big celebration; next year it will be one day later. Wow – that will tax some poor souls who end up singing too many stanzas of Auld Lang Syne at some party, no doubt about it.
A rolling single loop course over groomed ski trails is surprisingly challenging as constant climbs tend to punish the snowshoer. The finishing kick is pretty enjoyable for the last mile, like Jim Graupner, Twin cities (pictured above) if the racer has any air left. Jim competes at many of these events and probably raced at more 2008 USSSA Qualifiers across the country than anyone! A rousing celebration is held post-race in the local 'ballroom,' a name for the community center.
Two weeks later on January 17th, the Perkinstown Snowshoe Races are held in the middle of a thick Wisconsin forest at the chalet on Winter Sports Road . . . where else? Featuring one of the largest snowshoe celebrations in the country, with the female entrants in their main race totaling over 100, this race is an annual happening for many who return year after year. Maybe 'Brave Heart,' Jim McDonell (see picture at top) of Woodbury, Minnesota, will make an appearance this year.
One of their unique events is the Men's Mountaineer Six-Mile course (three miles for women). The racers don wooden snowshoes with a minimum length of 46 inches (25″ for women) and tool along an ungroomed hill-and-dale route that varies year to year and is only laid out the night before the start. And the snowshoer is required to wear a fifteen pound backpack to simulate a true test of endurance. Talk about an ordeal! But it sounds like so much fun. In addition to handling those ungainly, four-feet-long, heavy snowshoes, wearing a back pack adds to the challenge. In practicing to participate in this event with a special edition set of Iversons wooden snowshoes that will be given away after I finish (if I do?) during the awards celebration, I have discovered that a fifteen pound load sounds a lot lighter than the reality when trekking around.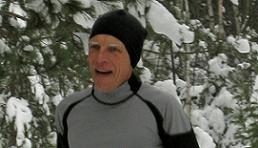 Timm's Hill Trudge  gets its name from the loop course over groomed ski trails that manages a trek up Timm's Hill to the highest point in Wisconsin, passing under the lookout tower, and hanging on for dear life as you race meandering through the trees  back down. A long straight finish across a frozen Wisconsin lake, marked by snowshoes stuck vertically in the snow, concludes right below the lodge. Wonderful hand-built awards are generously  given out in the gathering room of the host, the High Point Village Resort. How good are the trails in this region? USA Today rated the Timm's Hill trails as one of the 10 best places for showshoeing in the nation.
The Udder Snowshoe Race, one of the most fun in these events, is run in Athens on the right side of the triangle. The date is likely February 7th. Besides serving milk (and other beverages) to thirsty snowshoers, racers are invited to take the 'Udder' plunge (see picture above) into the frozen waters to cool off post race. This festival is definitely family friendly. Read more about it from the article about their day at this link on Snowshoe Magazine: https://www.snowshoemag.com/view_content.cfm?content_id=378
Click the 'other articles by this author' for stories on many of these celebrations of winter.
Finishing out the season on March 7, 2009 is a race of snowshoers and hot air balloonists simultaneously at the Lakewoods Hot Air Balloon Rally & Hot Air for Hearts Snowshoe Races. Covering the snow-covered golf course of the Lakewoods Resort in Cable, the scenic course is terrific fun and is highlighted by the colorful balloonists (see picture) floating above after launching frpm the iced lake in front of the resort. The course follows similar terrain that the XC crowd enjoys at the annual Birkebeiner held just down the road.
The best resources for information on all of these are the CuteMoose Snowshoe schedule at http://www.cutemoose.net/snowshoe_schedule.htm., the event schedule at www.snowshoemag.com, and the United States Snowshoe Association at
www.snowshoeracing.com.  Check dates and links as in some cases the day chosen might be changed.
This snowshoe activity is created by the hard efforts of race and event organizers along with multitudes of volunteers. That this many races and events are conducted all in such a tight geographic proximity supports our first selection of North Central Wisconsin as one of the "Top Hotbeds of Snowshoeing in the U.S.A" Be sure to partake in some of these; I can assure you the name 'Wisconsin' translates to the words 'snowshoe fun.'
And watch for our next list.
(phillip gary smith writes and snowshoes from the twin cities of minnesota. contact him at phillipgary@snowshoemag.com . His book 'ultrasuperior' is available at http://www.ultrasuperior.com/. proceeds go to the Superior Hiking Trail Association)
Graupner and McDonnel photo courtesy of Ed Busby. Balloon photo courtesy of Lakewoods Resort. Water plunge photo courtesy of Udder Snowshoe Races.