The Helly Hansen Icefall down jacket is one well-designed coat, but it might not be quite what it seems. Most people think of a down jacket as synonymous with a great deal of warmth, and that's something the Icefall delivers to a degree (no pun intended).
The first thing you have to note about the Icefall is that it's not a heavyweight parka, despite an impressive fill rating of 700. Add in another shot of PrimaLoft synthetic insulation, and you're really talking a formula for success. The lightweight design is okay, since it's not really intended as a stand-around-and-keep-you-warm jacket along the lines of, say, the Canada Goose line of Arctic parkas.
This is clearly a jacket designed for active comfort, not for stationary activities.
It's a very well-designed jacket, with an effective and comfortable hood that offers you the ability to control the depth of the hood as well as tightening it closely around your face. That's a big bonus to me.
It has a heavy double-zipper on it as well, which is ideal for a winter jacket. The parka offers three pockets with zippers. The two exterior hand-warmer pockets are lined with comfortable fleece, while the internal chest pocket fits all sorts of media.
The length, which I would describe as three-quarters, is perfect for all winter activities. Aided by the double-zipper, the length of the coat provides no particular problems, even for driving. The fit is quite generous, without being too loose or too compressed. My sample jacket came in a 2XL, which turned out to be a near-perfect fit for me. The sleeves have adjustable exterior cuffs, which is welcomed.
I also enjoy the Magma colour of the coat, although people might want to be aware it's a more vivid orange than some photos show. I like bright colours, but this shade of orange sometimes even gives me a pause. My wife frequently comments "that's a bright coat" in a not-so-approving manner.
It's been very useful, though, when I've worn it while using the snow blower to clear the end of my driveway, especially in the dark or twilight hours. After testing it out in various temperatures, conditions and activities, I had mixed results with the jacket.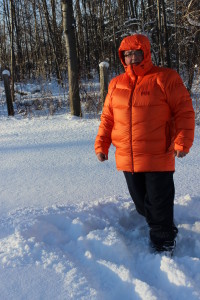 There were days when I noticed the wind penetrating the jacket, especially in damp weather. Then there were other days when it kept me toasty warm. The exterior shell, as is typical for lighter weight down jackets, seems thin enough to make me worry about rips and tears in difficult wooded terrain. I've yet to have any problems with it, so it might be tougher than it seems.
For snowshoeing, you definitely want some colder weather to use this jacket, unless you're trying to sweat off a few pounds. Overall, I'd give this jacket four out of five stars, due only to the days I felt it wasn't windproof enough.