A recent Saturday finds my husband Jack and I struggling up California's Highway 50 towards the beautiful Lake Tahoe area with the usual masses of weekend warriors. Deservedly popular, Tahoe is bursting with both natural and manmade attractions.
We are almost upon the hustle and bustle of South Lake Tahoe when a quick right turn onto Highway 89 delivers us to sudden calm. As we venture along this quiet road, we notice a few vehicles parked at plowed roadside spaces, with snowshoe and cross-country ski tracks branching out into the adjacent hills and valleys. Soon after crossing Luther Pass at 7740 feet, the broad flatlands of Hope Valley sprawl ahead of us. We have reached our destination.
Hope Valley, situated at 7000 feet, is one of the largest alpine valleys at this elevation in the entire Sierra Nevada. This means there is something for snowshoers of all ability levels, ranging from an easy moonlit hike on the Grass Lake trail, to a heart-pumping climb to Burnside Lake. And here's another appealing statistic … Hope Valley is located in Alpine County which, at 2 people per square mile, is the least populated county in the state. And better yet, 95% of the county's 775 square miles is public land, the Humboldt-Toiyabe and Eldorado National Forests.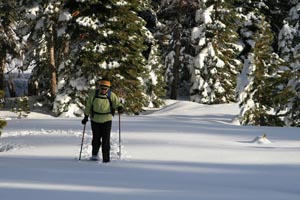 We have timed our trip perfectly! A mid-week storm has dumped over a foot of fresh snow on Hope Valley, and we are the first snowshoers on the Horse Meadows Trail. Starting with a gradual climb through light forest, the deep powder slows us down and heats us up. We are quickly rewarded however with spectacular views of sun-drenched Hope Valley and the surrounding mountains. Ahead of us Freel Peak, the highest peak in the Tahoe Basin at 10,881 feet soon begins to dominate the view. The trees and bushes are heavily laden with snow, and they continually drop cold snow showers down our necks as the day warms up. We enjoy complete solitude on this hike. For the entire day, we don't see another person or any human tracks other than our own. I think we're onto something good.
Tired and exhilarated from the scenery and the trail-breaking, we check into Sorensen's Resort later that afternoon. Opened in 1926, Sorensen's is a Hope Valley institution. When I told a local friend that we were going to Hope Valley, she said "You're staying at Sorensen's". It was more a statement than a question. Innkeepers John and Patty Brissenden have a long-standing commitment to Hope Valley and it shows. John is knowledgeable about the area, and mentions that he has seen a marked increase in snowshoers versus cross-country skiers in the Valley in recent years. We are staying in the "Sheepherder" log cabin which is equipped with a wood burning stove and a kitchenette. Conveniently, Sheepherder is located along the Indian Head Trail. Snowshoeing from the front door of our own log cabin into the winter splendor of Hope Valley … we couldn't be happier.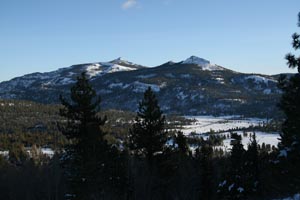 Just down the road from Sorensen's, there is a definite buzz at the Hope Valley Outdoor Center. Live music reverberates throughout the small space, which provides outdoor enthusiasts with everything from local artwork and homemade desserts, to rental snowshoes and cross-country skis. We purchase a trail map to plot our next day's destination.
Sunday morning dawns bright and sunny. We are eager to get back on our snowshoes, and select Scott's Lake as our destination. Once again we are breaking our own trail and once again we are completely alone with our own thoughts and the rugged Sierra landscape. Scott's Lake sits in a beautiful alpine basin. We relish the quiet and serenity as well as the views, while sitting on our packs enjoying our lunch break. The warmth of the sun feels fabulous and we linger a few minutes longer before reluctantly leaving this pristine spot.
After just two days, Jack and I have both decided that Hope Valley is an essential getaway destination, a worthy detour off the road well-traveled. We are already plotting to return soon for a longer stay.
Practical Information:
Hope Valley is located at the intersection of Highways 88 and 89. It is a 4 hour drive from the San Francisco Bay area and 1 ¼ hours from Reno, Nevada.
Information on Sorensen's Resort can be found at http://www.sorensensresort.com/. Sorensen's has several cabins of various sizes to accommodate families, couples and larger groups. Most have small kitchens, or you can eat in the Country Café. We compromised and had dinner delivered, piping-hot, to our cabin. The Beef Burgundy Stew deserves the honor of being a house specialty.
Trail maps and snowshoe rentals are available at the Hope Valley Outdoor Center http://www.hopevalleyoutdoors.com/. Michael C. White's comprehensive book, Snowshoe Trails of Tahoe, is also a valuable resource. Trails are not always well-marked, so if you are planning an ambitious snowshoe hike, route finding skills are helpful.