Something spurred the snow to shrivel. Maybe blame Saturday's sun and late 30's temperatures overnight. Another look says perhaps the quickest snowshoer on trails just sizzled the course.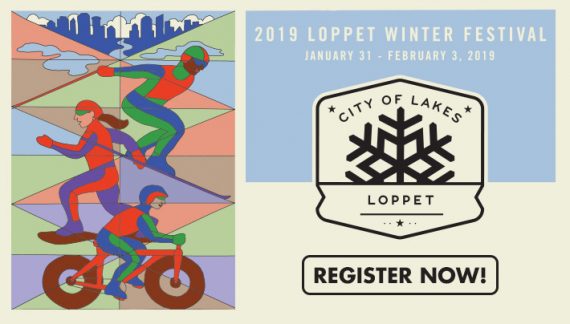 Overall Finishers
The rescheduled, reconfigured Askov Finlayson Snowshoe Loppet 10 km course raced on a foggy, moist Sunday morning, February 3, 2019. This didn't faze USSSA National Champion Eric Hartmark of Duluth, winning gold at a dazzling 5:01 pace. Minneapolis' Mark Brose, who showed me the snow packing in his cleats during warmup, crossed in 5:53 for silver. Rob Class of Woodbury ticked 6:07 and captured the bronze step on the podium.
The revised distance planned for two loops of the Theodore Wirth Regional Park's made-snow paths ended up short of a 10 km.  A segment identified as the "finger" befell a whack after the start-cannon boomed, so pace seems a better measure of this race than ET (elapsed time).
Women's Finishers
Sara Conrad won the women's crown for Minneapolis at 7:24. Katy Class seized silver in 7:48 as Denise Ward, Minneapolis, earned her bronze with an 8:05. It was 1-2-3 crossing one after another, and 5-6-7 overall in the 27 finisher-field. The women's class of 16 finishers handily exceeded the men's.
Following Last Week's Race
The three top male finishers bettered their finishes from the sub-zero temps experienced at 2019's Phillips Flurry raced a week earlier in Wisconsin. Hartmark won that 10 km and the Wisconsin State Snowshoe Championship, in 40:52, a blazing course record. Brose claimed 49.04. Scott Pederson of Phillips, youngest in that field at 24, won bronze in 50:02, Joe Anderson (Bloomer) took fourth (52:01) while Rob Glass secured the top five in 52:39.
Michelle Brost of Eleva won the top 10 km performance in the women's class, while Pamela Onchuck took second for the host town. The Flurry features a popular 5 km, too, as Kris Borchardt, Weston, won handily in 24 minutes flat. Jennifer Chaudoir, Green Bay, continues to dominate her field with a seventh overall and a class win in 28:33. A special snowshoer in Wisconsin and the sport, Roddie Larsen (81) of Menasha, nailed a 1:04, well ahead of the rest of the field.
Racing the Loppet, Hartmark, Brose, and Class prove the effort and training necessary to win a national team slot or age group medal at the upcoming USSSA National Championship at beautiful Lakewoods Resort near Cable, Wisconsin, March 8-10. For many of us, finishing is the best reward, so be sure and be there to race that course.
Conditions & Additional Finishers
A foggy, hot (37° F) combo start with a group of skiers at the Loppet, and other skiers already zooming on the course, whipping in-and-out like hot rods in L.A. looking for midnight burgers, kept one's attention to avoid trouble and a crash. This was true for all except the leaders like Hartmark, who passed more skiers than those who got by him. Skis can make climbing hills difficult, though it pays on the downhill while snowshoers bound up a slope with relative ease (all depending on conditioning).
Note, too, that Sarah Adie and Max Owens of Ann Arbor, Michigan, made the race a destination (finish pace 9:02), while Bend Oregon's John Martin and Caryl Chiaverini collected finishes. Caitlin and David Anderson of Plymouth completed the day's finish list. The awards to the top three in two classes ended the medals.
See the full snowshoe results.
Changes to the Course Present A Challenge
Give organizers kudos for working all Saturday night moving starts to this hilly, loop course. Their message explaining the changes to the competitors showed on my screen at a timely 4 A.M. Sunday morning.
Snowshoers expected to park near Lake Street and West Calhoun Parkway (near an area known as Uptown). They then had to race a meandering 10km course around the parkway to Lake of the Isles, thru Cedar Lake, over Brownie Lake. Then pass under I-394, and enter the park for a hearty tribute at the finish line near the expansive, classy Trail Head Lodge.
Other events dealt with changes on Sunday as well. These include the Skate Marathon, Puoli Loppet Skate, Loppet Tour Skate, Penn Cycle Puoli Fat Tire Loppet, the popular Chuck & Don's Skijoring Loppet and Two-Dog National Championship. Tyler McKean, Maplewood, an oft competitor in skijoring, won the two races making the national championships. The dog's names were not listed in the result, a shame.
Support from Spectators and Sponsors
Snowshoers enjoyed loud support from the crowds gathered around the course. Statements I heard encouraged those racing des raquettes, as the French say, with lines like "That's harder than skiing." I know XC skiers who disagree, but the sentiment felt good.
Trail Head Lodge hosted vendors such as the North-themed Askov Finlayson brand (sponsors of the snowshoe race), the packet pickup tables, creative varieties of food, Surly beer, and more. One could view the events from the expansive, jutting windows right on the course. And if you ever needed more cowbell, there were enough free ones available through the courtesy of North Memorial Health to make a Loppet Saturday Night Live skit. No matter how Blue Oyster Cult sings "Don't Fear the Reaper," do fear the race course reaper, though.
My Own Reaper
For one snowshoer that reaper toured the convoluted course with him. After properly racing by turning left at the marked lap-or-finish split, then up and over and around the bend racing to beat the band, the reaper waltzed him bounding down a hill to an unexpected finish line. Struggling to find a lane that bypassed that festive area to no avail, my name, city (though gratefully omitting age), echoed back to me as an acknowledged finisher.
The scorers had no idea I only completed a little more than one lap. I initially tried explaining, but the reaper delivered my words as if I had stood at the Surly tap way too long. Thinking the race perhaps shortened the distance to one circuit as conditions worsened, this "finisher" moved on through the process. A very lovely official stopped to ask if I might have won an award. I called out the three male medalists to her surprise, indicating I was used to them passing me with abandon, so I know their names.
It is up to the competitor to note the signs. I must have missed a red arrow pointing that-way while I snowshoed this-way. Race officials might have considered the honor of listing my name at the bottom of the competition list with an asterisk stating: *Dufus DNF.
phillip@ultrasuperior.com